Ardèche Camping, Boulevard de Paste, F-07000 Privas, Tel 04 75 64 05 80.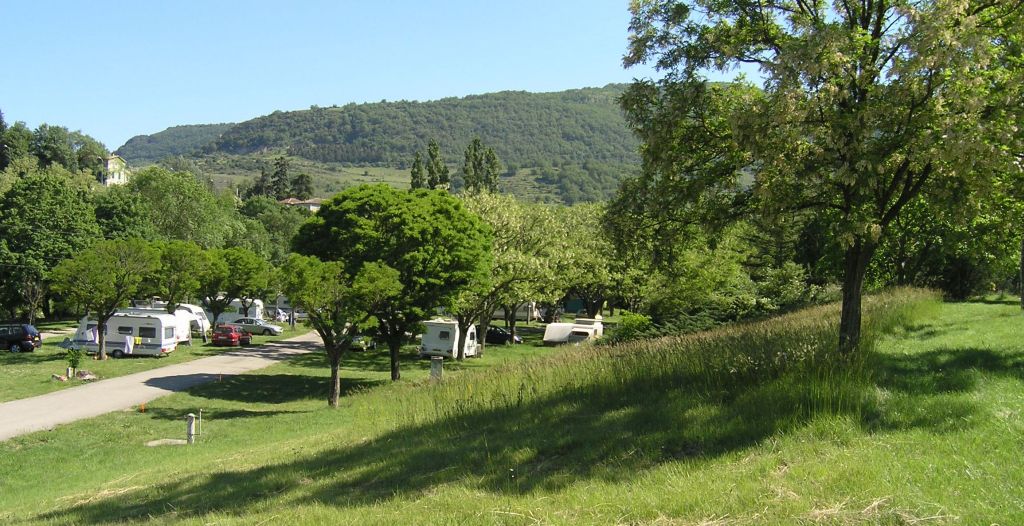 To Find Site: Exit the A7 autoroute at junction 16 at Loriol and follow signs to Privas. At Le Pouzin the recommended way is to follow the lorry route for Privas it is well signed. As you approach the town you cross a river bridge and arrive at a roundabout, the road to the town climbs up ahead. At this roundabout take the second exit, you will pass an Intermarche on the right and the left turn to the campsite is about 50 metres further on.
Ardeche Camping is a lovely little site set out along a river valley with both the town of Privas and the approach road high above you. The entrance to the site is barrier controlled, a key fob is loaned when you arrive at the site, on exit the barrier raises automatically on approach. In the low season only the lower part of the site is open and only one of the toilet blocks. There are more pitches set out on terraces behind lower section. There are in total something like 150 pitches all on grass and of a good size. Mature trees provide shade to most pitches. The site has two toilet blocks which are to a good standard but they contain both English and Turkish style toilets. Ardeche Camping now boasts a new swimming pool which whilst open still had bits to be finished. Just a few yards from the campsite is a covered swimming pool for colder days. The reception area also contains a bar and what looked like a high season takeaway/restaurant, the terrace extends towards the swimming pool. Bread can be ordered for the morning, on the two days we were there a young lady came round the site taking orders, a nice touch. Other facilities include a nicely shade boules area where the owner seems to organise competitions. Out of season the campsite accepts Camping Cheques which gives you a small saving over the regular fees.
The town of Privas is only a relatively short walk away albeit uphill all the way! There are quite a few cafes and restaurants as you may well need a beer by the time you get there. It seems a typical small French town but nothing to mark it out as exceptional - unless of course I missed something. Almost across the road from the campsite is and Intermarche and a kilometre or so out of the town is a new (air conditioned) Hyper U but just take care if you visit here with a motorhome as there is a height restriction on the underpass from the direction of the campsite. Obviously if you have time the whole Ardeche region is available and this campsite would be a good base for those wishing to avoid going further into the Ardeche with a caravan.
Click on thumbnails below for larger picture