Camping Gulperberg Panorama, Berghem 1, NL-6271 NP Gulpen, Tel 0434502330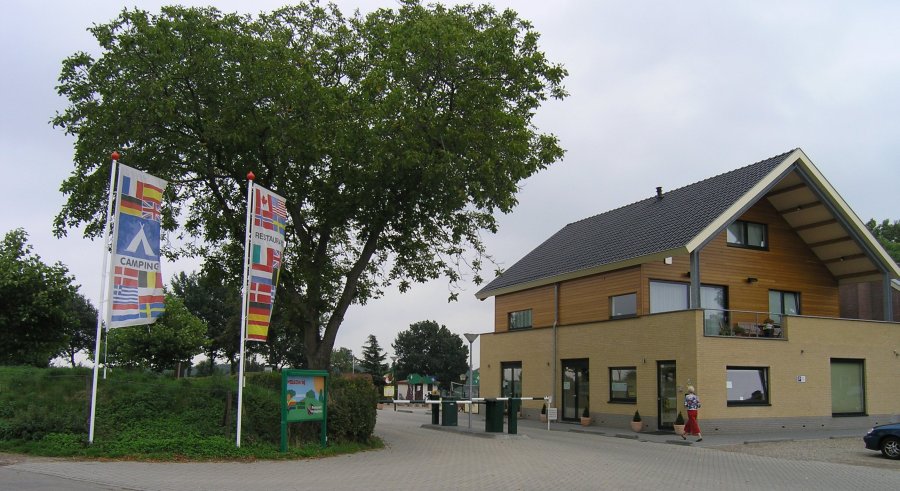 To find site:-Take the A2 motorway from Liege to Maastricht. Just before you get to Maastricht take the N278 signed for Vaals. About 15 kms along the N278 you will reach Gulpen. As you enter the town there is a set of traffic lights, turn sharp right here. The campsite is signed from here. As you pass the Leisure Centre car park there is a short up hill section which is quite narrow so care is required. The rest of the access road is still not wide but it has clearer vision.
Camping Gulperberg Panorama is a very large, mostly touring, site with over 300 pitches which are on grass and set out on terraces with lovely views out over the surrounding countryside. Average pitch size is around 100 sq metres although most of them are longer one way than the other. This can lead to a crowded feel about the site. In the main sections all pitches have electric points although towards the back of the site are some areas for tent campers without electrics. There are several toilets blocks dotted around the site although not all are open when the site is not full. The toilet blocks were of an excellent quality. Like a lot of Dutch campsites of this type they are really holiday centres and cater very well for families with lots of activities for children. Immediately behind Reception is a large restaurant/bar and a little further into the site there is a shop which is quite comprehensive. This site accepts Camping Cheques. Date of visit August 2005.
In the immediate vicinity of the campsite is the opportunity for walks and cycling. For car excursions Maastricht, Valkenburg and Aachen are all reasonably near. There is a nice supermarket in Gulpen for more serious shopping.