European Caravaning Diary 2006
May/June Down to the Med but back a different way!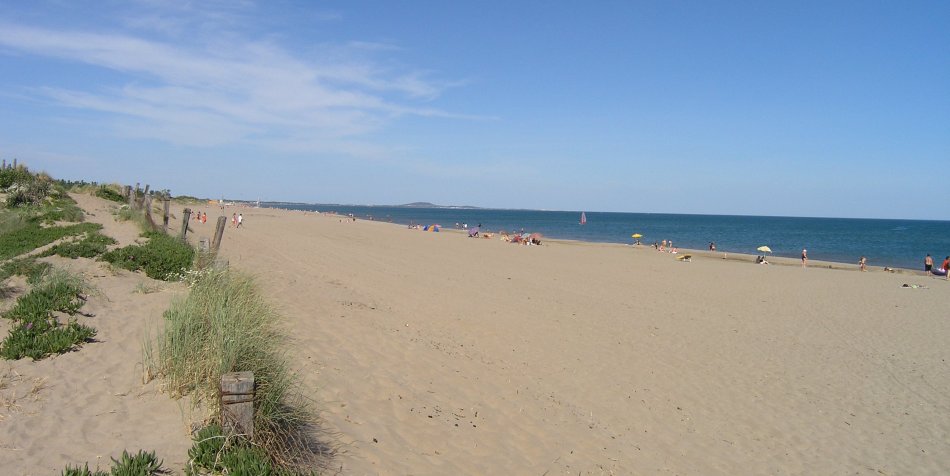 The middle of May and our first trip to Europe beckons. First of course we have to get the van out of the back garden! Low and behold there is nothing parked alongside our house. Did our neighbour notice the headlight deflectors and decided to park out of our way, I would like to think so. Our crossing is at 2.00pm so we leave at 9.00am! We know that extensive road works have started on the M1, so we have to allow for this. As it happens, apart from the speed restriction, there are no delays. We are now in danger of arriving at Folkestone too early so we stop at Thurrock Services for the first time with the caravan. There is a nice parking area for caravans, only trouble is that it is at the furthest point from the facilities. The coffee and bacon sarni were still hot when Margaret got back to the van! When we arrived there seemed to be a gathering of Porches cars and when they drifted away they were replaced by another gathering of Ferraris. We could not stay for the MG's or Morgan's!
Back on the road again and around the M25 without any hold ups, although there seemed to be a few road works. We arrived at the Tunnel about an hour and a half early. One major change from the previous year was that there seemed to be no manned toll booths. Humans have been replaced by computers! The person in front of us seemed to be having some problems which eventually they sorted out. Now my turn! First click on your flag, Union Flag or Tricolour to select the language you want. Next you need to key in the booking reference (you may also need the original Credit Card that the crossing was booked with) and up on the screen came all the details of the booking. You are given the choice of available earlier crossings if this applies. You then have to confirm that your vehicle is not gas powered. If everything is OK it prints out the mirror hanger and the return ticket. As simple as that!
This is our second year of using Eurotunnel with the van so we were used to the procedure. It seemed no time at all before we were heading south down the A26. Had they opened this Autoroute just for us? It seemed so at times as there was so little traffic. Mind you it did not stop the French Police sitting on the edge of the north bound carriageway with their radar guns. Rich pickings I understand as Brits, late for their crossings, try to make up time exceeding the quite generous speed limits. Just before St Quentin we stopped for fuel. There is still an advantage over UK prices but I am not sure if it is my imagination but the difference does not seem as great as it used to be. We left the Autoroute at St Quentin Sud to take us to our first night in France at Camping Le Vivier Aux Carpes, at Seraucourt-Le-Grand. It was some 8 years ago we last visited this very pleasant campsite. The trouble is that you stay at lots of sites overnight and many of them deserve a longer stay, Vivier aux Carpes being one.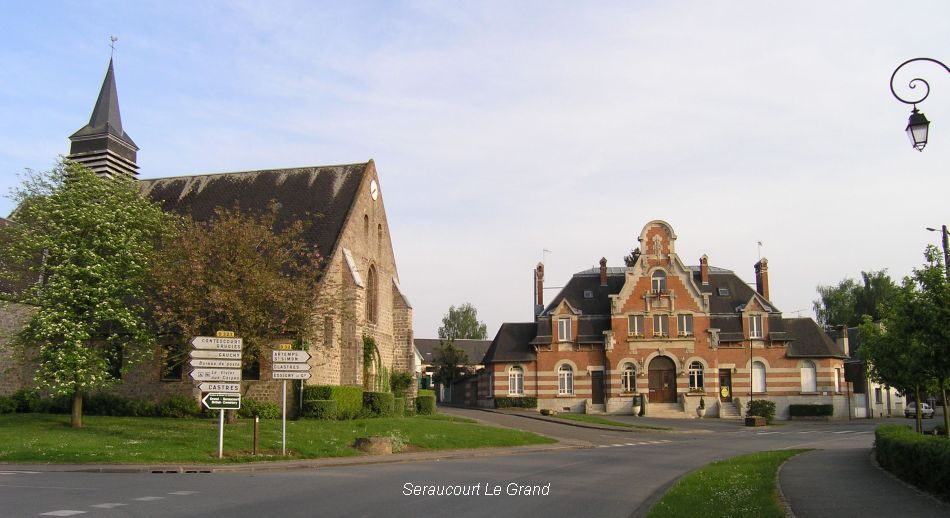 Monday our first full day in France we were going to be clever and try and use some non Autoroute roads. This plan did not get off to a very good start! Firstly we missed the road back onto the D1 and ended up in some far flung village. When we eventually got on the D1 we took a wrong turning so we decided that we would just head back to the A26! The Autoroutes in this part of France seem to go on and on without much traffic until you get to Reims and then again until you reach Troyes. On the way south you cross many rivers and canals but even I did a double take when I saw an English narrow boat sailing along! Getting near to our own next port of call we stopped at a service area to look at the 'bible' for instructions. Strangely for the Caravan Club European Guide details were not clear. In fact for Camping Les Ripettes there were two entries both giving different instructions. Nothing for it but to ring the campsite. The phone call, although answered in French, I could detect that the accent was more north country! The language soon changed to English! The campsite in question was not far from Pont de Vaux which is between Tournus and Macon. We received and very warm welcome from Bob and Angela, the English couple who run the site. They have owned the campsite for the past three years and appear to have some loyal returning customers.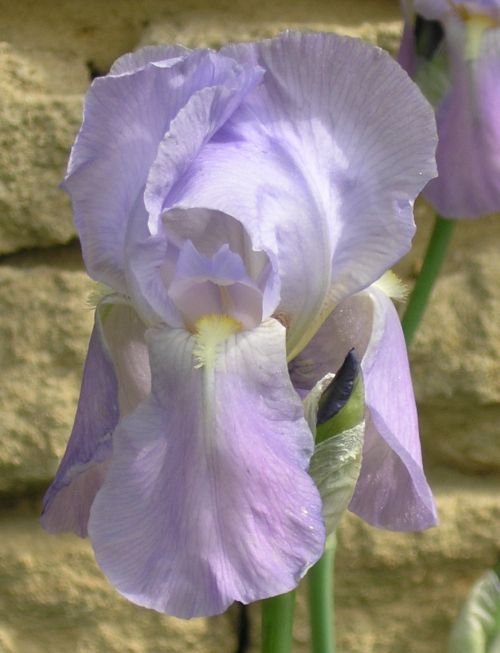 Tuesday did not dawn as bright as we hoped, however we did have things to do. On the way to the campsite we had seen some boats on the Canal as we passed through so we went back to investigate. It seems there is a short canal from the River Saone to Pont de Vaux with a small marina at its terminus right on the edge of the Town Centre. After at bit of a look round we made our way to the Atac Supermarket, one of two supermarkets in the town and this one is the better of the two. It seems to have some tie up with Auchen. Back at the campsite we settled down to a lazy afternoon, only for the weather to close in with heavy rain and thunder and lightning. It did clear up a bit but returned again overnight. Wednesday on the other hand was much brighter and we decided to drive out into the local countryside to get a flavour of it. In many ways this part of France is not dissimilar to the English countryside.
With our short stay at Les Ripettes at an end we retraced our steps to the Autoroute and headed south. We looked forward to going around Lyon with as much enthusiasm as going round the M25! I don't think we have been on the eastern bypass when it has been quiet, its a grin and bare it sort of road. The real relief does not come until the A7 has finished its switch back crossing of the Rhone as you approach Vienne, from then on the road is quite boring! On past Orange where the A9 goes off towards Spain and the A8 journeys on towards Italy. We were heading towards Bezier in readiness to follow what appeared some strange instructions. It seems that we head towards Serignan and then turn off towards Serignan Plage. As we enter the village sign we are to turn off down a one way road! As it happens this is all fine, the road out goes along the other side of the drainage canal. Now next door to Le Serignan Plage is a Naturist campsite and I get this feeling Margaret is misjudging my motivation for wanting to come to this campsite! The reality is that the Naturist site is so well screened you would need a U2 spy plane to investigate. Margaret's thoughts are, of course, completely unfounded. My limited knowledge of nudists is that they all seem to be the same age as me and I don't find my own body attractive let alone anyone who resembles me! Can I get on with my holiday now?
Anyway we arrive at reception, more travellers site than top quality campsite! Two mobile homes and a gravel hardstanding. However they are very nice and offer us several choices of pitch for our 9 night stay. We start to realise how far reception is from the beach. We look at shaded pitches near the swimming complex, we look at sandy pitches near the sea and decide on a half way house on a pitch quite near the sea with a more solid looking base. Pitch 409 it is. Opposite us is a row of what might best be described as plastic bungalows! Having spent many years trying to find the best position for the caravan on a beach site we put the van with the off side to the beach. This means that we get sun in the morning and late afternoon. In practise this works really well, especially as we only have the Caravanstore, albeit with a front sun blocker.

I always think Sunday is a good day to visit French towns and cities as I seem to think it will be quieter. Now we never really get up early so its usually lunchtime before we arrive anywhere. That was the way it was with Bezier. Heading into Centre Ville we were surprised at how busy it was. On the second circuit of the centre we managed to find a parking spot. I had to do a double take as I thought I had arrived in North Africa, I could have well been in Algeria. At every seat there was a small group of people of North African decent, Algerian I expect, grand dad, father and young son. No women. It seemed so relaxed. One thing I admire about France is the way they have some how integrated different social and ethnic groups into their own society. But even more interesting is how these groups in turn adopt the French style.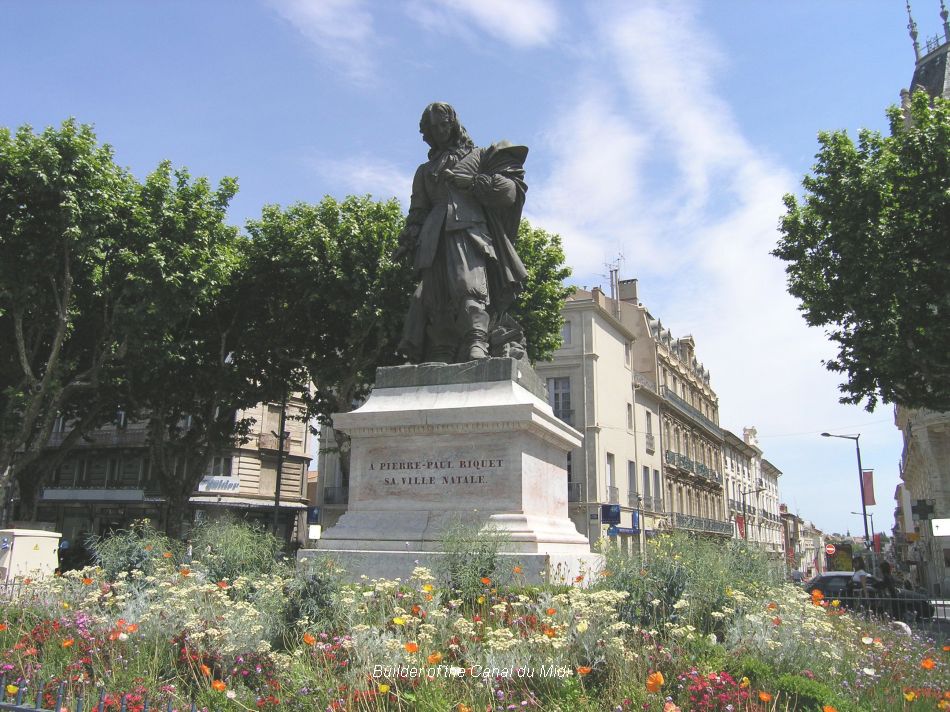 Also in Bezier was a wonderful garden called Plateau des Poetes, constructed between 1863 and 1867. It is a cool oasis is this busy town.
Click on thumbnails for larger picture.
In the information given to us by the campsite was mention of 9 locks on the Canal du Midi at Bezier. One day we set off to find these locks. What often puzzles me about France is that they often forget to tell anyone about their wonderful monuments. After a few false starts we found the Canal du Midi, we could see the aqueduct but no means of stopping the car to investigate. Eventually we drove towards Bezier and headed where we thought the canal was. Fortunately we were right! Found a parking place and set off to explore. As we got to the first lock we realised that the locks were space out, some by as many as 4kms.

Whilst at Serignan Plage it did make a half hearted attempt to rain one day. You could almost count the rain drops but it cleared the beach quicker than any shark would!!! I have to say that we generally had a pretty lazy time at Serignan, spending our time on the beach, or at the van or the odd trip to a supermarket. The campsite also had a WiFi connection which made keeping in touch or just checking the bank accounts a lot easier. A one hour access card cost €8 which is a lot cheaper that using your mobile phone.
The beach at Serignan Plage was always pretty empty, even as the campsite started to fill up towards the end of our stay. I was struck by some rather pretty flowers in the sand dunes which appeared to be cactus like. I do not know what they are called but I have put a picture of one below.

There is not much of interest immediately outside the entrance to Le Serignan Plage unless you have your bikes you have to rely on the car. The town of Serignan is a pretty little place. Valras Plage is the nearest seaside resort of any size. 1992 was the last time we stayed, using a campsite called la Yole. I have often marvelled at the contrast between French and English seaside results. 'No Kiss me Quick Hats' and no endless rows of penny arcades, just pure seaside and a nice restaurant for lunch. Now talking about lunch we had promised ourselves that we would eat out at least once on this trip! So we set out in search for somewhere to eat. There was a lovely but expensive restaurant on the front so we moved into the town a bit and came across Kim's Bar which seemed very popular which is always a good sign. We found a table in the shade. We acknowledged the young waitress who before I had uttered a word of French or English asked if we would like an English menu! How could we refuse. After a very nice time eating and watching the French we made our way back to the van.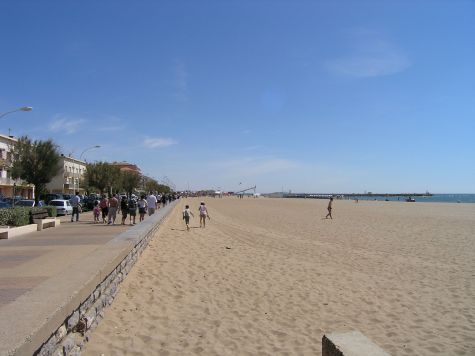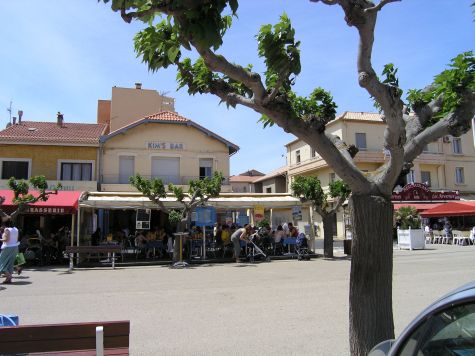 Saturday 27th May and our journey north starts. We are forsaking our normal route via Lyon and heading straight up through France via Millau and the A75. Whilst our pitch at Serignan Plage was perfectly big enough for what we wanted access to it was tight. On the opposite side of the road from our pitch were a row of chalets and depending on which ones were occupied when we left, and how they had parked their cars, would decide on how easy it would be for us to get out of the pitch! Fortunately we were OK and with the help of the mover we got off the pitch fine. (Still amazing at the interest a motor mover causes, I would have thought they were fairly common place now) By 8.45am we were on the open road. There is always a sense of sadness for me when you leave the Mediterranean behind but we had to start heading for home at some stage! Soon we are heading round Bézier and then onto the N9 towards Pézenas. Eventually this route will become part of the A75 but there are no signs of building work yet. The A75, from Pézenas to Clermont Ferrand, is one of the last (long) free sections of Autoroute in France, no doubt why it is much loved by the Brits! Not altogether sure why it is free, particularly as it has been a massive engineering project. Perhaps it is free to give help for economic regeneration or maybe a story I heard about where the French won't charge tolls on a road where there is no N-Road alternative. Other answers on a postcard please. The N75 is no ordinary road. For most of it's lengths it has quite steep inclines and so lower gears are often required. The climb up to the Grand Causses, just before Millau, takes you from almost sea level to over 800 metres, but the best is yet to come! The last time we came this way, in 2002, the Viaduct de Millau was still under construction. It is an amazing feat of engineering and us Brits can take a lot of pride that Norman Foster was responsible for the design. I have no love of heights, so I approached the bridge with some trepidation. Such is the design of the road and bridge you are not really aware of the sheer height. You are just engulfed in the sheer magnificence of the structure. Worth every penny of the €7.70 it costs to cross. Unfortunately, at present, there seems no where to stop to view the true magnitude of the structure but there was evidence of some sort of view point/ service area being built.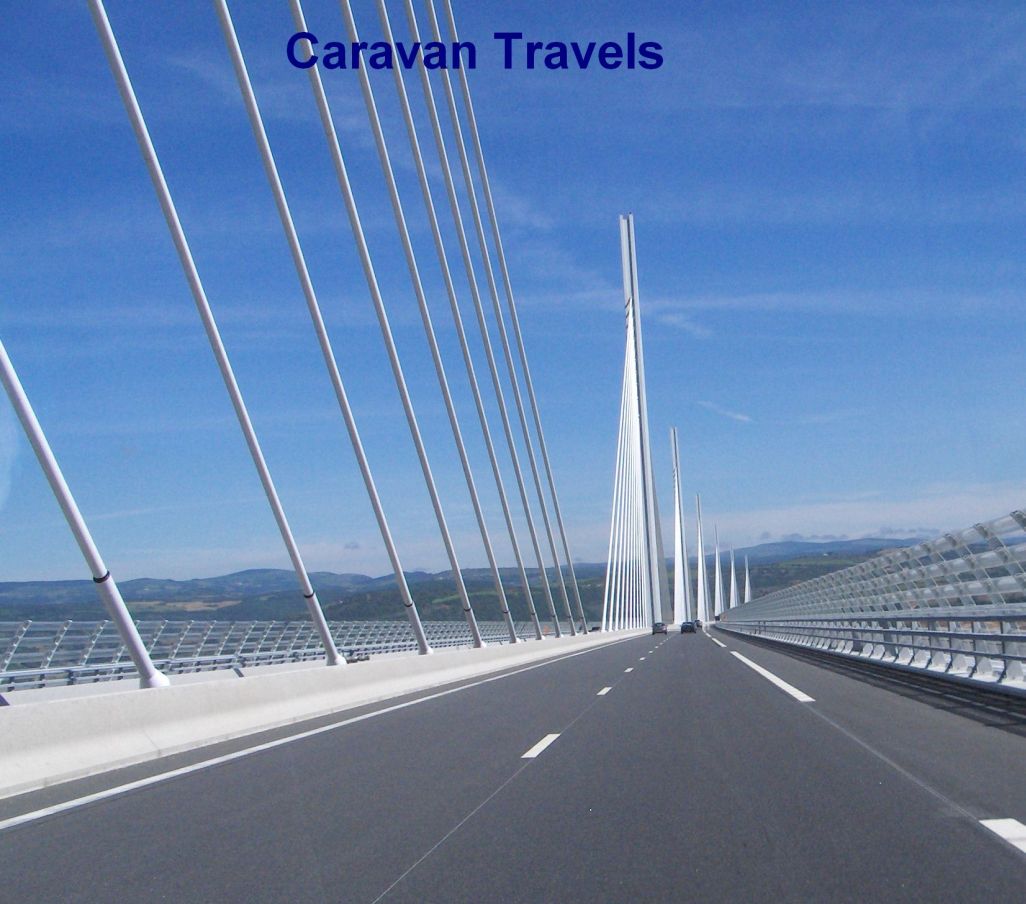 From Millau north was new territory for us and if we thought the terrain would get easier, how wrong could you be! Towards Clermont Ferrand the road climbs to over 1100 metres above sea level, higher than you experience almost anywhere else in France on an Autoroute. That having been said the scenery is really magnificent. Perhaps the significant reduction in fuel economy is a price worth paying! We had decided to stay for a few days at a campsite just south of Clermont Ferrand and a place called Orcet. Le Clos Auroy is only a few miles from the Autoroute and is reasonably easy to find. That is unless you are following me. Following the instructions to the letter I turned left as instructed and then first right. Trouble was I ended up in a tennis club carpark. The campsite was 50 metres further on! We did walk up into the town of Orcet but can't say it has much about it other than a couple of shops which might be useful.
After a couple of very lazy days at Orcet we continued our journey north. Our destination was a campsite on the edge of Rambouillet, near Paris. Camping De L'Etang D'Or was not easy to find although the lake is shown on the Green Michelin map, number 106. What is a bit confusing is that if you arrive from the south you go under the N10 and then rejoin the southbound carriageway and immediately exit next right which takes you back under the N10 adjacent to the northbound carriageway if you see what I mean! We eventually got to our destination and booked in. L'Etang D'or is a very wooded site and we were advised where we should pitch if we wanted to be in the sun. I have to say this campsite grew on me and we ended up staying for 5 nights. Immediately outside the campsite is a lake from which the site gets its name. Its a nice evening stroll around the lake but it is deceptive as the lake is shaped like a back tooth, large at the front but with two fang like inlets which take a while to negotiate! I have to say that given this campsites proximity to both Rambouillet and Paris it was surprisingly peaceful. Except that is for Friday night when a group of teenagers appeared on site and set up camp, but they were gone by the following morning and peace was restored. The campsite is supposed to have a restaurant and shop but apparently it will not be open during 2006. Pity really as I am sure it would have been popular with campers and visitors to the country park.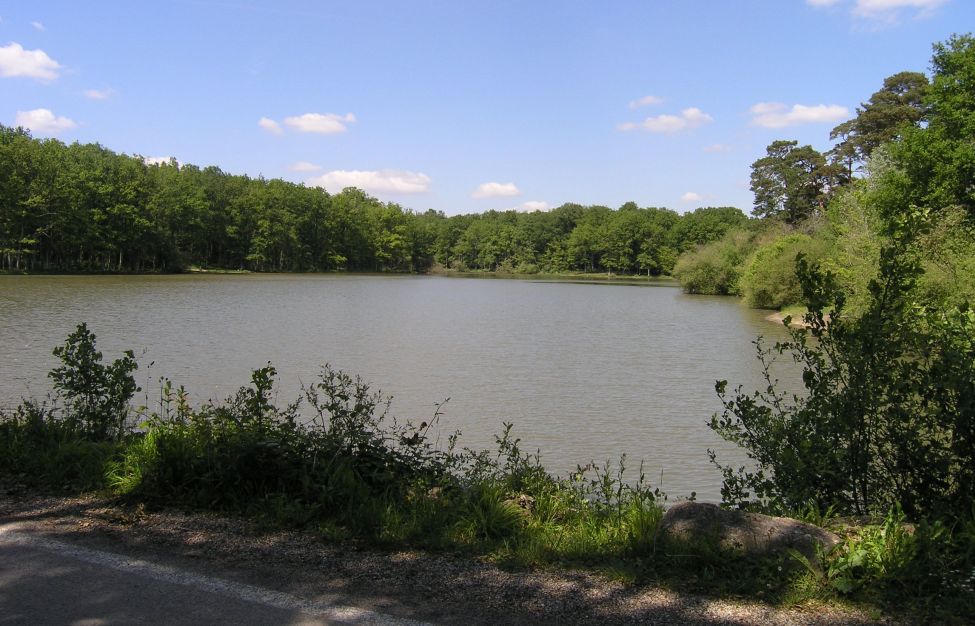 One of our main reasons for staying this campsite was because we wanted to visit Monet's garden at Giverny. Its an interesting 50 miles trip across country but a quicker return via the autoroute. We crossed the Seine at Monts-La-Jolie and found our way to the road that hugs the north side of the river. It takes you through La Roche Guyon which looked worth a stop but we pressed on. We got to Giverny and found the house with its free car park. The cost of getting into the house and garden was very reasonable at €5.50.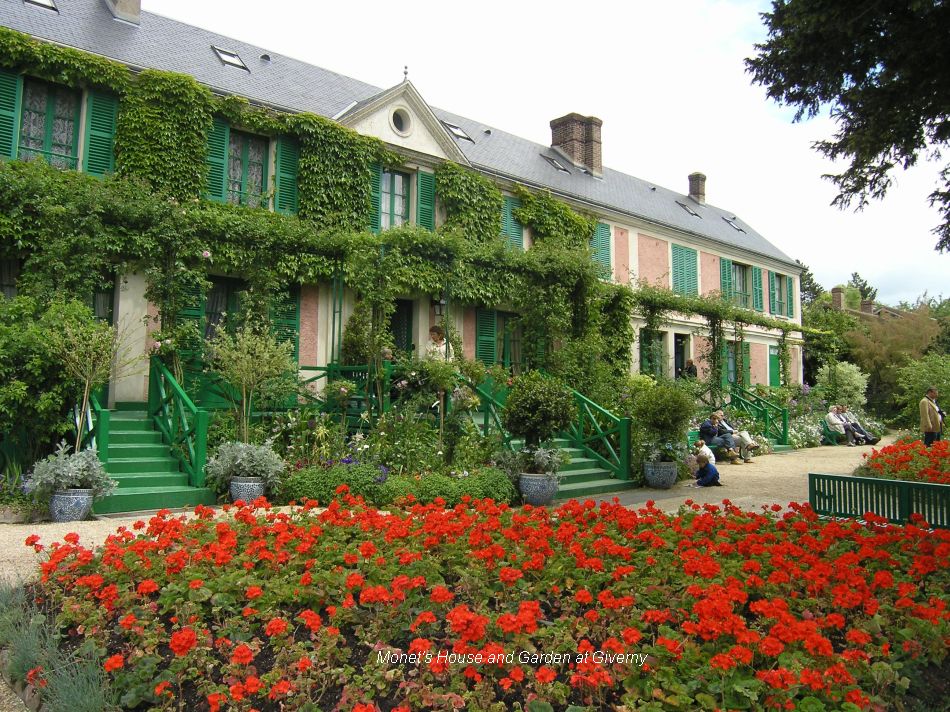 The house is fascinating and you have access to most of it although obviously parts are cordoned off. Monet used three studios over the years, the one in the house was later converted back to living accommodation. In the old photos it looked quite large but the reality is that it is not vast, they must have use a very wide angel lens! A large studio was built at the end of the house and was where he painted his very large pictures, sometimes in sections. This studio is now the museum shop. From the bedroom you get an excellent view of the garden and its the only place in the house they let you take photos but only of the garden. The main garden in front of the house is call the Clos Normand. The Lily ponds are further on and accessed by an underpass under the road. I try to be a considerate photographer but I do get grumpy when people show no consideration for others wanting to take pictures without them in the picture! However there are lots of angles that you can use to avoid people in the pictures but more difficult on bridges. As far as I am concerned the digital camera is a amazing invention which as revolutionised photography. It now means that on relatively inexpensive cameras you have the ability to capture really good pictures. But... why do people insist on using the display screen to take their photographs rather than the viewfinder. Most people could improve their picture by making this small change in how they take their pictures. Ok off my hobby horse lets get on with the gardens! The weather keep dry for most of our visit but it was dull a lot of the time. The funny thing is that an even light often produces better pictures.
Click on the thumbnails below for a larger picture.
After the excitement of visiting Monet's Garden we thought we should look closer to home. Rambouillet is only a couple of miles from the campsite. The town has a certain grandness that you would expect from this area of France. It has a Chateau with grounds in a style that is at home with the better know ones that surround Paris.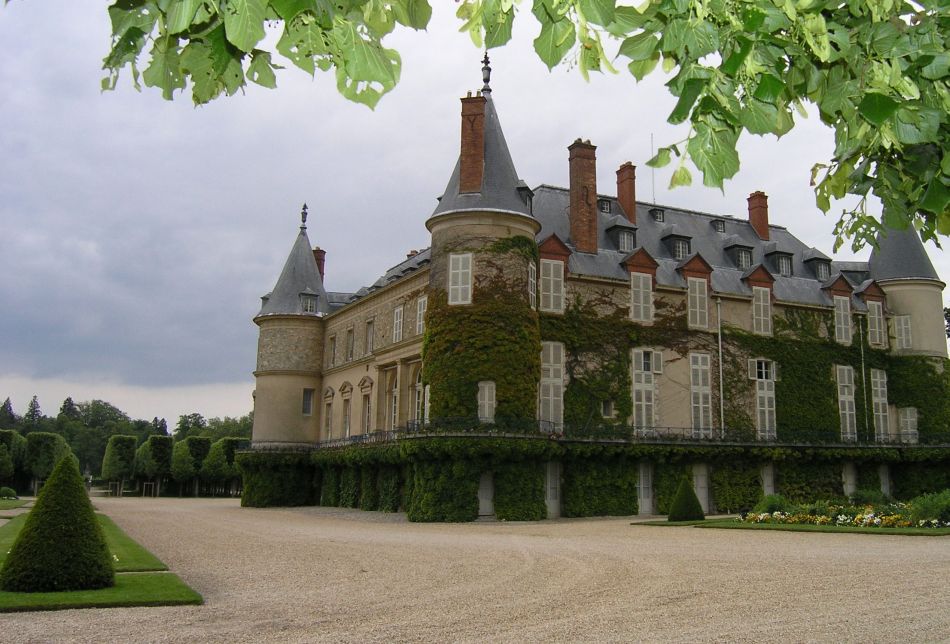 It had dawned on us that the day we had earmarked for shopping when we got back near Calais was a Bank Holiday in France, or perhaps not! Apparently the French Government have recently changed the law on Bank Holidays and many of them are now normal working days. However some employers continued to give staff the day off. Confusing or what! This lead us to visit several supermarkets to start stocking up the usual things. In Rambouillet there are 3 supermarkets, the nearest to the campsite is the ATAC but this does not sell fuel. Only a little further away is a Carrefour which is our preferred choice. Only problem was that it was in the process of being rebuilt. When this is finished I am sure it will be a fine store. Further north along the N10 is an Auchen, but a rather odd one, unlike the one just outside Boulogne. It reminded me of an Aldi but much, much larger. We did manage to buy a few supplies if you know what I mean.
Our last full day was Saturday so we decided to visit Chartres which is not to far away. Have been aware of more Police speed traps on this holiday than previously. As you approach Chartres the Cathedral impressively dominates the landscape from some distance. Now finding a parking place is another matter. Chartres is in the process of being dug up! From quite early on we had seen a sign telling us that there is parking for over 300 cars at the Cathedral but it took a couple of circuits to find it and only when we got there realised it was underground. It reminded me of a car park in Newcastle near St James, the parking places go down in a spiral and you park on a slope around the centre support. We managed to find a space near the bottom. The lift was so small we decided on the stairs which also happened to be spiral. We emerged at ground level and made our way into town and found the cathedral. It certainly has a wow factor although inside it is a bit dark until you get accustomed to the light.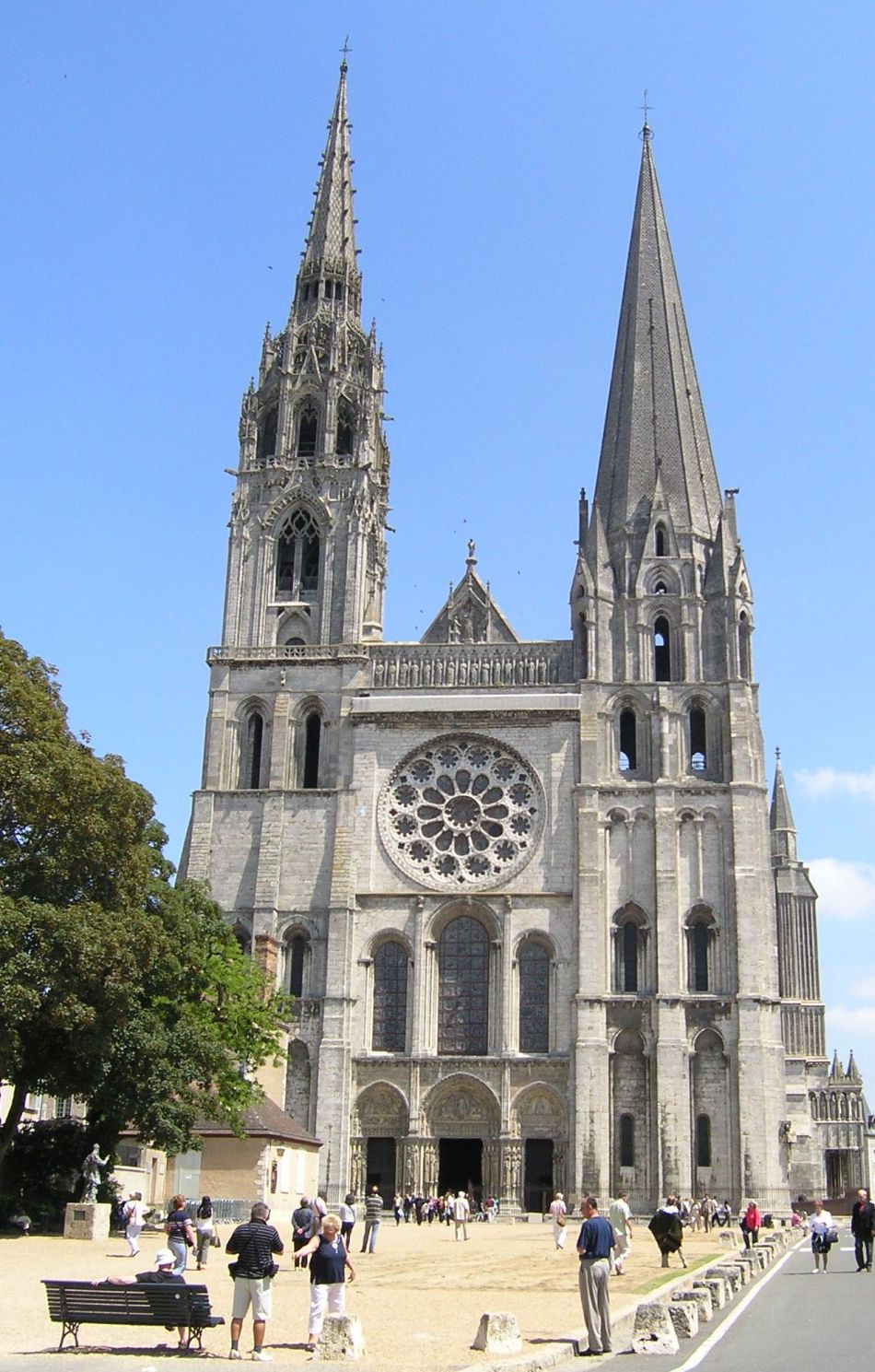 Sadly when we returned to the campsite we had to start packing up in readiness for our journey north on the Sunday. Like a lot of French campsites L'Etang D'Or has its share of permanent/working pitches. The N10 is being duelled so some of the workers use the campsite during the week. Our immediate neighbour seems fairly permanent. I never did find out what they did but they left early in the morning and came back late afternoon. Madam spoke perfect English and I was never sure if she was French or Dutch as there seemed a slight accent. She always appeared to be quite fun and would always talk or smile and gave a rendition of 'Singing in the Rain' one day when it was wet! It was the Yorkie that started our conversations. It was very nice, when she saw us packing up, she came over and thanked us for being such good neighbours. That has never happen to me before!
We were up and ready early on the Sunday. The site office did not open until 8.30 so quite a queue had formed when reception opened. Why people don't pay the day before I will never know. All I wanted was the bread I had ordered and was happy to wait my turn as it was wanted for the journey rather than breakfast. I was amazed to witness an example of British rudeness. A guy from a near by caravan barged through the queue and demanded his bread, I could not believe it. Haunted by this event we left the campsite and headed north.
Being Sunday I thought there would be no traffic. Whilst it was no where near the volume during the week it was still quite busy. Somehow we had to get round Paris. Having taken part in so many debates on so many internet forums I found myself in a dilemma despite all my own good advice! Did I go round the south of Paris, did I go through the middle or should I head out to Dreux and head up towards Rouen? But, I had a cunning plan. I had invested in the Michelin Green Map number 106, 'Environs de Paris'. This covers a large area around Paris and is of 1cm to 1km scale so fairly easy to read and show potential difficulties. We were already familiar with some of the roads from our trip out to Monet's Garden. I decided to head north on the N10 from Rambouillet towards Versailles and then heading out on the A12 and then west on the A13 autoroutes. At junction 8 we headed off towards Les Mureaux and Meulan. From here we took the D28 up to the N14 and then headed towards Paris and Pontoise. Here we joined the N184 and it was not long before we picked up the signs for the A16 for Amiens and Beauvais. I have to say I did not realise that the A16 came all the way down from Calais to Paris. Whether I would recommend this route I am not sure, especially during the week. Having said that we did not encounter any difficulties and saved some mileage. We had decided to stay for a couple of days at Condette and a nice campsite recommended to us. It was conveniently near the big Centre Commercial just outside of Boulogne.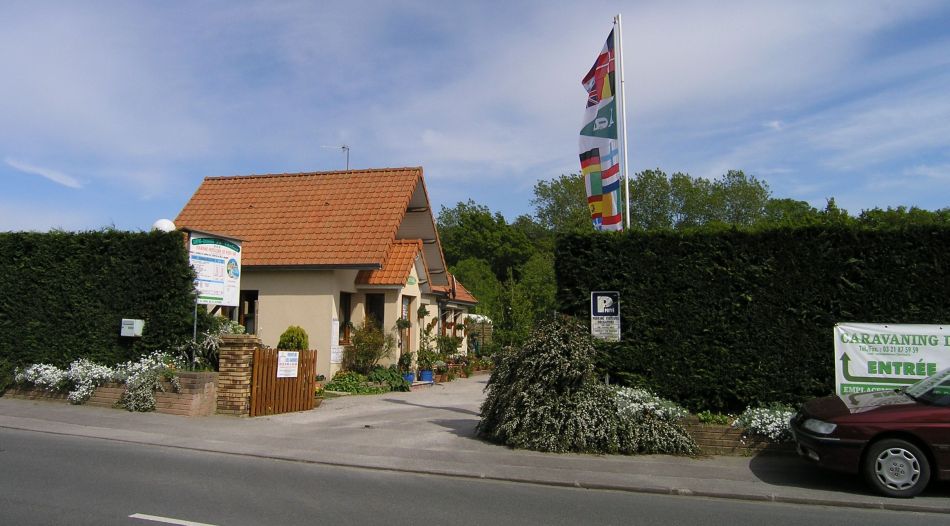 As I mentioned earlier Monday was a Bank Holiday in France and we were unsure of the status of that day as far as supermarket opening was concerned. So once we had set up and had lunch we left Condette in search of the answer. Having eventually found the Centre Commercial I went have a look at the Auchen store, fortunately it was open all day 'sans interruption'. We managed to find our way back to the campsite although from Boulogne the route seemed quite tortuous, glad we did not have the van on the back.
On Monday, before we set off for our shopping spree, we decided just to drive out to the coast which is only a couple of miles away. So we headed out towards Hardelot Plage. As you drive through the outskirts there are many fine houses, not dissimilar to what you would find around Poole Harbour. Surprisingly there were even a few thatched houses. Hardelot Plage is like a lot of French seaside resorts on the Normandy coast. Beautiful beach overlooked by nice apartment blocks. We stopped only briefly before making our way to our shopping. Normally I prefer Carrefour supermarkets over Auchen but we did not want to travel the extra 30 miles to find one. One thing I noticed is the two groups have the opposite layout. In Carrefour, if you want electricals, you go to the right in Auchen they are at the far end on the left! We managed to overcome the confusion and completed our shopping. After lunch we decided that we should at least explore the village of Condette. Reception had kindly provided us with a map to find the Chateau. Off we went past many interesting houses but could we find the Chateau, no we could not. Perhaps something for another day!
Tuesday we were up fairly early as we had a 35 mile drive to the Tunnel. Automatic check in again but no probs and even manage to squeeze on an earlier Shuttle. By one o'clock we were back in Milton Keynes free to think about our next trip in August!