France Diary 2004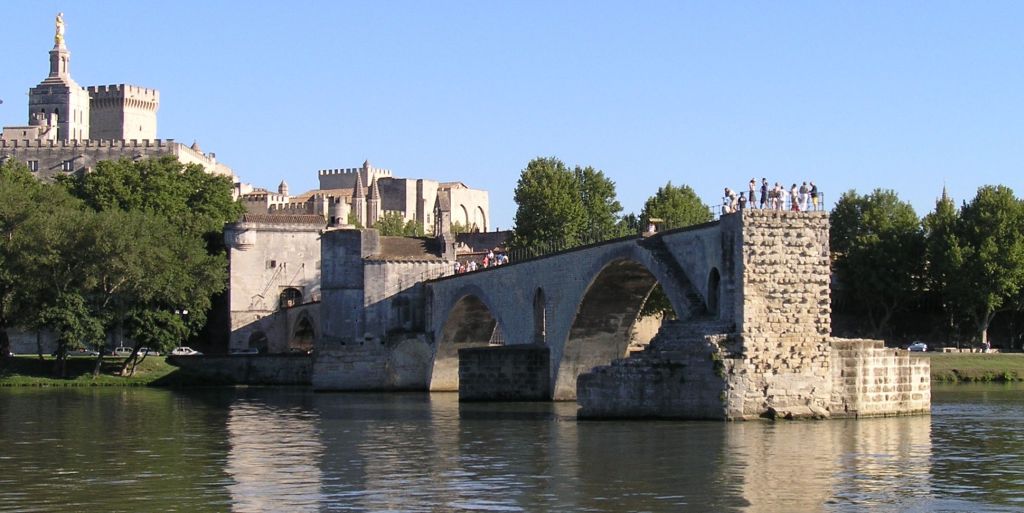 How things change, many months ago we booked the ferry to leave Calais at 5.30pm. Since then I have taken early retirement and Margaret has changed her job and managed to get all day on Saturday 21st August off! We delayed leaving MK until 12 noon so that we would not arrive at Dover too early. The M1 and M25 conspired to make this a reality. I have never known the motorways to be so slow on a Saturday. At least we were not late! As you come up over the cliffs from Folkestone I still get a buzz as you approach Dover. Perhaps it's the ferries busy in the Channel. Something else that I have not seen before but maybe due to the evening light, we could clearly see the coast of France as we descended the hill towards Dover. Mercifully The Pride of Canterbury was not full and as usual Langham's was even emptier. Given that we had spent far longer en route than anticipated the meal of Sea Bass was very much appreciated. Apart from the Dutch lorry alongside and the Latvian Sedona in front of us we were at the front of the queue to get off the ferry. The route to Dunkerque out of Calais is becoming increasingly familiar to us. There was only one slightly difficult problem in our way to finding our chosen campsite, all the junctions of the A16 had been renumbered! I am sure they were still the old numbers in early July, such is the pace of change!!!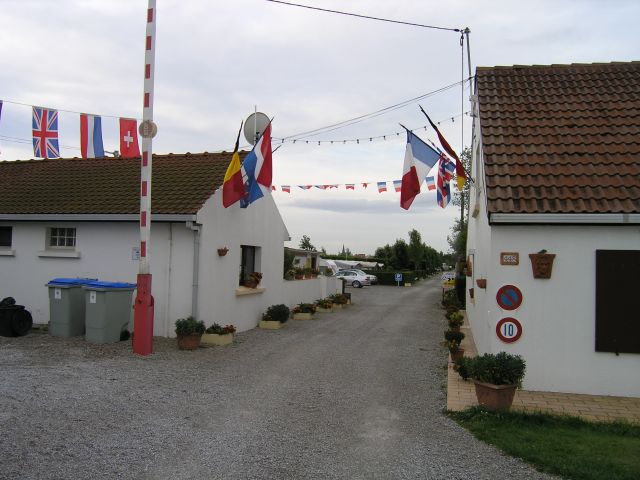 As a result of the number changes we missed our preferred exit from the motorway to Oye Plage. Once we realised this we took the next exit which would get us to Oye Plage but by not such a good route. Camping Bouscarel was our destination, the trouble was that when we got there it was full. Madam also appeared to speak no English what so ever which was rather surprising as all the direction signs were in English and the site was also well signed. However she did offer to put us up on the parking area which was OK by us and we were soon joined by another late arrival. Monsieur, although he spoke no English seemed a little more sympathetic to our needs. He went off in search of the owners of cars parked in the area we were to spend the night. The 'Move Control' always creates a lot of interest on French campsites as we backed the van into position Monsieur re appeared to sort out the electrics which were to be plugged into the sockets in the 'Salle de Jeux'. Bouscarel is a nice enough site but the problem is that it is quite small so if six outfits turn up they have a problem. Had we been there a few hours earlier we would have been OK.
We left Bouscarel at around 9.20am with the prospect of a long day ahead. We retraced our steps to Calais and found the A26 South. The plan was to skirt round Paris on the A104/N104 and then take the A6 South until we got to the A77 which would take us down to Nevers. The amount of traffic around Paris was in marked contrast to the M1 and M25 the day before. Despite relatively traffic free motorways it was still a long journey to St Honore les Bains of just under 400 miles and it was 5.30pm before we arrived. Madam suggested that we could have any of the free pitches, which there were many. We chose one that was right at the front of the site so I could see everything that was going on! A fellow Brit asked about the car as he had the previous model and was considering upgrading. He said that most of the previous week had been wet and this was evident from the ground conditions. After having something to eat and despite being exhausted we did manage to put the awing up that evening.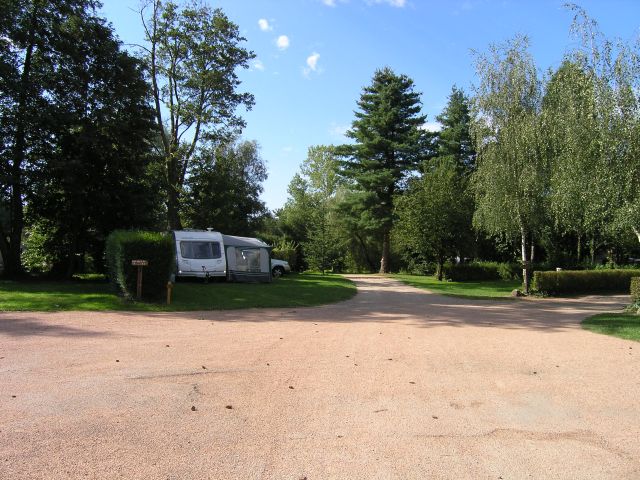 Monday dawned bright and sunny and soon became quite hot. Were we in the gods favour, only time will tell. We did not fancy going far so we decided to walk up into the town of Le Honore Les Bains. As the name implies it is a Spa Town although like others of its ilk it has seen better days. The Spa is still there in all its glory surrounded by lovely grounds, which the public have full access to. It's only when you look more closely at the buildings around the Spa that you realise that the days of 'Belle Epoch' have gone. On our way into town we passed what must have once been a grand hotel, 'Hotel du Parc' now in a complete state of disrepair. From the looks of it I am not convinced that it can now be saved. Despite this there are many fine private residencies on the route into town. Camping Les Bains is not far from the centre of town but the Municipal Camping is even nearer and at about £8 a night is good value. We called into the local supermarket, which is called Á Huit Á Huit. Now you would imagine that this means that it is open from 8.00am in the morning to 8.00pm at night, which of course it is – except that is for the 2 hour lunch break in the middle of the day!!! We walked back through the Spa to the campsite. The rest of the day was spent recovering from the long journey the day before. We were not in a condition to enjoy the festivities of the night before and the fireworks, which was a pity. However there was something else in store for us, throughout a lot of the night we endured a relentless thunderstorm and heavy rain.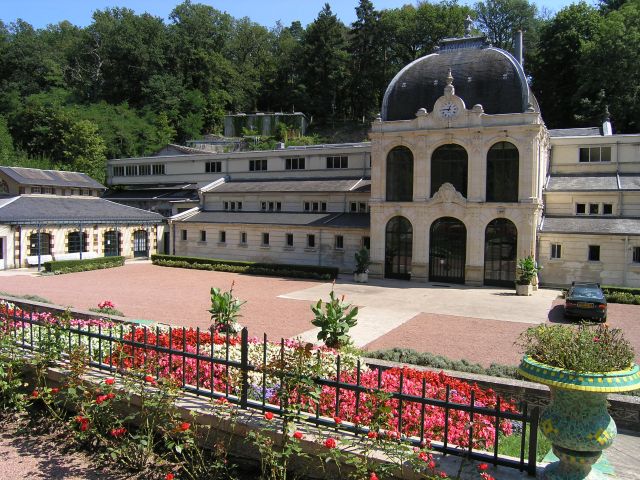 The following day dawned a bit grey but as the day went on the clouds started to clear. After lunch we decided to go out for a drive. There were two reasons for this drive, one to see some of the countryside and secondly to test out a possible route to the main road from the campsite. On the map the route to Luzy looked twisty and hilly which was exactly as it was but we decided perfectly manageable with the caravan. We even managed to find a route in the town that avoided a narrow section of high street. Retracing our steps from Luzy we turned off on a cross-country route to Chateau Chinon via minor roads. This area of the Morvan, in Burgundy, is certainly very attractive and well worth a visit even if it does remind you of the English Lake District! I have to say that I was a little disappointed in Chateau Chinon as apart from being a pleasant enough town it did not live up to my expectations. We returned to St Honore Les Bains via the intriguingly named Moulins-Engilbert!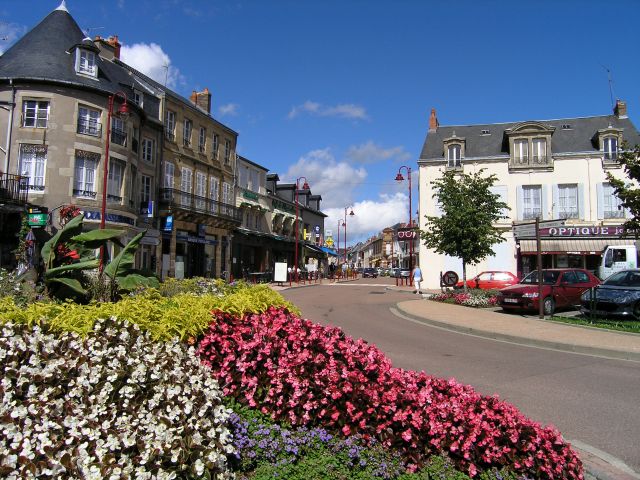 Wednesday was miserable, despite this we set out with expectations that it would improve but our enthusiasm was not repaid! One slight problem we had encountered was the lack of places to buy fuel. In the town there was a place you could buy fuel but only via an automatic credit card station. As the French, currently, use a different system of 'Chip and Pin' I was reluctant to try and buy fuel. At the ATAC Supermarket in Cercy we did find a manned pump which we used to fill up. In looking for diesel we had gone right through the town and discovered at the end of the main street a lock on the Canal du Nivernais, we noted to return. We continued our journey to Decize, again to look at the canal. We discovered a lovely parking area, the only problem was that whilst we walked along the towpath the heavens opened and we had to retreat to the car. We even crossed the river to the town but with the weather as it was decided not to explore further, a pity, as it looked quite nice.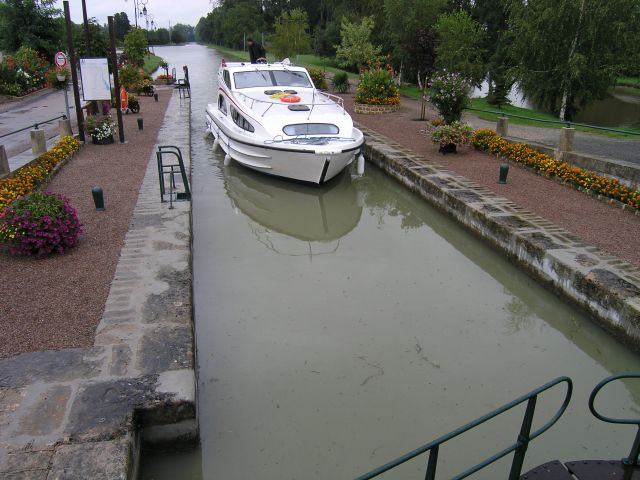 Our last day at Les Bains, Thursday, a day longer than planned. Back to Cercy for some shopping and a return visit to the canal for some photographs, unfortunately still in the rain. After lunch we took the awning down, although it was still wet but the weather was brightening. In fact it brighten up enough for us to have a good walk round St Honore les Bains. We managed to get to the parts of the town that we had missed on our previous visit. This included the church, which is set in its own small square.
Now of course the day we leave Les Bains was bound to dawn bright and sunny and that was the case. Although strangely over night it had been very cold, more like October than August! A lot of today's route was across country so progress was much slower than the autoroute. The idea was to avoid Lyon and also cut down on the tolls. On reflection I am not sure either idea was successful. Unless you like slow cross-country journeys there is little advantage in cost or time savings. Also as we got to St Etienne the traffic was as heavy as it is going round Lyon. When we eventually got to the 'Autoroute de Soleil' the traffic coming north was very heavy and at a stand still in places. Even southwards the traffic was heavy but moving at a good pace, apart that is the stream of slow moving lorries and the occasional caravan! The further we travelled south the clearer the sky became and the hotter it got. Where the A7/A9 Autoroutes divide we had to follow the A7 towards Orange and eventually junction 23 our turnoff for Avignon.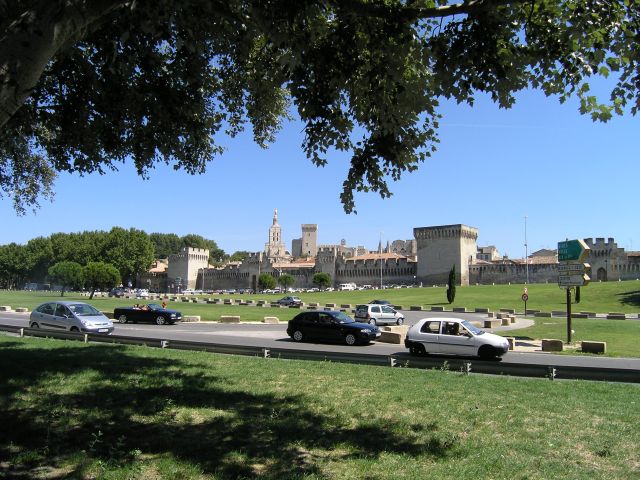 Town/City campsites are fine when you are actually staying on one but I will always admit to being a little apprehensive approaching such campsites through the city traffic. Avignon was no exception as the directions were not that clear and it was the start of the evening rush hour.
The Camping Cheque book was sparse and the Caravan Club European Guide was a little confusing. Some how we managed to find our way to Camping du Pont d'Avignon. As the campsite name suggests it is right opposite the remains of the bridge on the Ile de la Barthelasse. The site is divided in two, one side for tents without electrics and the other for caravans/motorhomes with electrics and all these pitches are on hardstanding. Only staying two nights so no awning to put up so we were soon set up and enjoying a relaxing drink. Looking up at the clear blue sky got me thinking about the difference between the South of France and the rest of the Country. In the rest of France the temperature varies between very hot and cold and when it's hot it is like being under a grill. In the South it is invariably always hot with a much more even temperature which embraces you.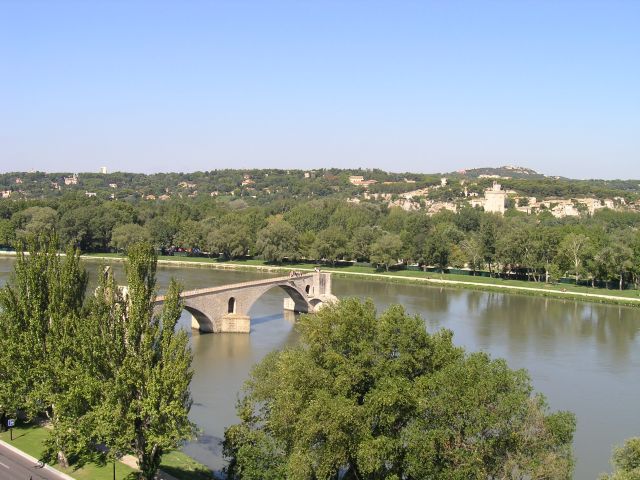 Saturday morning we were up early, at least for us! After bacon and eggs we were ready for Avignon! With the campsite being on an island, so we had to get to the mainland, so to speak! Two choices the bridge or the free ferry. We chose the bridge, despite being a longer walk, because there were opportunities for photographs. We made our way along to the Pont d'Avignon, or to give the correct name Pont St-Benezet. The bridge is famous for two things, firstly being incomplete and secondly for the song of the same name. Originally the bridge had 22 arches but now only 3 remain the others having been destroyed by siege and heavy flooding. The idea for the bridge, apparently, came in a dream to a shepherd. Just imagine the problems he would have had now with Planning Permission!! It costs 4 Euros to get onto the bridge but this does include an audio device to explain the story. If you intend to visit other historic sites in Avignon on the same day the ticket from the bridge gives you entitlement to a progressive discount at other attractions. Just a note for those that worry about such things there are public toilets as you enter the bridge complex (before you pay).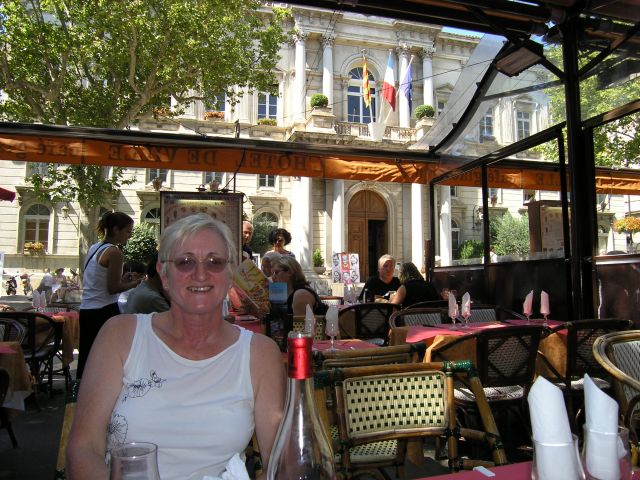 A tip, which we discovered by accident. Just to the right of the cash desk there is a door that allows access to the Ramparts and depending on how far up you are prepared to climb will allow some excellent views. Not only of the bridge but the rest of Avignon And the Rhone Valley. At ground level you make your way through narrow streets to the magnificent Square in front of the Palais des Papes. By this time we were both in need of a different square, a square meal! A little further on we found the Square in front of the Hotel de Ville and had a very nice lunch in the midst of city centre activity. Perhaps it was the bottle of Rose but our enthusiasm for exploring much more had waned although we did complete a walk around another half of the extensive Ramparts before finding the free ferry service back to the island.
There is nothing like a problem to bring nationalities together! For some reason the electrics in our run of pitches went off, two evenings in succession. A very charming older Dutch guy took charge. He came back with the key to our shared electric box but all was well in there. Suspicion then turned to the main box at the end of the row. This was where the fault lay. My new Dutch chum was not happy that an explanation was not given for the fault. He was convinced that it was the fault of a German van someway up the row using too much electricity. He was no happier having spoken to said German. He did not trust the Germans (still!) On a lighter note he said that he had been to the UK several times and appreciated the quality of out campsites, particularly the spacing between vans.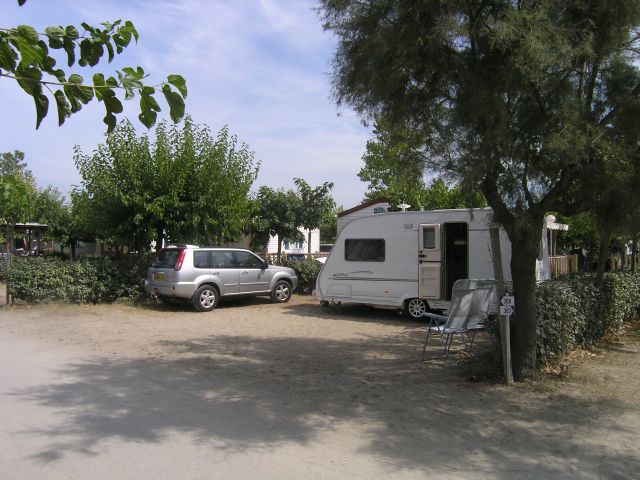 No particular rush on the Sunday but we left the Avignon campsite just after 10.00am. We followed the signs to Nimes, which would eventually take us to the A9 but not before we drove through endless suburbs. It was strange to have such a short journey, 57 miles, between campsites. When we got to Le Boucanet there was nowhere to park outside the gates so we positioned ourselves carefully in the entrance so that cars could get in. We were told to find a spot and report back. I tried to persuade the security guard that it would be better for us to park inside the campsite but he was reluctant to allow this. So we left the car and van causing an obstruction whilst we went in search of a pitch. We headed off in the general direction of where we were last year. Pitch found we headed back to book in. You need a number to access the entrance barrier, trouble was the car in front, and a white Peugeot 306 did not have one. Papa was there trying to explain to the security guard that his son and 'My Cherie Amour' should be let in! More about that later. Reversed the van onto the pitch but needed to adjust the last couple of yards. Unhitched and decided to use the 'Mover' ideal on loose sand as it moves so slowly. The problem is of course the jockey wheel, which tends to sink into the sand. No only that but the jockey wheel also would not hold the van and the nose slid down to the ground. We managed to get into position by me lifting the front end and Margaret operating the remote control of the mover. I have been concerned about how 'femmer' the construction of the AlKo jockey wheel assembly is on the new van. This requires attention, but later! Finally in position we put the awning up, including the polythene under groundsheet to prevent sand and ants coming through.
Time to settle down with a cool beer. Its was not long before we had some activity on the pitch next door. A French couple with what looked like a new car and a new Hobby van. He made no attempt to reverse the van onto the pitch. In stead he unhitched and started to push the van back through the sand. Muggins decided to help! We tugged and we pulled but were not making much progress until Papa et Fils appeared and took over, making your scribe somewhat redundant as the banter was beyond me. I did assist in the positioning of their electric cable and added the meaning of a couple of new words to my vocabulary. Encore to mean more cable and Cest Bon to mean enough. So often it is the usage rather that the meaning which is important. Thinking that everything was OK I retired to my beer. However within a short period of time they were obviously not happy and had decided to move to the pitch on the other side of us. Yet again no effort to use their own car, Madam had enlisted the help of the resident workmen who are very willing to tow you on and off the sandy pitches. It was interesting to watch the guy in preparing to move the van, down on his knees smoothing out the sand ruts. Eventually they were installed on their new pitch and they seemed happy.

Monday had to be supermarket day so it was off towards Aigues Mort for some shopping. It was nice to be back on a Mediterranean beach campsite. The population of the campsite was starting to thin out, particularly the French. Over the next couple days we spent a lazy time either around the van or on the beach. On Wednesday we ventured out along the coast in the car. We stopped on the way to take a closer look at some Flamingo's in one of the salt marshes that seem to be around these parts. On the way back we discovered a very large Carrefour at Lattes just south of Montpelier. I even found some grease here to sort out my jockey wheel. With out any warning during the day there was an almighty storm during the night, which seemed to hang around for hours. One particularly load clap of thunder put the electrics out and we had to wait several hours before they were restored. The rain was also pretty heavy and was soon forming river lets along the site roads. Not only was it affecting the roads we also had a flood in the awning. Unfortunately we had left 6 inches of polythene outside the perimeter of the awning and this acted as a conduit for the rain. You would think that being mainly sand rain would just soak in. By mid morning we started to see breaks in the cloud and eventually it turned into a very nice day. I managed to take the jockey wheel apart, give it a good clean and apply grease from my very large, newly acquired tin of grease! It all now seems OK but he tightening screw is a bit bent, which may have had some effect on tightening, time will tell.
Thursday was also the day that 'My Cherie Amour' left so perhaps this is the time to tell the tale. You remember the white Peugeot blocking the entrance when we signed in? Well in that car were the Son and girlfriend of Mama and Papa who were already here and camped a few pitches away from us. M and P had obviously set up a separate pitch for Fils and 'My Cherie Amour' as I started to call the girl. It was difficult to put and age on the son but I thought around 30 although Margaret thought he was younger. The girl seemed very much younger, perhaps not much more than 18/20. Maybe it was the way she acted, shy and demure!! Her Beau was always calling her Cherie, not I suspect because he was besotted with the Prime Ministers wife!! So as the word Cherie wafted towards me at frequent intervals I decided to call her 'My Cherie Amour' Back to the story. When they arrived she would hang back a little so it seemed to me that she did not know M and P very well, if at all. Fils seemed a bit juvenile in his actions, a bit of a poseur. This was very much Papa's show, almost every waking hour he was there organising, etc. etc. One thing Papa and Fils had in common was they both had very loud voices that would resonate around the pitches particularly at meals breaks. Sometimes the young couple would practice juggling, he with clubs and she with tennis balls. They did not do it for long so it was hardly likely to be a serious form of exercise. I could not work out the point of it all particularly as they always chose a very public place to exhibit their skills! The routine was the same most days but it did appear that 'My Cherie Amour' was appearing to be more relaxed with M and P although one sensed it was a bit of an ordeal for her. So whether the storm on the night before was the last straw or departure had always been planned for today I don't know. With a toot on the horn and a wave out of the window, and with no apparent sadness, they were gone, leaving Mama and Papa forlornly waving them off on the campsite road in front of us. That familiar load voice of Papa has been strangely silent since they have gone. I have to admit to a little sadness that Papa no longer has his Fils there as it was obviously very important to him and as a father I can understand that.
Friday was another shopping day and we wanted to go back to Carrefour. Before we went food shopping we had a good look round Castarama, which is a huge DIY store. Margaret dragged me in the Self Service Restaurant at Carrefour. Very good value at about £10 for both of us. The big chains of French Supermarkets seem to have different priority services. We made the mistake of trying to go through one of the 'Pass' checkouts and were soon told we could not, just as well we had not unloaded everything! I appreciate that as visitors to France we are very much in the minority of shoppers in these big supermarkets but there are bound to be sufficient that don't understand and I would have thought that a notice in several languages would not be out of place. If Intermarche at Aigues Mort can do it why not the big boys?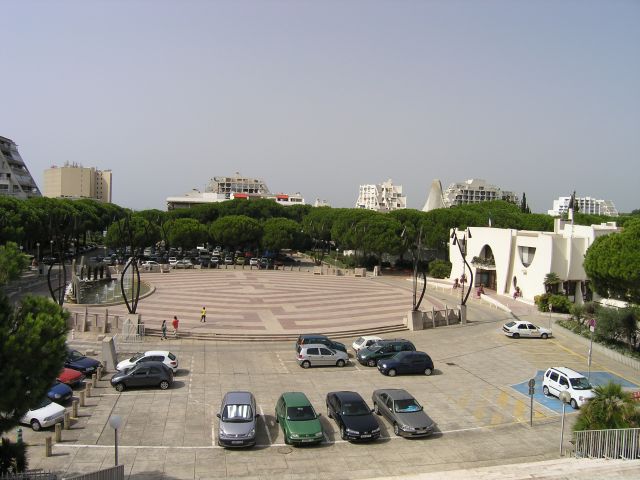 Last year we had driven into La Grand Motte but on Saturday we decided to walk as the distance did not seem that great. Trouble was that is was so very hot and despite taking a large bottle of water with us we felt pretty woozy by the time we got back to the van. On site for the last couple of days has been an English couple, Paul and Karen, who we got talking to. He was having a sabbatical from work and they had been out for the last 10 weeks, mainly in Spain, but were now working their way back through France. Now all this seemed fairly familiar and it turn out that he worked for the same company as Margaret and I. He had just celebrated 25 years service and as Margaret did two years ago is now on a six month Sabbatical. Small world!
On Sundays Margaret finds it difficult to break the habit of a lifetime, it is cleaning day! I even managed to purchase a small vacuum cleaner for her to ease the drudgery! As labours allowed we did get to the beach in the afternoon. Monday did not dawn as bright as we had become accustomed to, it was overcast. We had promised that we would drive out to Port Camargue and the Lighthouse at L'Espiguette. Port Camargue seems only to be a mass of housing built round a Marina but without the charm of either La Grand Motte or Port Grimaud. A lot of signs pointed to L'Espiguette so we ventured forth. As we approached it became clear that quite a few visitors were not happy with paying 4.50 Euros to park and roads signs had been disfigured to point this out. It does seem strange that parking in France is either free or at modest cost. Fortunately we found a space to turn and continued no further. We instead made our way back to Le Grau du Roi, our campsite is at Le Boucanet, which is part of Le Grau du Roi. Roads here are quite narrow and often one-way. We found an almost empty parking area alongside the boat moorings. Interestingly on this parking there were facilities for motorhomes to empty waste and refill water tanks, I am not sure if this was free. This parking was next to the Bull Ring! Le Grau du Roi is an interesting place with narrow streets with lots of restaurants. If you are there at the right time you could even be lucky enough to buy that days catch direct from the fisherman. On one stall there was an amazingly large Lobster, not sure I would have been brave enough to tackle him!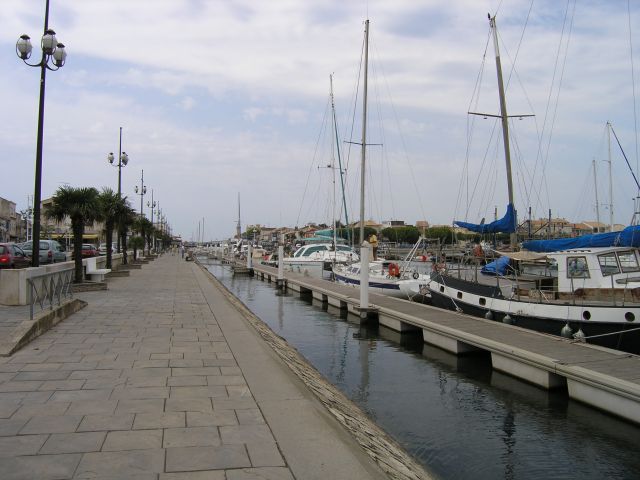 When we got back to the campsite the wind was starting to come up. It had blown the beach sand smooth and level. The beach was almost empty. Although quite strong the wind was still warm and it was lovely standing on one of the beach access steps with the wind blowing by. The numbers on the campsite, if anything, have increased since we arrived. Lots of Germans and Dutch and a surprisingly large number of French. There are also quite a few Brits, although accepting those in the immediate area you would not know it. Whenever we are on a campsite the evening stroll is a part of the ritual, it does surprise me that so many British people are so insular that they don't get out and talk to there fellow campers. I will keep banging the drum!
Our last day at Camping Le Boucanet today. The wind had come to nothing and it was another beautiful day. Our row of 7, all caravans except the Brits right at the end in a motor caravan, have all been very friendly during our stay. Although we have not always understood what each other has said we have made the effort and achieved a surprising amount. The older German couple next to us were at the same campsite in Avignon. Their daughter has arrived for a week with them and she speaks excellent English. It is always good to be able to exchange a cheery wave and greeting and even the odd joke, at least everybody laughs. As our five-day journey back to Milton Keynes starts tomorrow we had yet again to return to the supermarket. I am worried that Margaret is getting a bit addicted to the Carrefour at Lattes!! When we got the cashier I had intended trying to us my Switch card. Before I had a chance to ask the cashier I notice that I had broken the corner off the card, a new one on me! Back at the van we set about the task of taking the awning down and packing everything away. After a couple of glasses of Rose with our lunch enthusiasm was hard to find! It was a slow and laborious job in the heat, which we eventually managed to complete, but not in world record time!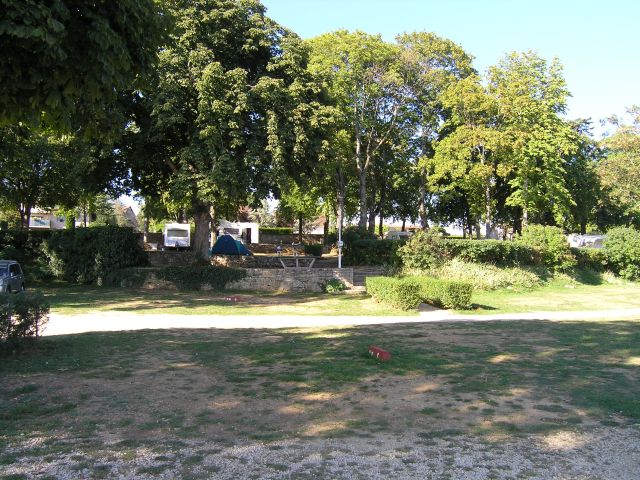 We were up a little earlier than normal on Wednesday as this was the day we started heading north. As we left there were handshakes and goodbyes and best wishes from our nearby German, Dutch and British campers. The route from the campsite to the Autoroute seems to have more roundabouts than Milton Keynes. One thing I notice about the X-Trail is that it does not corners as well as the Xantia did and Margaret is usually hanging as though her life depended on it! As usual a journey of two parts, busy until Lyon and much quieter after. France changes north of Lyon, gone are the lobster pink roofs and a more familiar architecture and countryside starts to develop. Our aim was to get to a campsite at Meursault called La Grappe D'or. Some years ago we stayed at this site and found that when approaching from Beaune the site entrance was difficult. This time we left the Autoroute at Chalons and cut across country. Care must be taken coming through Meursault because there are some quite narrow roads but once you get the campsite the entrance is easier. This campsite has a wonderful location looking out across the vineyards of Meursault, some of the most expensive off the shelf wine you can buy. You can also see a long way beyond the vineyards.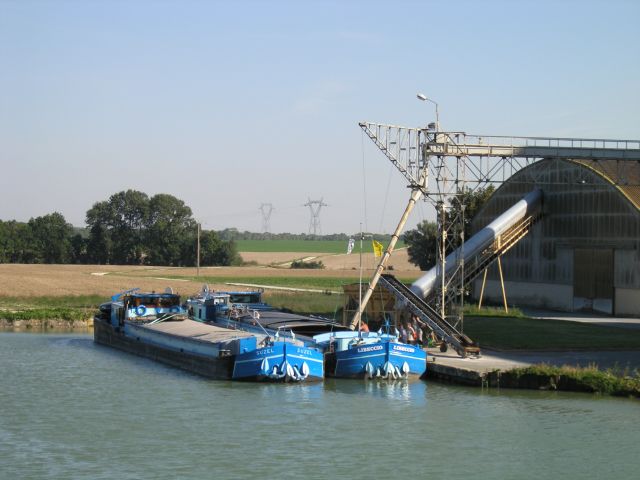 We continue our journey north today with a slightly shorter distance and aimed for a campsite just south of Reims. I had intended to do a right out of the campsite and head for Beaune but this is not allowed so we had to retrace our steps to Meursault and to the other main road. We were soon on the Autoroute heading north and once past Dijon there was very little traffic. On the long desolate stretch between Troyes and Chalons, near to Vatry Airport, we noticed Fire Engines and assumed there had been an accident. As we passed we were sickened to see a British caravan, reduced to match wood on the other carriageway. It was unrecognisable as a caravan and appeared to be being towed by a Discovery which whilst upright looked quite badly damaged. There appeared to be another car involved in the accident but you can only speculate what might have happened. Was it a blow out that caused a violent snake, who knows? Being only a relatively short distance from Calais one can only assume that the people involved had only just started their holiday. We continued our own journey in sombre mood. We had decided to return to a campsite we had not visited for several years, the Municipal at Val de Vestle, just south of Reims. Everything was the same as we remembered it except that it now had a superb new toilet block which made the £6.50 a night even better value. Once we had set up we decide to walk through the village and up to the canal. Two barges had been filled with grain from the silos and were ready to depart.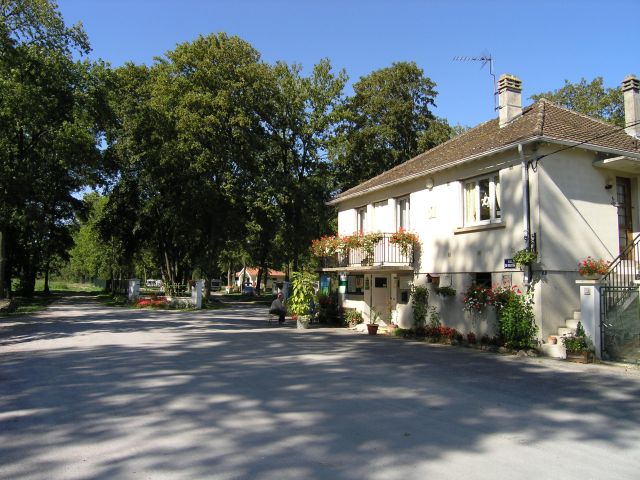 In the morning I took the short walk into the village to buy bread. The friendly lady in the shop tried to tell me something about a coin I had given her. I knew she was saying something about Belgium's but did not really get her drift. Back on the main road and heading towards Reims. We came to a roundabout with an aircraft in the middle of it but no sign to the motorway so I decided to go left which fortunately was correct and we found ourselves back on the autoroute. We have done this journey many times but at this point have always stuck to the motorway. As we were not in a hurry I decided to follow the N roads north to St Quentin and then back onto the autoroute. From here it was not that far to Chateau de Gandspette which is one of our favourite sites to stay on before we catch the ferry. Once set up we drove to the Champion Supermarket which is near to the site for a few bits. We have often used the site restaurant and consider it to be one of the best of its type. Normally this is on the day before we leave, but Margaret felt we should use it on the Friday night as we usually get quite full. The service is usually very good but for some reason tonight it was slow. well not so much slow but we were being overlooked. People that had ordered food before us were getting their food, Margaret was getting more on edge as the evening went by. Being a man I was happy to wait especially as I don't like food in quick succession. We did eventually get our meal and I found it quite entertaining. I am sure we will return as its the only way Margaret can get me into a restaurant!!!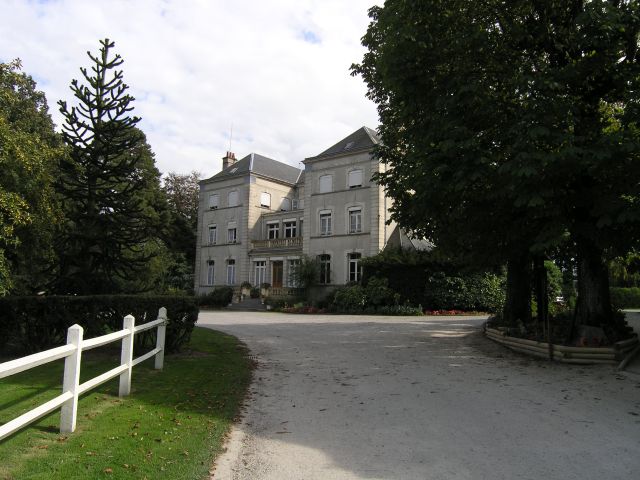 Saturday our last day was of course shopping day. I thought it would be better to go out to Dunkerque rather than Calais, When we got to the Auchen car park every other car seemed to have a Belgium number plate. As we discovered once in the store there was a wine promotion going on and everyone seemed to be having a very good time!!! Wine and beer that seems to be what we fill the trolley up with but not too much beer!!!! Much prefer the wine. We now find ourselves buying boxes of wine in 3 and 5 litre boxes. You can buy 10 litre boxes but I think it would break my heart to pour that much wine down the sink if it was not up to standard, i.e. drinkable!!! The rest of the afternoon was spent trying to get everything back in the car, thank goodness we left the Wastemaster at home!
Managed to get on an earlier ferry without any hassle this time. Journey round M25 OK. Initially the M1 was OK but we were soon held up by an accident, fortunately it did not look too bad. Got home just in time to get the van in the back garden and to watch the start of the Grand Prix. All in all a relaxing holiday with some nice sites en route. Glad we visited Avignon and paid return visits to a couple of sites we had been to a few years earlier. Personally not so keen on the time of year as I would much prefer to go earlier, perhaps mid June. Mind you we met some nice people which we may not have met if we went in June.