France September 2006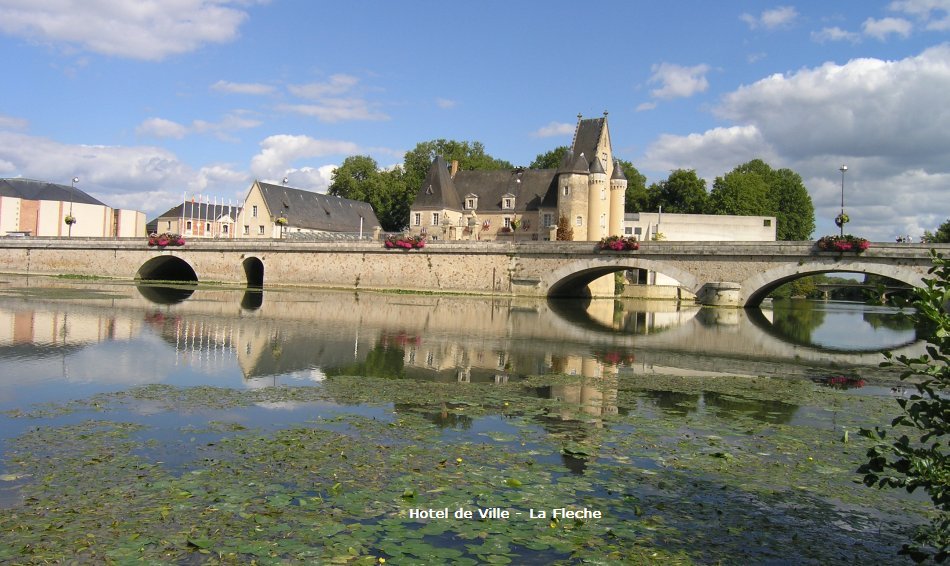 Go West Young Man
With all the rain that August had thrown at us we lived in hope that the weather would improve for our September trip to France. The trip was actually starting in August, in fact on August Bank Holiday Sunday, good planning or what! We got away from home just before 9.00am, plenty of time to catch the 1.00pm ferry. This was our first major trip out for our Sat Nav, a TomTom 710, and a major learning curve for us. It seemed to cope with us going off course into Service areas and immediately picked up that we would need to rejoin the motorway. The only problem was that it was giving an ETA that was far to close for comfort. Any way we made the docks in plenty of time for our ferry.
This was our first ferry crossing for about two years. More recently we had used the Tunnel. Both have their advantages. The Tunnel is quick and smooth. The ferry allows time for something to eat and a rest from driving. What I have never liked about ferries is that they seem to allow smoking almost anywhere, but no more, P&O do have a limited designated area but it is banned from most areas of the ship. There seemed to be quite a lot of people waiting to get on the ferry so Margaret offered to stand me lunch in the Langans Restaurant which is always very civilised and good service.
Our original plan was to travel to a campsite just north of Rouen. Our ferry docked at 3.30pm so on reflection this seemed a bit too ambitious. We therefore decided that we would try a campsite called Val de la Trie near Abbeville, about half the distance of our first plans. After some fun and games with the TomTom, mainly ignoring it, we arrived at Val de la Trie. Although the sun was out it was clear that they had, had a lot of rain recently as all pitches were wet to muddy! It was going to take more than a day or two of hot sunshine to dry this site out. Problems were made worse by thunder and lightning and even more, very heavy, rain during the night. Even the following morning it was still raining but around midday blue skies appeared so we decided to visit Abbeville, which was nearby. Leaving the campsite we at least took the route we should have on the way to the site!
I would imagine that from the style of the town centre Abbeville suffered quite badly during the second world war as apart from the church most of the buildings are post war. I am not sure one could argue that the architecture has stood the test of time. It seems to have divided the town centre up into a series of squares with the traffic still running through the centre. The French don't seem to be able to deny completely access by vehicles and this restricts their freedom somewhat. On a more mundane point here is a supermarket within walking distance of the town centre.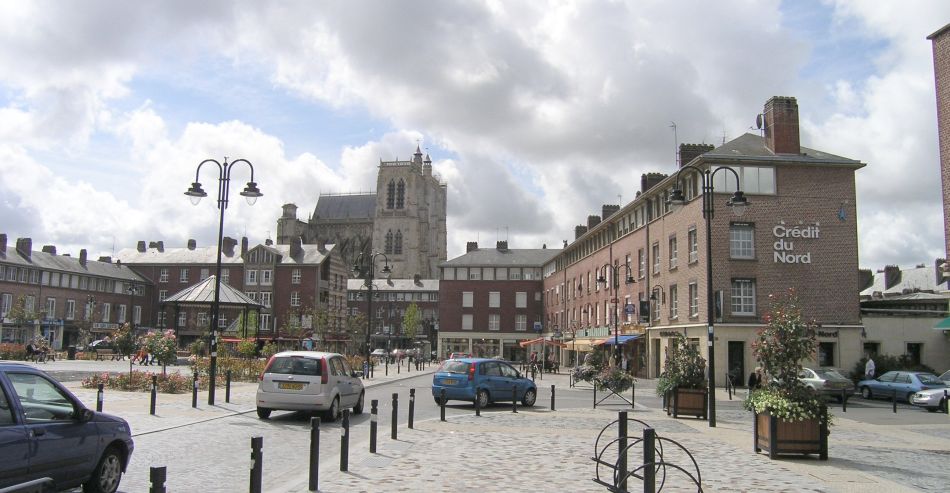 There seemed no evidence to support the theory that the weather was improving so after two nights we decided to move further south. More rain overnight and it continued as we packed up to leave. We were soon back on the A28 which is free all the way to Rouen. How to avoid Paris is much discussed on internet forums and the route round Rouen seems to be favoured. So in the hands of TomTom we wound our way round the fine City of Rouen, although we could not see much as the heavens opened. Eventually we found our way to the A28 again which would take us most of the way to our next destination, at least until we got to Le Mans where we joined the A11. Going by the volume of traffic , many people do not realised the A28 is open but it did make for a very pleasant journey! Service stations are few and far between at the moment so when we spotted one we thought it worthwhile filling up. To my surprise there was a notice instructing you to take your credit card or passport to the cash desk before they would let you fill up. I sent Margaret as my deposit!!! Gradually as we went further south the weather seemed to improve, even signs of sunshine appearing in the sky.
TomTom had been very good, although he did seem to end up in a field occasionally, perhaps this was to do with the A28 motorway not being where he expected it to be. Anyway he did get us to our destination pretty accurately. The difference was that I had used real roads rather the trying the longitude/latitude co-ordinates which so far seems a bit hit and miss. Anyhow we arrived safely at the delightful Municipal Campsite at La Flèche. Some times on your travels you know when you have stumbled across a gem and this was certainly one of them. Its is situated just across the River Loir from the town of La Flèche and an easy walk into town.
Once we had set up I was aware of a lady across the way that I seemed to recognise from another campsite but can't quite place her. It was Mrs MyJim, so named because whilst trying to be very helpful would always say 'my Jim' (her husband) will tell you how to get here or there. Any way it was not long before she struck up a conversation. I have no problem with this and could be accused of doing the same. However it was not long before she was stereotyping the youth of France and then turned to prattling on about the Prime Minister and his family, almost straight from the pages of the Daily Mail! All this was annoying me so I told her I had a lot of respect for Tony Blair and his Government. It seemed to have worked because she made no further attempt at conversation and Bill certainly did not offer me any advice on where to go, which was a bit surprising in the circumstances!! Perhaps by way of poetic justice Margaret's crown decided to fall out. The girls at reception were more than happy to make an appointment at a local dentist but as she was in no pain Margaret decided to wait until she got home.
On Wednesday we made the effort to walk into La Fleche, although in truth it was very near. It was Market Day but we usually get there just as they are packing up! Strangely it was still in full swing when we got there. As Markets go this was pretty impressive, I was surprised at how many stalls were selling fresh fish. The stalls I like are those selling vegetable plants which looks as if they will go straight into the garden and be ready in a few weeks time. Back to the campsite for some lunch and then off to the local supermarket.
This campsite is a delight and we were of two minds whether to stay a little longer but the coast beckoned. Just over £18 for two nights I thought was pretty good, be lucky to get one night on a Caravan Club site at home for that amount! The route today was right across country with not a hint of real motorway. The length of our journey was about 160 miles , so not far. Using N roads is bound to slow you down compared to the Autoroutes but not by much. After Niort, a bit of a pain to get round, it is then dual carriageway to La Rochelle. So far today we have been toll free so the bridge onto the Il de Re comes as something of a shock at €27.50, I did not want to buy the island!!! At least its free on the way out! We eventually find our campsite, L'Ocean just the other side of La Couarde sur Mer. As you pull in there is a large parking area. Off we go to reception where we are told to go and find a pitch. After much indecision we find a pitch on the main drag through the site. Back to reception where we make arrangements but not before much confusion as the young lady did not seem to fully understand the booking in procedure! My enthusiasm to use the carpark back fired on me as I realised that I would have to do a very sharp right angled turn to get through the site barrier. Somehow I managed this and had as much trouble getting onto the pitch, but the mover sorted this out!!
As is our now establish custom on campsites, where are staying for more than a few days, is to take it easy on our first full day on the campsite. We wondered over the road from the campsite to the beach. It is quite a natural beach in so far as no attempt seems to be made to rake it or clear the seaweed which is deposited at the high tide point. It is quite a firm beach so its good for walking along. People swim at their own risk as there are no life guards. Given that this Island juts out into the Atlantic the sea is amazing calm! During the afternoon I made use of the campsite's WiFi internet connection. You buy a scratch card for €8 which gives an hours use. When you establish a connection the access page opens and you key in the details on the scratch card. Its a pretty high speed connection so no waiting for things to load. On campsites that offer these facilities you usually have to take your laptop to the Bar area as the signal is not strong enough for all but the nearest pitches.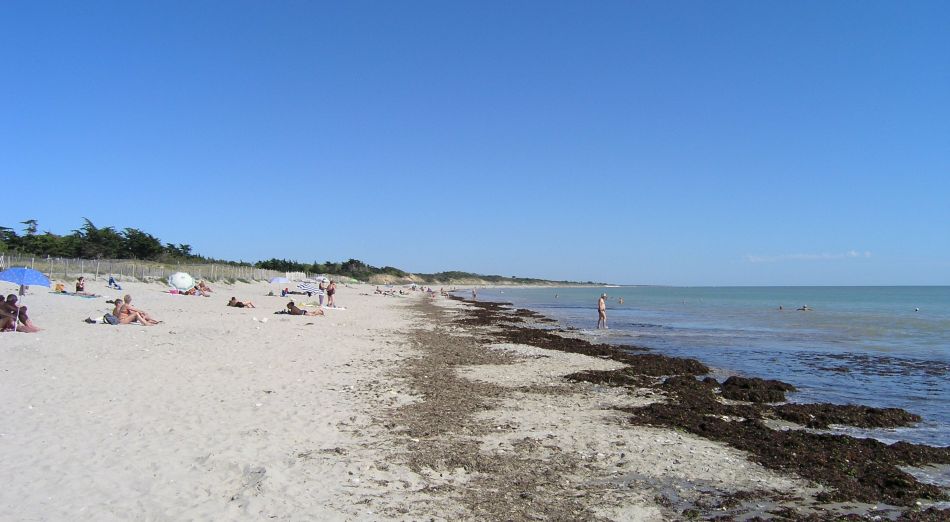 Saturday we decided to explore part of the Island. We drove out the very end of the island, past the Phare de Baleines right round to the final tip. There happened to be a car park which was set up for motorhomes and these outnumbered cars! We walked down to the shore edge. There were dire notices telling you not to search for shell fish for risk of Salmonella. Did make me wonder if we should eat any shell fish from the Island! On the way back we tried to park and look at the Phare de Baleines but there were no parking spaces. We returned to the main road through the main village nearby. Nothing spectacular to look at. Continued on past our campsite to St Martin de Re which seemed a charming place. Nice harbour with lots of restaurants plus many more shops further into the town. Just a tip if you visit. As you enter the town you are directed to a large car park where you have to pay. If you drive down to the harbour car park the first hour is free. We discovered an Intermarche on the outskirts of the town. The only place so far with fuel at non Autoroute prices!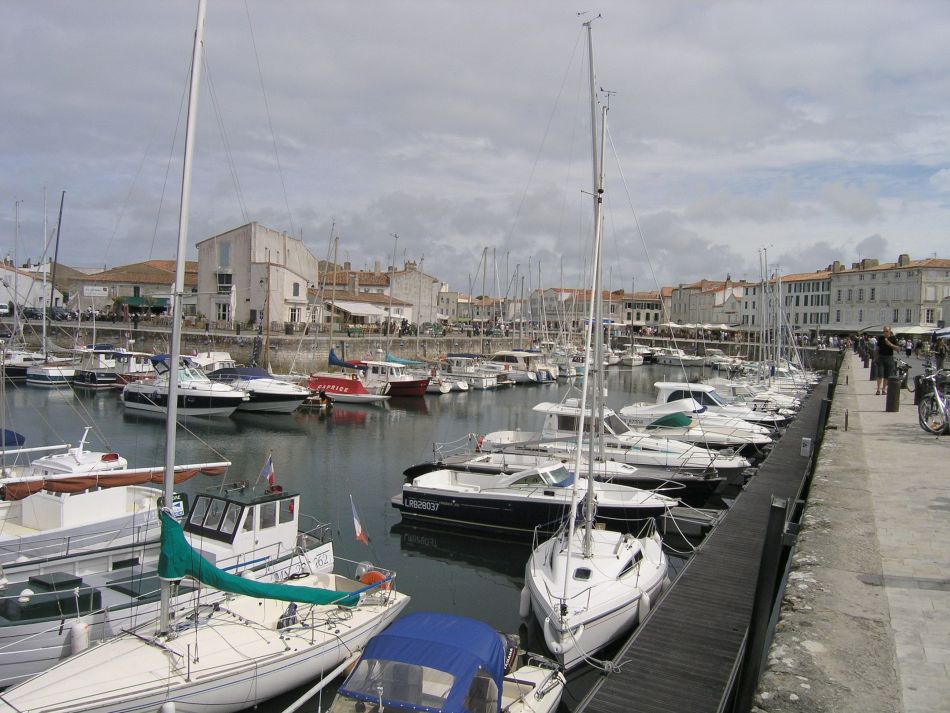 We are not very good at getting up early on holiday and Sunday was no exception. We spent a very lazy day except for washing/cleaning - a bit like home really! We did have a walk along the beach later on. The Brits behind us, well actually from Jersey, left today. It was interesting talking to them about how recently the restrictions on motorhomes were lifted. Despite reports to the reception that they had problems with their WiFi things have not improved and it is still down today. We did have other things to distract us. We decided on a second attempt at visiting the Phare de Baleines. It was still crowded with cars but this time we found a place. There are in fact two lighthouses here. The original dates from the mid sixteen hundreds where as its larger predecessor was built 200 hundred years later. You can visit the more modern one and there is an interesting museum and shop. On the way back to the site we did a detour through Ars en Re which looked nice with a harbour and interesting church.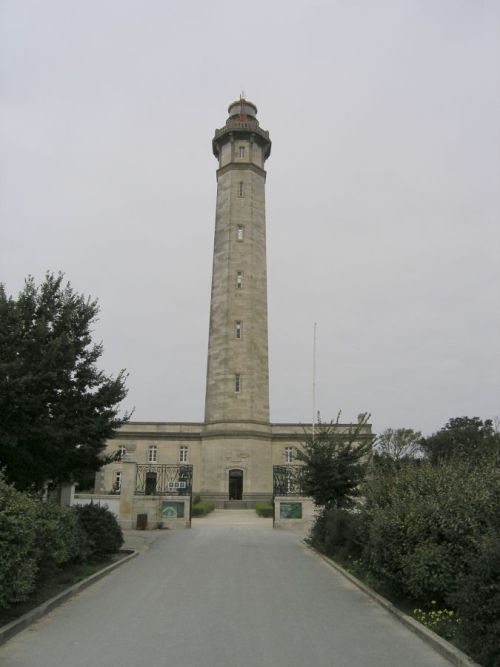 Camping L'Ocean is quite small compared to campsites on the Mediterranean, it has about 160 touring pitches as well as the obligatory mobile homes. Also unlike its Mediterranean counterparts, who seem to take on a second wind in September there is definitely an end of season feel about the place. As Brits we are in the minority along, surprisingly, with the Dutch who are, unusually, very sparse on the ground. There are quite a few Germans and a few other nationalities but by far the biggest contingent are the French themselves. Whether the Il de Re is quintessentially a French place I don't know, perhaps its the heavy toll to have access to the island that puts people off or was it designed that way in the first place! Perhaps one thing that has not enamoured us to this part of France is the fact that we have been bitten quite badly by insects, no matter how much Skin so Soft we applied. Thanks to the young lady in the Pharmacy in Couarde we at least got some relief.
So the sixth of September and time to move on and the start of our journey back in the direction of Calais. Our stay on the Island had only been 6 nights We are heading for the town of Loches (pronounced like cloche without the C) which is just south/east of Tour. After a smooth and uneventful journey we arrived towards the end of lunch time and there were several other units waiting for reception to open. When we got booked in we must have done several circuits of the sites before deciding on one of the fully service pitches which only cost us an extra €1.50 a night. The only slight problem was that there was little shade and it was still very hot. When it had cooled down a bit in the evening we walked into the lower part of the town which proved to be a delightful.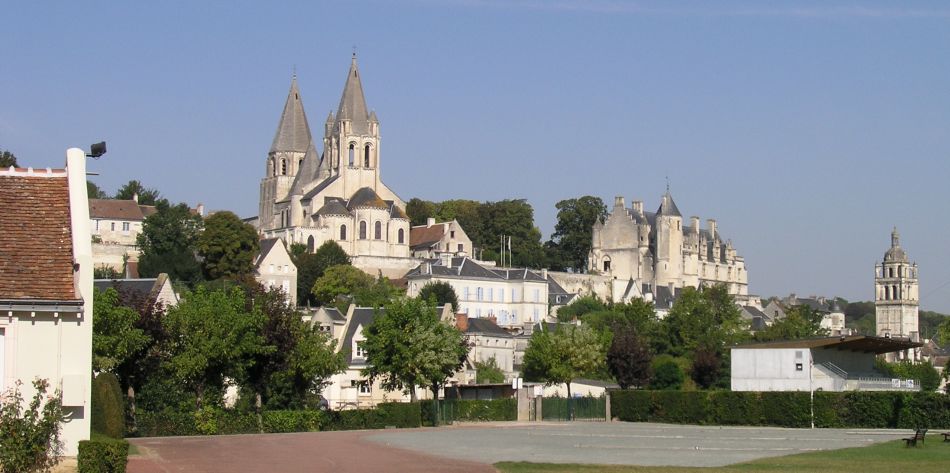 The following morning we continued our exploration of the town. From the campsite there are two choices, along the road or along the riverside walk, we went along the river. We find so many towns and villages in France decked with flowers. As you enter these towns you know you are in for a treat when you see the 'Ville Flurie' signs. When you get to the Tour Saint-Antoine (far right in picture above) you know its time to start the climb up to the Medieval town through the narrow streets and entering through one of the old gates in the walls. The old town is located on a ridge of high ground, at the far end is the Norman castle. From the Castle ground you have lovely views out over the town of Loches. Click on thumbnails for larger picture.
After an enjoyable tour of the town we made our way back to the campsite for a well earned lunch. It was still very hot so the rest of the day was spent around the van. Although I did manage to log on to the internet using my Orange Fusion card but wondering what my bank balance would be at the end of the connection! It did seem to cause some interest and one lady came over to talk to me about it. I got the impression that her husband did not approve as they were on holiday!
Friday and our final day at Loches so we went shopping. We did need food but I did have another mission. I am a bit of a sucker for DIY stores and in France I quite like Mr Bricolage. On previous trips to France I had noticed that they sell long gate hinges which I had not seen in the UK. I am about to rebuild the gates into my back garden so I treated myself to 3 hinges and brackets all for the a sum of less than £40. We did eventually get the food shopping done as well!!
Saturday and we start our journey north in earnest. Too far to get to Calais in a day but we aim to stop half way. Mind you we did not make the best of starts. TomTom seemed to take us out of the way rather than directly out of Loches. It suddenly said turn right but it was too late. Little did I realise that I had shot out of a junction across a main road. I now thank my lucky stars that the road was quiet. If there was a give way sign it was not visible. As you can imagine I have relived that a thousand times! We did eventually get on the road again after reversing out of a narrow country lane! Although we went through the suburbs of Tours there is a new motorway link to the south which we could have taken. It was not long before we were on the A10 and it was only a few miles before we headed off on the new A28. You do wonder if this is in fact a French road as most of the vehicles seem to be British! It is such a pleasure to travel on these roads even if you do have to pay. Now talking of paying we got a bit of a shock as we pulled off the motorway because the toll booth was unmanned, obviously the shape of things to come. Another Brit had pulled into the side not quite sure what he should do. Taking my courage and Margaret's credit card in both hands I put it into the machine. It was immediately accepted and shot out very quickly. Where is the receipt Margaret says? Press button now also have a receipt. Its funny how we approach such things. We are never sure if the machine will eat our card. We handle the card as it was red hot!
We are heading for Bernay not far from the autoroute. When we get to the bypass it is well signed so we have no trouble finding the Municipal campsite. Can't say the surroundings are particularly salubrious but the campsite is quite nice. I ask the young lady at reception if there is a supermarket which sells fuel. She tells me there is an Intermarche in the centre of Bernay. All this in French so I am quite pleased with myself that I follow most of it. We did find it without problems and as I filled up Margaret went into the supermarket for some bread. Got the cheapest diesel of the holiday here! The campsite was all but empty when we arrived but by the evening we are joined by another 8/10 or so vans and motorhomes.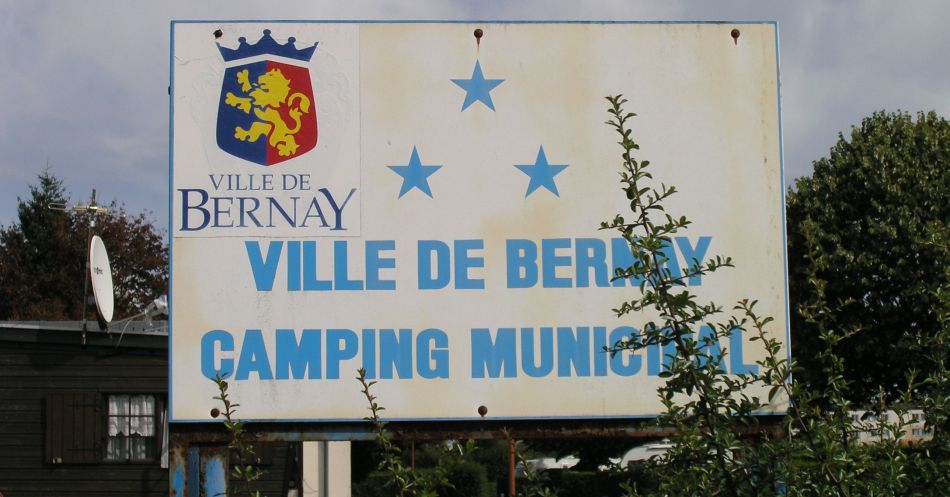 We were not the first away on Sunday morning but we did get away quite sharpish. Rather conveniently a bakers van arrived before we set off so at least we had something for lunch. Fortunately no repeat of the previous days problematic start and we were safely on our way. Its about 160 miles from Calais including going through Rouen. At least unlike the journey south it was not raining! Once the other side of the City we felt we were on our homeward leg. After a trouble free journey we arrive at Le Bien Assise and campsite we had not visited for six years. We were shown to our pitch and by the time we had done a basic set up we were just in time to listen to the Grand Prix on Five Live. Later on I was taking photos near the van when a lady asked me if I was English. They were having problems with their electrics. It seemed they were getting a earth fault showing on their Martindale tester and were unsure what to do. Now I am no expert but I know that you can get any number of combinations of problems on one bollard. We managed, with the help of a two pin adaptor to get both the right polarity and no earth fault. It was their first time abroad in their camper and they intended staying at Bien Assise. Strolling round the campsite in the evening I did get the impression that all the planting had matured nicely and that some improvements had been made to the toilet blocks.
Monday was shopping day but before we went to the supermarket we drove out to the coast at Cap Blanc-Nez. The French coast in this area is really magnificent and on a clear day (as the day of our visit) you can see England. We also passed a couple of campsites on the way which might be useful in the future. After the sight seeing we were on our way the Le Cite de Europe for our shopping but first stop was Flunch for something to eat. Several hours later we departed with the car well loaded. Whilst Le Bien Assise has a campsite restaurant just around the corner is a nice restaurant called La Ferme Gourmande which seems popular with campers and the locals. Its not an inexpensive meal but a very nice treat on our last evening in France. The following day we left for our ferry and the journey home. That's it until next year!