Germany 2004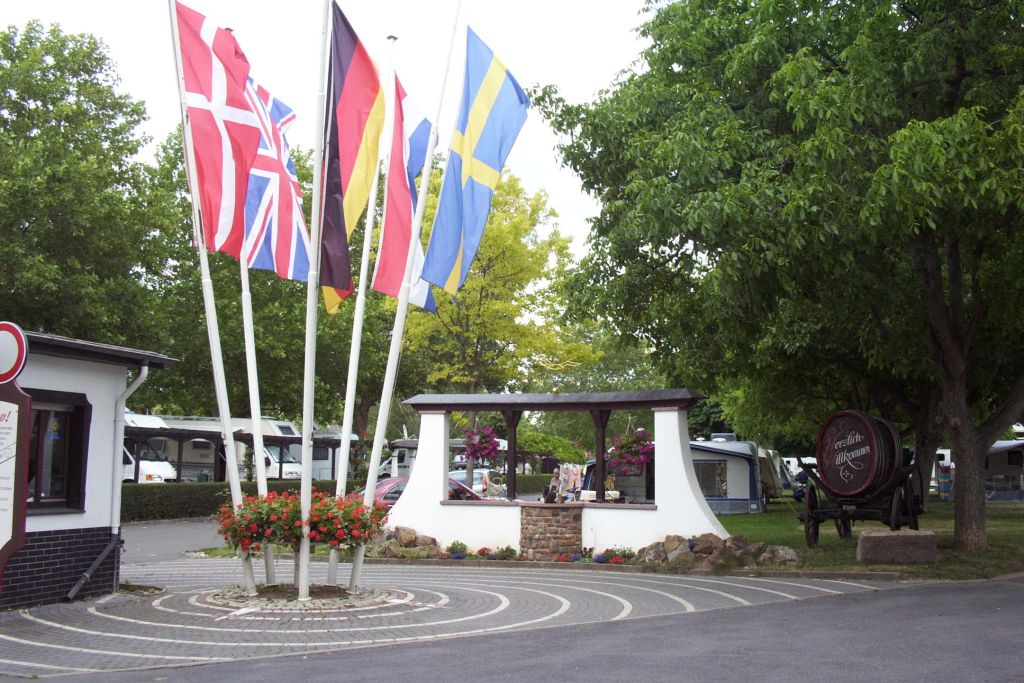 Meant to be on our way to Germany but we are temporarily holed up at Black Horse Farm near Dover. We knew the forecast was bad but hardly expected to arrive at Dover at 3.00pm to be told the earliest loading time was 7.00pm with no guaranty that any ferry would leave much this side of midnight. Rather than book in and wait on the quay we thought we would have a more comfortable night if we stayed at Black Horse Farm. Of course having got as far as the booking in section, how on earth do you get out. Well they have a clever scheme could the yellow owl, you get one to hang in your window and just follow the signs. This in its self was quite a palaver because we had to go through all sorts of security barriers to get out and back to the booking hall. Eventually got there and booked for 8.30am ferry on Thursday although the forecast is not much better.

This was also the longest tow for the new car and caravan. The X-Trail only had 606 miles on the clock when we left MK. With the exception of the buffeting of the wind, really bad near Dover, it seems to be a very stable outfit. Be interesting to see what its like in better weather conditions. The X-Trail has 6 gears which did cause me some concern but was impressed that it seemed quite happy towing at 60mph in sixth gear.
As I write this I can see the clouds sailing by overhead, there is even the odd glimpse of blue sky, but don't lets get excited!!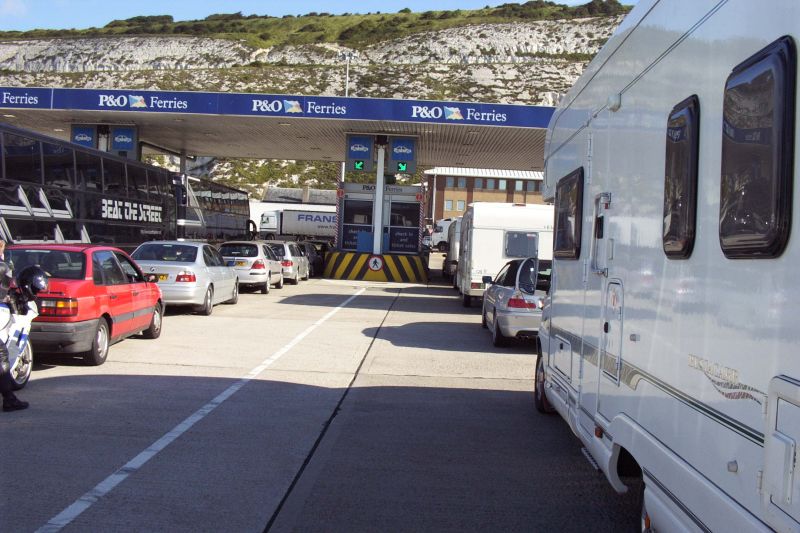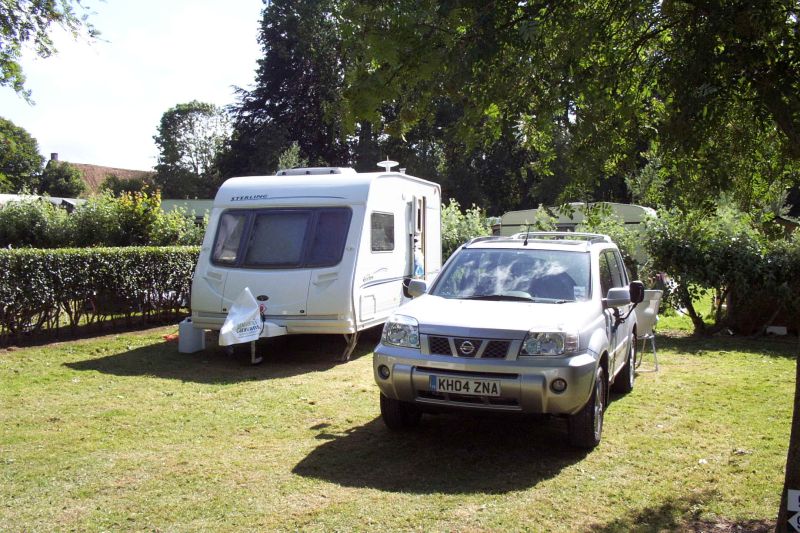 At least when we woke up, after a surprisingly sound sleep, the sun was out. Was it any less windy, it was difficult to tell! We phoned the P&O help line and they gave the impression that ferries were running but with some delays. We left the campsite at about 6.45 am. The journey down to the Port was a lot more comfortable than it had been the day before. We made our way round to the check in for our 8.30.am ferry - some luck!!! We were about fifth in the line when they stopped letting anymore through. It appeared that most of the boats were on the wrong side of the Channel. Occasionally someone from P&O would come and tell us that they were running about two and half hours behind. When we eventually got to the embarkation lines we thought we might have another long wait but it was not that bad. Mind you, whilst waiting one of the rubber straps on one of my SMAT Weekender towing mirrors decided to break so I had to effect some Heath Robinson repairs. We eventually got on board about 10.30am and sailed about 11.15am. The actual crossing was not as bad as we thought it would be. The wind was coming up the Channel and hit us side on. Mind you our troubles were not yet over. As we approached Calais the Captain announced that there was no room for us in the Port so we would have to hang around outside the Port. We eventually docked at 2.15pm. Gone was any prospect of getting to Germany today so we made our way to Chateau de Gandspette, only a day late!!!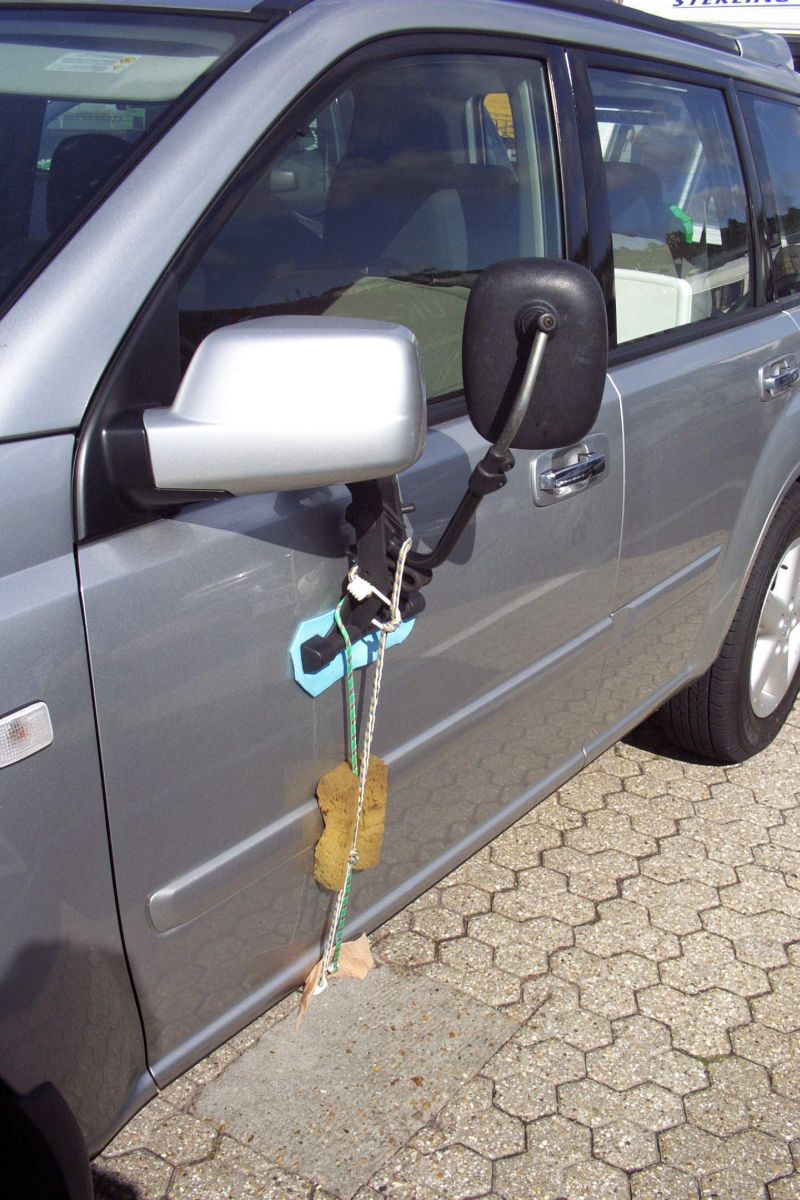 Even Gandspette had not escaped the damage caused by the high winds. A caravan awning had been ripped from one of the permanent vans; foliage and small branches had been torn from trees. But, it was very much less windy and we felt confident to continue our journey into Germany.
The plan was to cut across country to Lille and then onto Gent and from there take the motorway towards the German border at Aachen but cutting south just before the border going past Spa en route. This route into German has spectacular scenery and don't let anyone tell you Belgium is flat. Belgium roads are very busy but free! Be warned that for 60 miles before the site there are no petrol stations. The instructions for the site told us to leave the A60 autobahn at junction 5. The instructions then contained a warning that the approach roads were both steep and twisty in places. If I say that it would not have put a minor Alpine ski result to shame! We gingerly made our way through the small town of Waxweiler keeping a care eye open for campsite signs. It did not help that the campsite seemed to have a slightly different name! I thought it was called Ferienpark Waxweiler but the signs said Eifel Ferienpark Waxweiler, only a small detail but enough to put you off track. I was concerned, as it was getting towards the end of June, that the site would be full. It took me no time at all to count the five outfits including ours!
Eifel Ferienpark Waxweiler as the name suggests is not only a campsite but also a holiday village with chalets situated up the hillside. Fortunately the camping pitches are flat. They are not of a bad size, around 90 sq. meters from my calculation. It seemed strange to be sitting in front of the van and there to hardly be a breeze compared to s couple of days ago.
The town of Waxweiler is a neat and tidy place as are many others in Germany but in its self is not a magnet for tourists, it is I suspect the surrounding countryside that attracts visitors. The town has quite a few shops including a small supermarket and a much needed 'tankstelle'. Whilst we were walking around the town on Saturday morning it looked as if a Fair was setting up. We did some shopping and noticed that they close at 1.00pm for the day – civilisation lives!!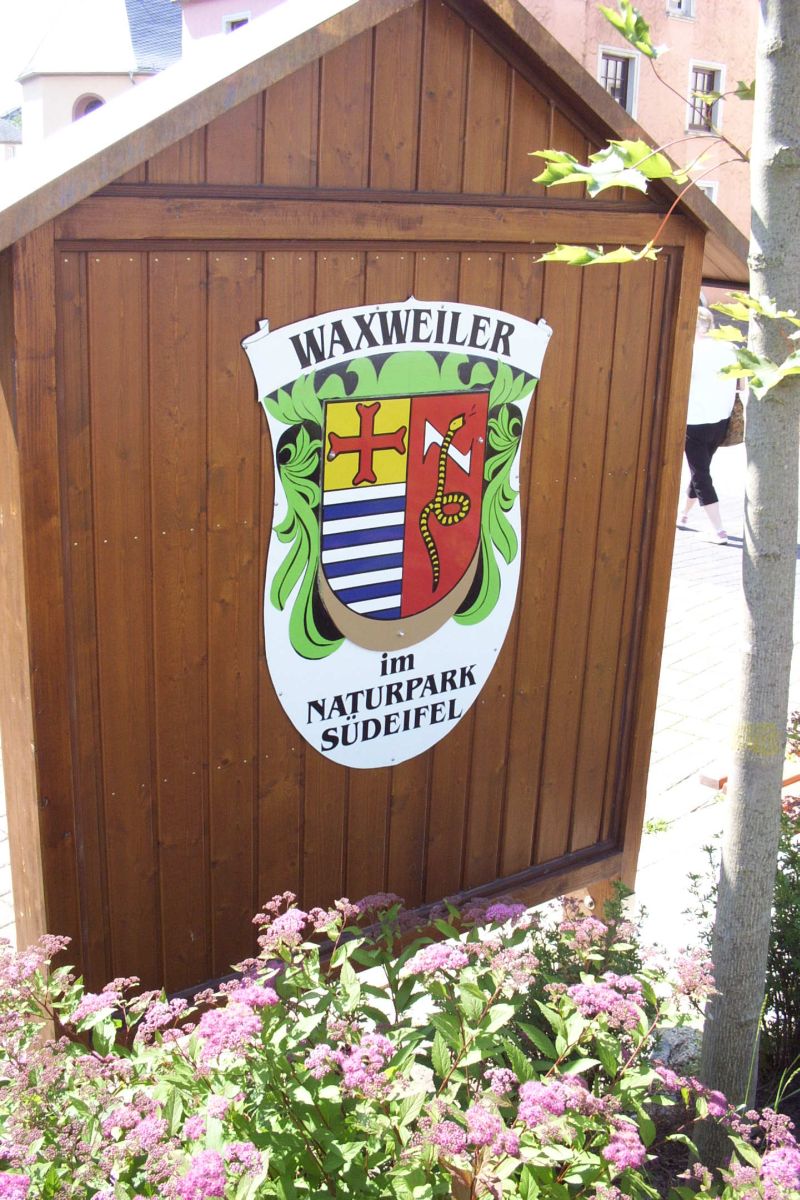 The site is not particularly full, 3 occupants at the last count! So a new arrival is greeted with some excitement. This time it was a German caravan with an older couple accompanied by their younger son. They decide to pitch in the same area as us and I helped them to position their van. It seems that 'Mum and Dad' are here for some time as it took nearly 4 hours to set themselves up.
There had been the pitter-patter of rain overnight but Sunday dawned bright it a bit cloudy. Brian and Joy, our other Brits, were off today to Gent. Before they went we had a long chat. They were both retired so time was their own. They had been to Austria and were gradually making their way back to the UK. It was interesting to learn that they had tried a couple of winter rallies with the Camping and Caravanning Club in Spain but found they did not suit. They seemed an easygoing couple so I can only assume from what they said that they found the organisation a bit clicky.
We ventured away from Waxweiler today as far as Prüm which is only about 15 miles away from the campsite. Margaret's excuse was to see if the approach to the motorway was any better from this direction, which it was. As we approached the Zentrum we could see our way blocked but as we could also see an impressive church ahead we knew that we must be near to the town centre.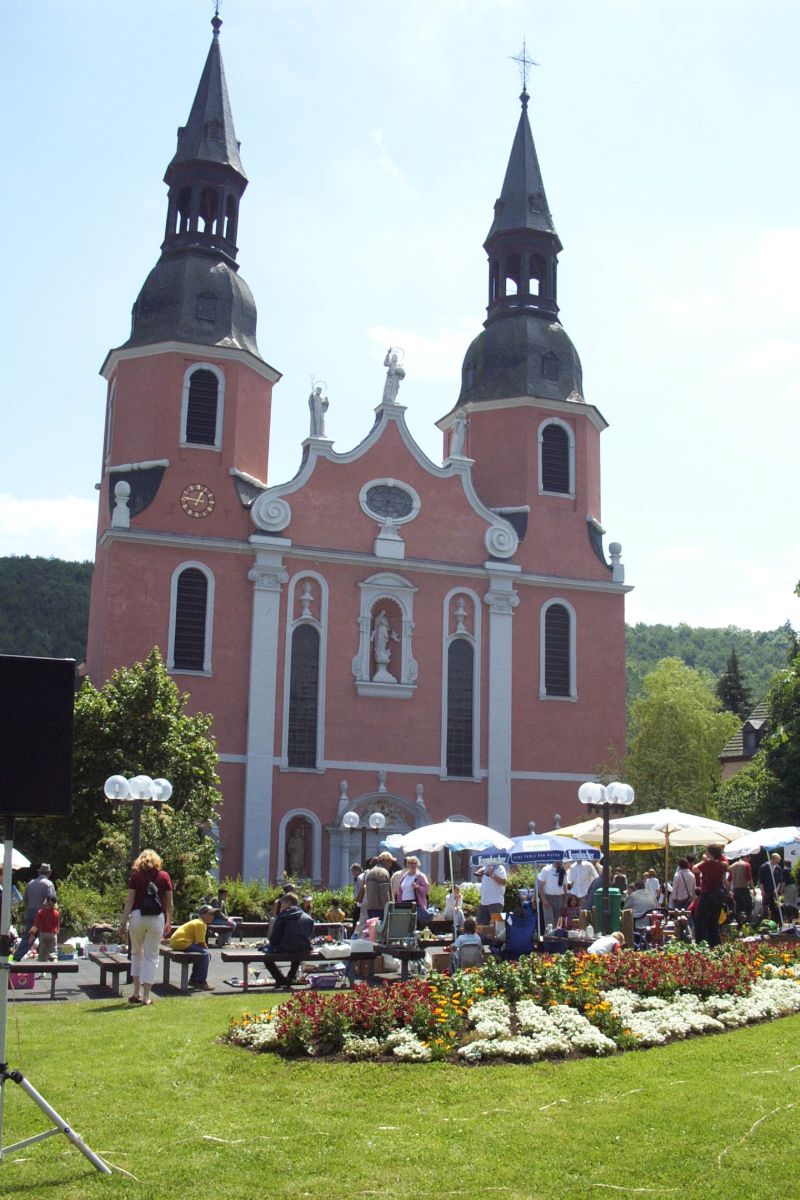 We parked in a convenient car park and walked in. Not that I know but I think they celebrate midsummer in these parts. As we walked into the centre of Prüm there were lots of stalls, it was obviously a town 'en fete'. There was obviously a great family atmosphere with young musicians and also some not so young ones! I imagine that it is what a lot of English people would find to be the ideal of community. Regretfully in the UK we have gone a different route with social integration of this sort not really high on our agenda. The previously pedestrianised street suddenly became full of cars, but these were different cars, most nearly as old as me, and some older!! Mainly they were sports cars with a mix of Mercedes, Morgan's, MG's and Triumphs but also Trabants and VW's. I got quite excited when a BMC Maxi suddenly appeared! However the highlight was a Beetle pulling a small Hobby caravan. We had a chat with the owner latter when they were all parked up.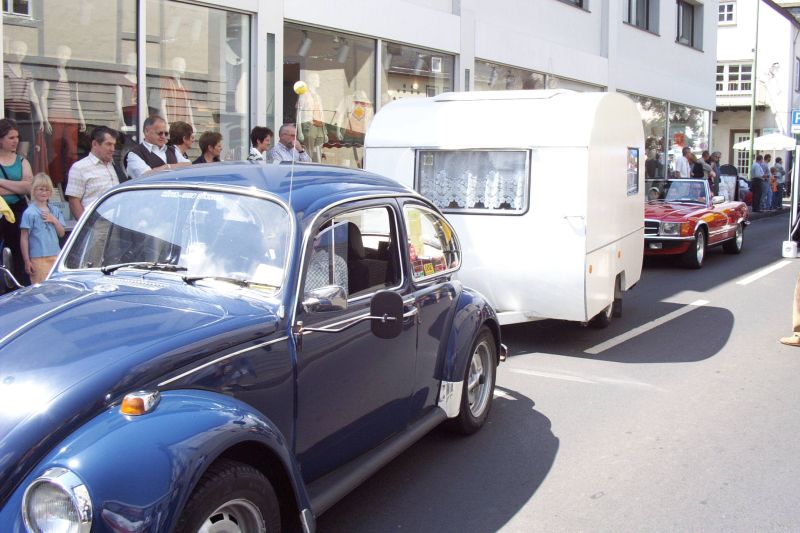 We returned to Waxweiler the same way we had originally approached it which confirmed Margaret's worst fears about the road. Not long after we got back to the campsite the older German couple arrived back, they had left very early that morning. The lady came across to us and explained, all in German, that she had forgotten her heart pills. Her husband later explained that they came from Duisburg which was a 300kms round trip. He was also trying to tell me something about the weather which 50kms away was very wet, assuming of course that my limited German allowed me to understand him. At least they have no concern about talking to us despite they fact that a lot of what we say to each other neither understands!!!
Monday is our last full day in Waxweiler. First port of call is the local supermarket to stock up for the next couple of days! Whilst the supermarket has most of what we want it is not as comprehensive as my local Waitrose. Mind you the wine and beer are a lot cheaper! We did however buy a portion of Affel Strudel which we shared with our coffee when we returned to the van, yummy. Supermarkets in Germany puzzle me. In a country where the, reputed, wage is higher than in the UK and the desire for well built products is legendry they have some pretty naff supermarket chains with a predominance of Lidl and Aldi groups which have so little finesse.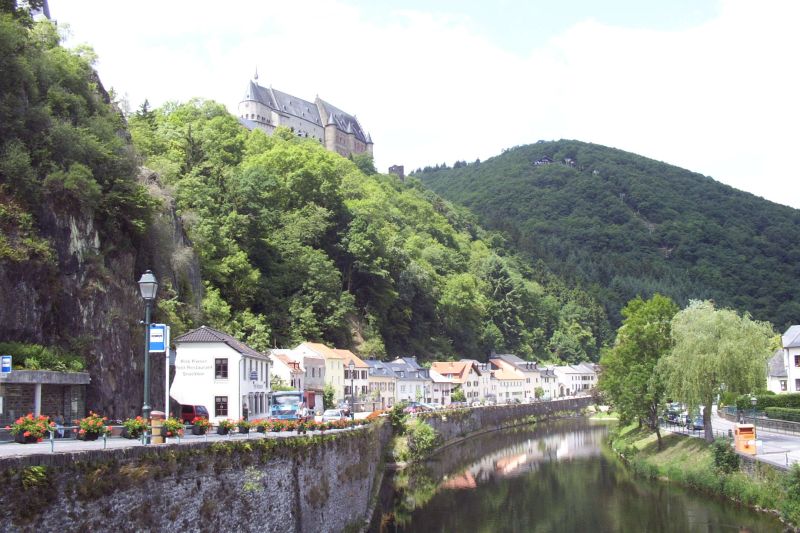 After our indulgence with the Affel Strudel we thought that we should get at least one last look at the surrounding countryside. Waxweiler is not far from Luxembourg so our journey took us over the hills that surround Waxweiler and onto Viaden just over the border into Luxembourg, a pleasant little town on the River Our. It seemed that Luxembourg was closed when we got there, as it was 1.00pm! After a brief look round we were heading north along the Our valley, the river forming the border between Luxembourg and Germany. It would be best to describe the countryside as a mixture of heavierly wooded valleys and high altitude field structure which all goes to make for a very pretty environment that is if you ignore the wind turbines!
Back at the van time to think about packing everything for the journey the following day. We only had the sun canopy, which is relatively easy to put up and take down. Seeing that we were packing up our German neighbours asked if we were off in the morning. The Wastemaster, which I purchased on a whim, as it did not quite seem in harmony to have a new van and to continue to use Sid's bucket! What I have discovered is that away from a Caravan Club site they are pretty much next to useless. So this one will not need its passport for future trips across La Manche!!!
We have enjoyed a very relaxing stay at Waxweiler. We have enjoyed being here and have found the locals very friendly. Particularly impressed with the manners of the youngsters. The campsite has everything we need with everything else being only a short walk away in the town. Waxweiler no longer seems to be connected to the railway system as what was the track is now overgrown and the only reminder being an impressive Station House so it could be difficult for backpackers to get to unless you have your own transport.
Tuesday was moving on day but we still did not manage to get away until 10.00am. Margaret did not want a repeat of the twisty/hilly section so we went out towards Prüm to get onto the motorway, only a twenty miles detour!!! Once on the autobahn we saw place names come and go. Progress is not as fast as in France as you have to watch your speed. Technically I can only tow at 50 mph on the autobahn as I do not have a TUV certificate (caravan MOT). We even went through one speed trap on the autobahn but we must have been OK for speed. Rather than carry on to Koblenz and then down the side of the Rhine we continued to Wiesbaden and approached Rüdesheim from that direction. As we approached the site through the town we recognised where we should be and found the site.
We had a warm reception on arrival and were soon on a pitch. It seems that all of Denmark is also on holiday! There are also a lot of Brits here, quite a few of them on an organised holiday with the Caravan Club. After our evening meal we had a walk along the river and into the riverside part of the town, just as a taster!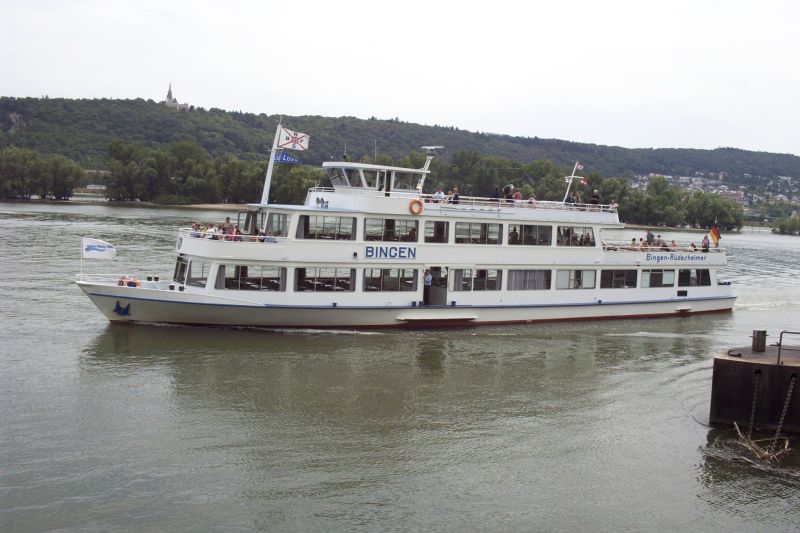 Wednesday was very hot and muggy with hardly any breeze. As usual we needed a local supermarket, which was more local than normal, we could see it from the site! After lunch we strolled into Rüdesheim the idea being to have a river cruise. The next boat was not for another hour and a half so we had time to look round the town. This is very much a tourist spot with most of the hotel boats making a stop here. One poor American lady had lost her bearings completely and asked directions back to her boat! Time for our boat trip. Fortunately the boat was not that full so we had a choice of where to sit. I thought the boat we were on was just for excursions but it was also a ferry, dropping people off at various towns along the river. It only went as far as Trechtingshausen and then back to Rüdesheim. To my surprise it also had waitress service so a cool beer was the order of the day.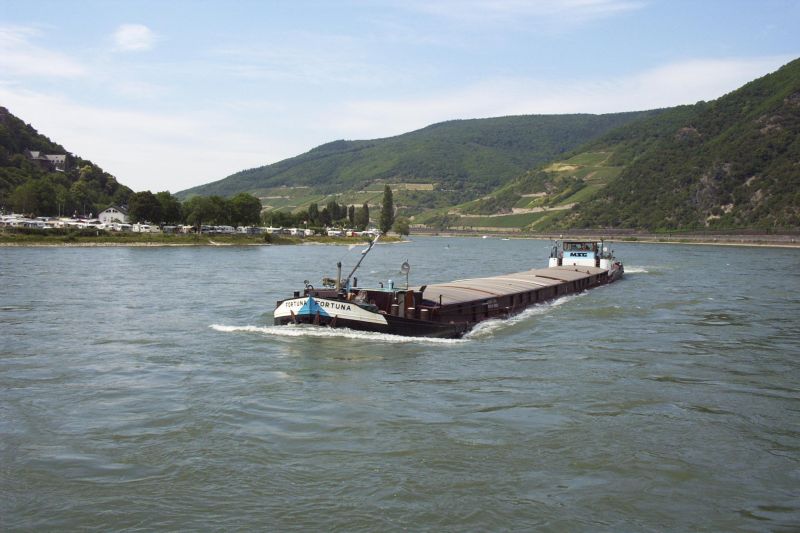 Rhine is a transport of delight in many ways. Obviously the pleasure boats take some beating if you are on holiday but it is also good the see the many laden barges making their way up and down stream. Railway lines run along both banks of the river, as do roads. The Bahnhof in Rüdesheim affords easy access to those that do not have cars with them or want to combine rail and river options.
The 1st of July dawned a lot duller and fortunately considerably cooler. What I find puzzling is that our European chums seem to rush for the fleece as soon as the sun goes in when I still find the weather warm and a light shirt is enough for me. Perhaps it's the time of my life!!!
We went back into Rüdesheim this afternoon to explore a little further. I came across and interesting plaque on a wall, informing readers, in both German and English, that on a certain date in 1944 so many people including a lot of children were killer by bombing. Whilst I accept this was a tragedy the people of London and other cities in the UK suffered even worse casualties over a longer period. I appreciate that there has been some retro discussion on the needs of 'fire storming' towns and cities in Germany during the latter part of the war but that plaque made me feel a little uneasy as it was only a snapshot of one night and did not deal fairly with the whole subject of civilian casualties in times of war and was perhaps put there to shift the guilt?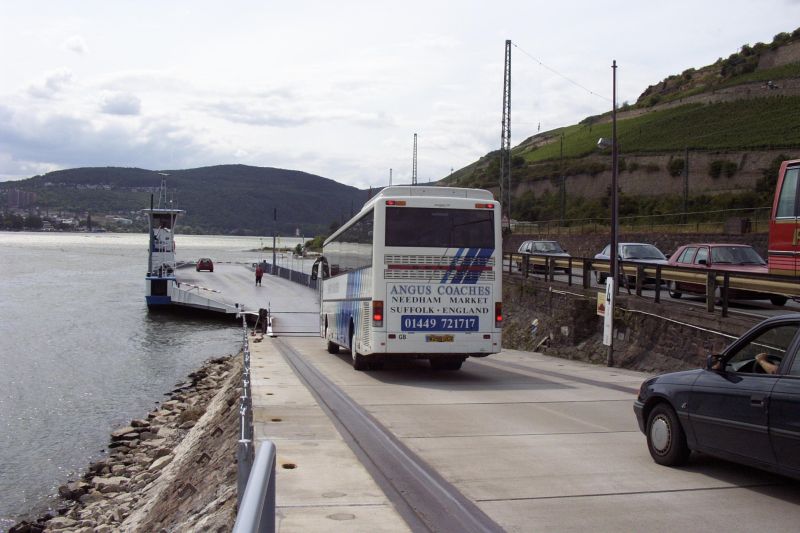 We walked along the river to have a closer look at the Bingham Ferry as the Caravan Club suggests this as an alternative means of crossing the Rhine. Well it certainly looks big enough from close up! We could not spend our last day in Germany with sampling for one more time their delicious 'Kuchen' one strawberry and one blackcurrant.
We have enjoyed our short time in Rüdesheim and would recommend it as a place to visit, particularly if you like to be somewhere where there is a lot going on. The campsite was quite full by our last day and some of the spacing between units would give a Caravan Club warden a funny turn but it all goes to make life a bit more interesting. Despite the number of Brits on site they have remain true to their introverted selves. I hereby issue a challenge to any British person on a Continental campsite to talk to at least one other British person, it won't hurt!!
By 8.15am this morning we were driving along the Rhine towards Koblenz. Previously I had questioned the wisdom of using this route but on second acquaintance it seemed fine, if a bit on the slow side. Mind you the alternative might seem quicker but it adds quite a lot to the miles. Not long after we got on the autobahn heading north it started to rain and this was the pattern for the rest of the day with sunny periods and heavy rain. We were to transverse three countries today, Germany, Belgium and France. As we got into France the wind seemed to be getting stronger which evoked visions of our previous Channel crossing!
Margaret sometimes accuses me of looking for new sites just so I can add another report to my website! As wounding as this is there is an element of truth in what she said. Last year I was discussing campsites with Colin Scarlett via the Internet and he mentioned staying at a campsite called Les Oyats near Calais. I thought that it would be worth a try. Mind you as I type this I am looking out of the caravan window and trees are being bent in the wind! Despite the torturous journey it is quite a nice little campsite and depending on ease of access to Calais will depend whether it gets a recommendation as a pre Calais stop over.
Les Oyats is situated right next to the Channel beach which is gently shelving but not as welcoming as say Port Grimaud!!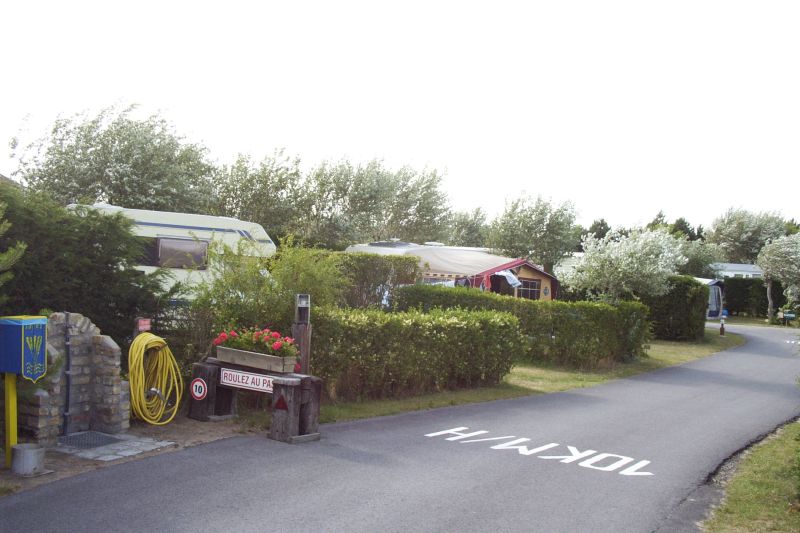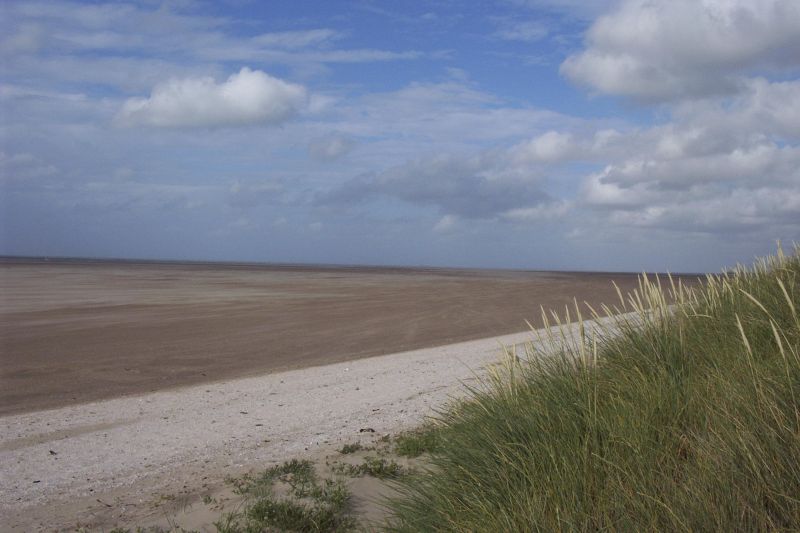 Saturday was Hypermarket day. Where to go Margaret thought Cite de Europe but as I pointed out to her it is always very busy on a Saturday so we decided on Dunkerque which has a big Auchen. We almost had a trolley full before we got to the wine and there was certainly no room for beer! Rather than buying bottle I have taken to buying boxes of wine. I little bit of a gamble in terms of quality but a lighter option in terms of weight and a little more drinking convenience. I don't know about you but I always chicken out of buying as much as I thought I would. The reality is that we could have managed more, but then we would only drink more!
When we got back to the site we had not realise how many children there were on site. All well behaved but of course a little on the noisy side. The wind was still very strong and we wondered what the crossing would be like in the morning. When we woke it was quite still. As we were up early we thought we would try and get on an earlier ferry that the one we had booked at 9.30am. I suppose we arrived at the ticket booth at Calais about 7.30am, I decided to go to the one on my side. We were quite abruptly told that we were too early and they were not ready to park carks on the dockside for the 9.30am ferry and we would have to leave the Port and return at about 9.00am. I asked about an earlier ferry and was told that it would cost £500 (yes five hundred pounds) to go on the earlier ferry. We only wanted to cross the Channel not buy the boat!! Off we went to the car park muttering about the lack of customer service from P&O for a very regular customer. I paced up and down the car park for a while but I was not satisfied so I decide to walk over to the booking in hall. The young lady was much more agreeable and did make a couple of phone calls, I even recalled how we had lost a day because of the bad weather but apologetically said we would have to wait our turn. We settled down to listen to one of our story tapes. After a while I decided to look for the loo, only to be beckoned back to the car by Margaret. I had seen a little blue P&O van enter the car park. Hurry up Margaret said we can book in for the 8.45am ferry. Some change of heart. Back to the booth, a different one, to be met by a charming young lady who booked us in and mentioned the trouble we had experienced on the outward journey. This information would have been available to the first booking in clerk. We are left wondering to this day what had gone on behind the scenes. If I get a chance I must write to P&O. It was not that we were trying to get on a more expensive crossing, if anything it would have been cheaper. Anyway even 45 minutes earlier allowed us to get home in time for the French Grand Prix, just.