Germany 2005

Our second Eurotunnel crossing of the year awaited as we left home on Sunday 21st of August. Totally unconnected but also the 44th anniversary of me starting work. I need a holiday after that! I hate hanging around to a suitable time to leave home to catch the correct crossing time so we went when we were ready. Anyway, who would rely on the M1/M25 being trouble free! So two hours before our due time we checked in at Eurotunnel. We totally misunderstood the earlier time we had been given and made our way to the holding area. Thinking that we would be turned back we gingerly made our way to the lane control point. We explained that we think we had arrived too early. OK he said I will let you on the next shuttle if you tell me all about your X-Trail. This was likely to put us on an even later crossing! I think the guy was French and he told me that they were £3000 cheaper in Belgium. He seemed pleased to have his judgement confirmed.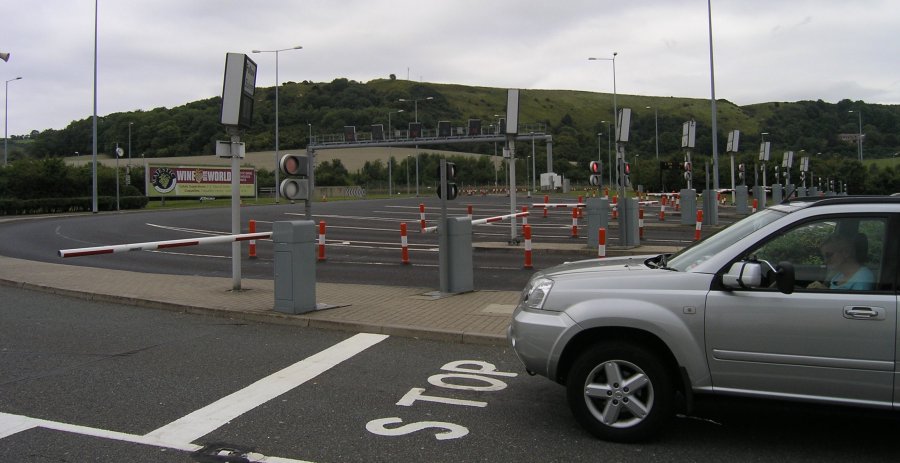 Its not surprising that they let people on earlier crossings, I counted eight empty carriages behind ours. Its a difficult call for Eurotunnel as there is so much competition on the short sea route to France. I felt our fare of £180 was pretty good value but it looks as if they will have to lower fares more to persuade more people off the ferries.
If I am heading down through France I know where I can buy fuel but as we were heading across country to Lille and beyond to Belgium and Holland I thought I would start with a full tank. Within the precincts of the Eurotunnel complex is a 24/7 Service Station which does not have the dreaded pay by French credit card machines. I appreciate that it may cost more per litre than a supermarket but its still 15p a litre cheaper than the UK.
At the risk of becoming a permanent resident at Chateau de Gandspette we always (sorry correction I am) on the look out for different campsites close to Calais. Several people have suggested Camping-Caravaning St Louis near Ardres. Despite advice from others it did not seem easy to find but at least the camp finding bible, The Caravan Club European Guide, came to the rescue. I had taken the precaution of phoning ahead to check they had space. Madam kindly took my name and she obviously speaks really good English. At least I tried in French first! On our way there we discovered that the toll booth at junction 2 on the A26 no longer seems to be manned. Having used the booth coming the other way which, to my knowledge, has always been unmanned we had no problems but if you would prefer not to use your credit card make sure you have some change in Euros.
Finding St Louis was a lot less difficult than we envisaged. We were allocated a pitch at the back of the site. They had obviously had quite a bit of rain judging by the ground conditions. Its typical of French campsites of this genre, a mix of touring pitches and permanent vans or mobile homes. Its must be difficult for campsite owners to decide whether to stay with a tried and tested formula or to go out to encourage the touring customers. Perhaps the truth is that those with the permanent vans are generally of the older generation and as they decide not to carry on the youngsters are not taking their place. An interesting comparison is Gandspette. When we first started going there they depended heavily on the permanent vans but they have become so popular with the touring visitors they not only have expanded the campsite but also not replaced permanent vans as their occupants have left.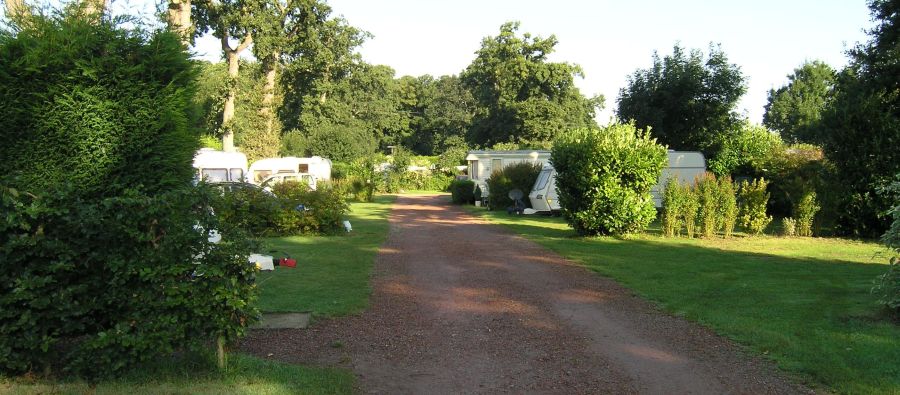 Monday dawned much brighter and the campsite looked very different from the damp evening before. We left around 10.00am heading out across Europe! It was across country to pick up the A 25 towards Lille. We thought it would be safe to go via Hazebrouck but the roadworks that had been in progress 15 months earlier still seemed to be in progress. OK so this was not so bad it just meant a slight diversion and we would soon be on our way. The trouble was that the roads used for the diversion were not really wide enough to accept two lorries passing unless they both went off the road to make room. What worried me was the deep ruts on the side of the road could have caused damage to my motor mover. Fortunately we escaped from the diversion unscathed but muddy! Eventually we got to the A25, parts of which are a bit smoother now than they used to be but still enough of the old surface to remind you of the old road.
We had decided that we would head around the south of Brussels and head for Liege that way. However on approaching Lille we lost our way having completely missed our the signs for Tournai (Doornik) and we were heading in the direction of Gand (Gent). Now this illustrates one of the difficulties of driving towards/in Belgium as place names vary depend on which of the two official languages they use! Anyway we decided to head toward Gent and then round Brussels and onto Liege. Apart from one minor hold-up progress was quite smooth. We found our turning to Maastricht and headed north on the motorway that runs alongside the Meuse. Approaching Maastricht we missed the turning to the N278 so had to find a place to go under the motorway and head back. We eventually managed this and retraced our steps to Maastricht. Being nervous not to miss our turning again we spied the N278 and shot off only to find we were heading along the N278 the wrong way. Fortunately we came across a fairly rare commodity in Holland a roundabout! This allowed us to get back on the N278 in the right direction. Feeling more confident we made our way to Gulpen where we had to turn 'sharp right' at the first traffic lights according to the Caravan Club European Guide. The book also warned of a narrow final approach. Even this warning did not prepare us for what happened next. The road out of Gulpen is quite steep so we were proceeding carefully. Half way up the hill we saw, approaching us, a combined harvester. It looked massive, like a huge Tonka Toy, and we could not envisage how it was going to pass us. We were right tight into the side of the road. He pulled forward moving as far as he could to his right which involved almost going up a bank. He inched slowly forward. By now I was out of the car to check on progress, although not quite sure what I could do about anything. As it happed he scraped by with about three inches to spare. Margaret was in such a state of shock she did not have time to panic! Eventually we got to the campsite wondering how on earth we were going to get out!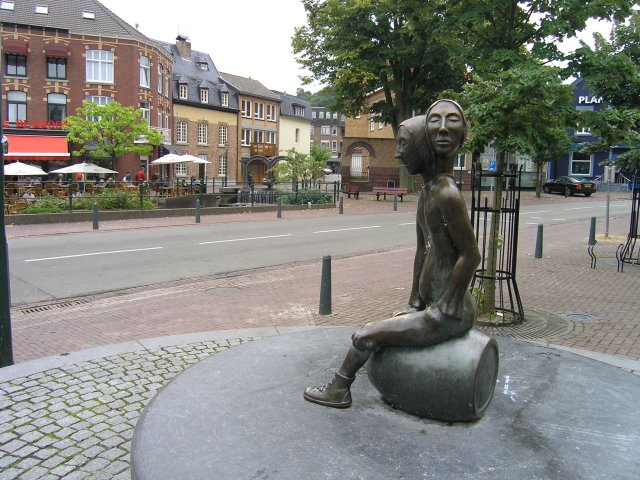 Tuesday was a very lazy day and we slept in until about 10.00am. Although the temperature was OK and we could sit outside the threat of rain was not ever far away. We visited the site shop and purchased a few things. The lad on the till seemed delighted that he could speak English to someone. My understanding is that all Dutch children learn English from a certain age. In the afternoon we went into Gulpen which is a pleasant enough little town if unremarkable. Having said that it was neat and clean and exhibited a degree of loving care that is often not obvious in the UK in towns of similar size. We visited a supermarket called EDAH which seemed of an excellent quality.
The site which is our home for a few days is still very busy and mostly full of Dutch. I have counted two Germans, one Belgium and another English van. It seems surprising that they accept Camping Cheques from the middle of August. Whilst the pitches cannot be considered small, one thing I have noticed is how the Dutch tend to encroach on the adjacent pitches. However it is not excessive and is liveable with. The neighbours to our left have a baby of less than one year old who has, during their stay, just started to stand unaided. They both speak good English. The little girl is a delight and seems happy to amuse herself for quite long periods. The Dutch couple on the other side of us, with which we exchange greetings and smiles do not seem to speak English. They have two girls who we think are twins. They are quite jolly and extremely well behaved compared with boys of the same age!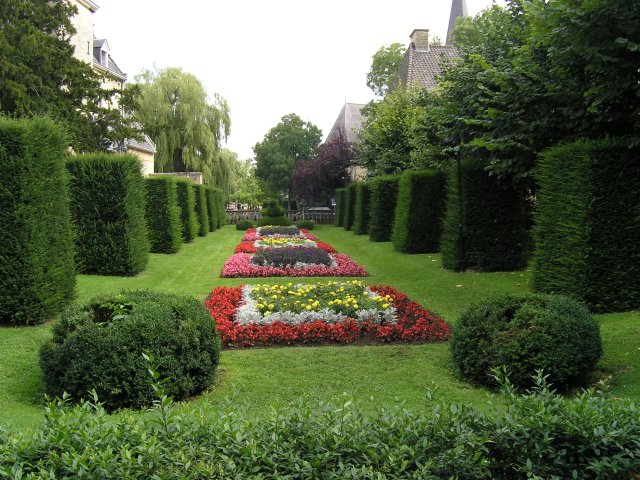 Thinking that our stay in Holland would be devoid of sunshine we were pleasantly surprised to find Wednesday dawning bright, although the sun first had to burn off the mist that was hugging the valleys close to the campsite. It took us a bit by surprise as we tried to find a spot under the canopy to shade us from the burning mid day sun. Thinking that we should shake ourselves we decide that we should go out and explore. Having toured Maastricht at a distance(!) we decided to stay nearer to home and visit Valkenburg. Its always a difficult decision as you approach an unfamiliar town to know where you should park. Do you dive into the first place you see or do you carry on into the Centre trying to find somewhere within easy walking distance. Having tried one car park we went a bit further in and found a place in a car park closer still to the Centre, but at a price. A kindly Dutch man gave me his ticket that still had some time on, unfortunately not enough. Quite clearly Valkenburg is a tourist centre but I am not altogether sure why. It does have some interesting old buildings and a ruined castle. There seem to be more restaurants than you can shake a cat at.
On Thursday we left Gulpen in the rain and that's the way it stayed for most of the day. It is interesting that as we approached the German border, whilst still in Holland, no mention was made of Germany on any of the Dutch road signs. Although this is our third visit to Holland I can't say that I am impressed with their road signage. The French and German signs are much clearer. Perhaps we need to spend more time here to get used to the signs. Once in Germany I have to say that it is very frustrating to have to stick to their rather stupid 80km speed limit whilst towing a caravan. All it does is slow down other traffic which can't overtake because of another no overtaking rule on stretches of two lane motorways. Fortunately we were only travelling 120 miles today and we reached our campsite at Pfalzfeld just after 1.00pm. Unusually for Germany reception was open all day. Camping Schinderhannes is a very large campsite and Madam told us to follow the red or blue arrows to find a pitch. Apart from one brief period in the early evening it has rained pretty steadily all day. Pitches are squidgy to say the least!
After a very wet and cold night at least Friday dawned a bit brighter. The shop here at Camping Schinderhannes opens between 7.00 and 10.00am which is very inconvenient for a fellow like me who when not at work tends not to rise that early. Anyway the rolls were still warm as I made my way back to the van. After breakfast I left Margaret reading whilst I went off to explore and take some photographs. I did spy a Red Squirrel on my walk although attempts at photographing him proved a complete failure. It was not long before I met the same Dutch guy I was speaking to the night before. He told me they were going to change pitches as where they were had too much shade. We went on the talk about many and varied subjects. He was a Merchant Seaman before he retired and so was familiar with lots of UK Ports. After a coffee break I resumed my exploration, this time walking outside the campsite. Although the breeze had a cutting edge it was a fine day and several villages could be seen across rolling fields. This is certainly a place to bring you bicycles as there are many routes laid out for traffic free use. After lunch we drove out to a place called Polch to visit our first ever German caravan dealer called Niesmann Caravaning. There was no particular reason for doing so but just a general desire to see the difference. It was a reasonable large dealership selling both caravans and motorhomes and it had a large accessory shop. Although it had a good selection of accessories I don't think there was anything out of the ordinary compared to a good UK outlet and prices of the things I looked at seemed to be on a par with the UK. Back at the campsite we decided to make use of the site restaurant. I am not sure if 45 euros is considered good value but we certainly had a very nice meal with a litre bottle of wine (it was the smallest bottle they had, honest!) Given that in the UK smoking is almost completely outlawed in restaurants it still seems strange to me that the same is not true in Europe. Not only that but one couple had their dog with them, now being a non dog owner I find this a bit strange as the question of hygiene worries me but should it?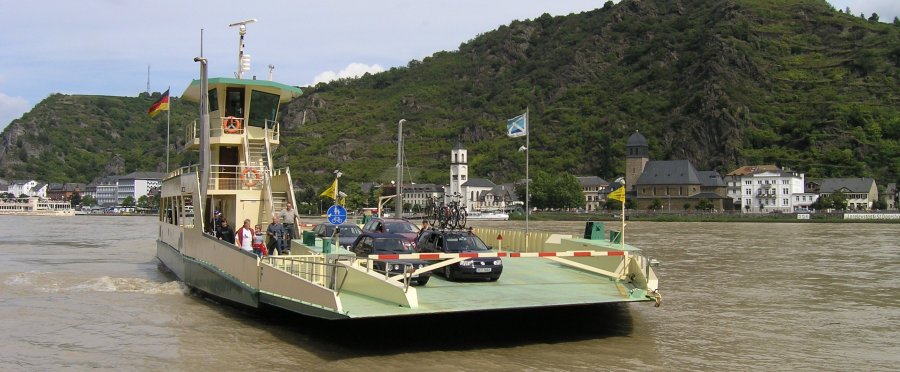 We had been surprised at how cold it had been during the evening and overnight. I half expected to wake up to frost on the car but Saturday had dawned bright and despite a heavy dew there was no frost. My Dutch chum told me that he and his wife were going to cycle to Emmelshausen which is about 9 kms away because there was going to be a Wine Festival there. We decided that we would visit St Goar on the Rhine. The immediate approach to the town is quite steep and as we levelled out adjacent to the river we noticed traffic coming to a halt at the junction of the main road along the river, rather than join the queue we pulled into a convenient parking place. Suddenly the reason for the delay became obvious as hundreds of people on Roller Blades sped past. It must have taken at least 15 minutes for the snake of people to pass by. It seemed a fairly light hearted affair as people went by in groups holding onto the waist of the person in front, a bit like a fast Conga as they lifted one foot off the ground and then the other in unison. As the final stragglers went by the road was reopened to traffic, to my surprise a German guy signalled for me to join the main road ahead of him. We found a spot to park right by the riverside park. I do like the Rhine which is a mighty river by UK standards. I marvel at the heavily laden barges forcing their way upstream against the ferocious current of the river. Then there are the passengers boats that ply up and down the river. Also at St Goar there is a vehicle ferry across the river and from my observation it was kept very busy. And should anyone ask it I did see a car and caravan and several motorhomes make use of it. The alternative to these ferries is a very long road detour to get across the river. St Goar itself is very much in the tourist mode with gift shops and restaurants. In one shop we were given a sample of the owner produced peach brandy. As delicious as it was it was very sweet, might be nice chilled. We treated ourselves to some 'Kuchen' which carefully carried back to the car in its delicate wrapping. From St Goar we retuned to Pfalzfeld via a route that took us over the high valley of the Rhine along quite narrow roads, fortunately there was little traffic around. We took a small detour to Emmelshausen to see what the Wine Festival looked like but there did not seem very much there. Speaking to my Dutch chum late he said that it did not begin until 8.00pm in the evening so even their bicycle ride had not achieved their aim. In the evening we packed everything away in readiness for our journey South on Sunday. We had enjoyed our stay at Schinderhannes a nice relaxed and peaceful campsite run by friendly people.
It takes only a few minutes to be back on the Autobahn from Pfalzfeld. Not a lorry in sight but many more cars than on weekdays. We plod along at 80kms (+!) despite the frustration of always keeping and eye on the Speedo to maintain the right speed. However there is a bright side to all this the towing economy has improved so perhaps not a bad idea after all! The downside of not having lorries on the move is that they tend to clog up the service and rest areas. When we wanted to stop we often had to try several before we found a space to park. On one a Dutch guy moved his car forward so that I could straighten up. We are heading for a campsite called Camping Belchenblick in the Black Forest. This site has a strict middle of the day closing regime, no movement in or out between 12.30 and 3.00pm. We arrived a fraction after 3.00pm! Since our previous visit in 1992 the campsite has changed quite a bit. The site entrance has move with a new Reception and toilet block. Once set up we wondered around the site to check out the changes and to work out where we were pitched before.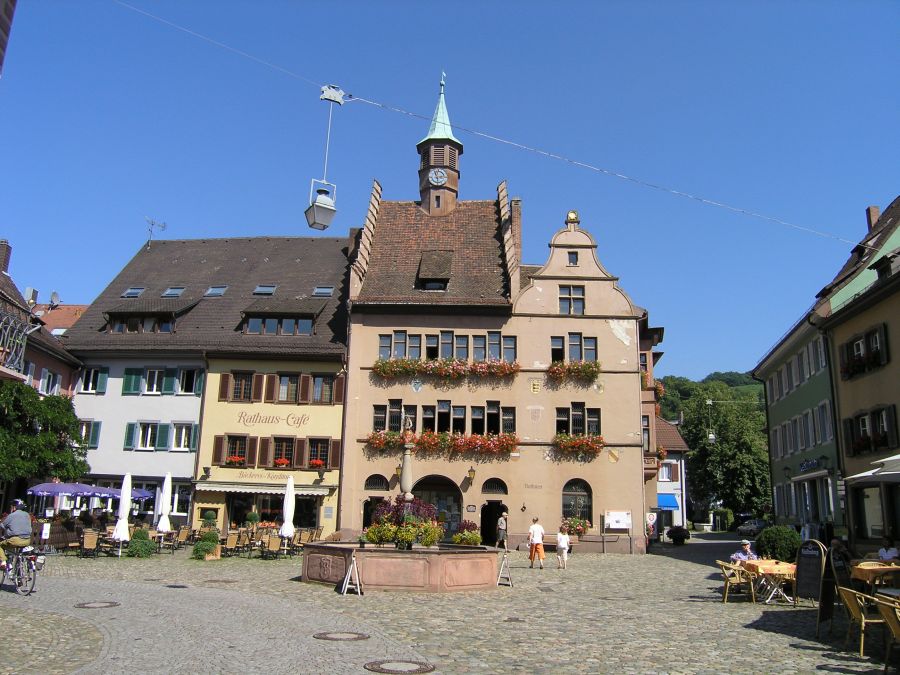 After a very lazy start on the Monday we walked into Staufen in the afternoon. Although it has been many years since our last visited, Staufen still remains the most delightful of small German towns. If you did not know better you would think that you were in the middle of a theme park! The Germans seem to enjoy and appreciate outdoor living coupled with a liking for tradition. If these things existed in England they have most certainly been extinguished by the desire for the 24/7 life style of shop openings that have left us with no special day for doing either what we want with the family or doing nothing.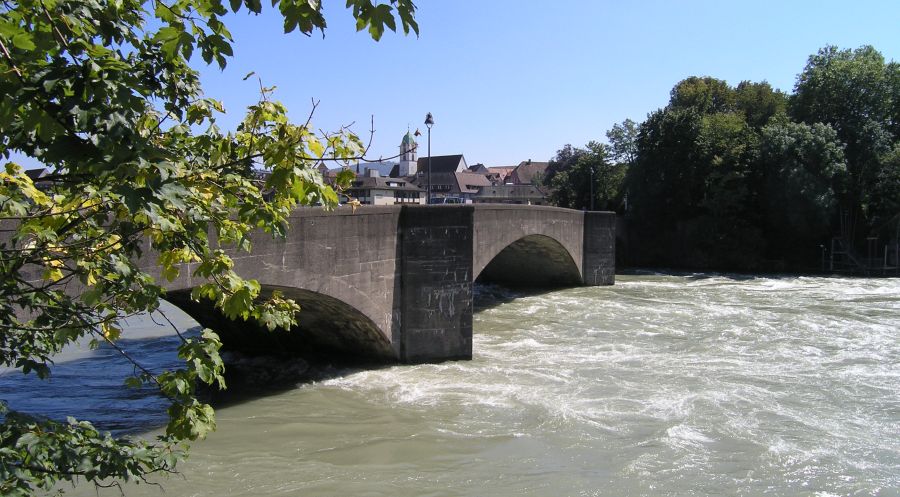 Tuesday saw us heading for the Swiss border, no this was not the Great Escape but a desire to see the Rhine Falls at Rheinfelden. Rather than take the easy route down the Autobahn we went out across country from Staufen up past Munstertal and over the ridge of hills that includes the Belchen at 1414 metres above sea level. What do you call this sort of countryside? Chocolate Box, Heidi countryside, what ever, it gives that warm feeling as you look down the valleys as you climb the road. You imagine that things have not changed for 50 years. Flowers abound from every house as you pass. Perhaps I take a far to romantic view of things but that is how I see them, far removed from the rigors of modern life. I of course conveniently ignore the possible views of the local inhabitants whom I suspect even given their difficulties would not swap their life with mine in Milton Keynes! Our first stop was Bad Sackingen as we had been told of a wooden bridge across the Rhine. One thing the Germans seem bad at is directing strangers to places of interest, at least that was my excuse! We never did find the river but did end up in an interesting car park. Not only was it a car park but also a parking area for caravans and motorhomes. It had the opportunity for a hook-up and there were toilets just across the road. Just imagine finding something like that in the UK! Off we set for Rheinfelden. Just as a bit of background there is a Rheinfelden in Germany and another in Switzerland on opposite sides of the Rhine. OK so what! Well an English car containing your scribe was heading towards Rheinfelden when he realised that he was just about to cross the border into Switzerland and he did not relish the idea of paying 40 Swiss Francs for the pleasure (cost of vignette). Fortunately your scribe was saved from this assault on his wallet by a convenient turn off point which lead him safely back to Germany. The Bahnhof was quite near with a convenient free car park so we stopped there and walked back to the bridge which forms the Customs (Zoll) point for entry into Switzerland. We flashed our passports at the border guard and set off across the bridge. On the Swiss side it was rather calm and relaxed with beautifully painted buildings. We could not spend any money as we only had euros. On the road again but this time by Autobahn back to Staufen. We did stop at a supermarket before returning to the campsite. Well not one supermarket but two. Along the roads we had noticed Norma supermarkets here and there and because they sounded like John Major's wife we went there first. Unfortunately it was another of the stack it in boxes type. Across the road was an Aktiv which was much better, so we know where to head in future.
Camping Belchenblick has what might comically be called hospital opening times. The whole site is shut from 12.30 to 3.00pm each day. So if you miss this deadline you have no choice but to wait. I do wonder if this is more for the convenience of the campsite owners than the campers themselves. You can of course come and go from the site by foot or on a bicycle during this time. Anyway once the curfew was over we escaped from the campsite heading for Bad Krozingen which is the next town towards the autobahn. Trouble was that despite finding a parking place we did not have one of those cards with the clock on that you can dial in your arrival time. Having seen most of Bad Krozingen when we got lost we just returned to the van defeated.
Thursday was our last day at Staufen. In the morning we walked back into the town in search of a few things. I headed for the Tourist Information centre. I asked a young lady in English about a parking clock. She clearly did not understand what I meant but the older lady barked something in German to her and she went off to a cupboard and return with a parking clock which she gave me. I asked how much it was (in German) and the older lady barked at me that it was free. I thanked her and departed. I have to say this this sort of experience is pretty rare as I generally find Germans more than happy to help. Soothed by the lovely walk back to the campsite we had lunch and waited for the curfew to be lifted. When we were out on our walk a German motorhome had been pitched right next to us, despite many other pitches being free and with more space. This was not a question of someone selecting to park next to us but the campsite putting that person there. First stop was to fill up with diesel. The first pump I went to had only some extra special diesel and extra special prices so I moved to another pump. Not for the first time I paid by my Maestro Card (formally Switch) with no problem. Unfortunately unlike an ATM it does not come up in English so you have to await instructions but I managed. Once we had filled up it was back to the supermarket. This time we went straight to Aktiv. One very interesting thing about German shops is that when ever you buy a bottle of drink, be the container be made of glass or plastic, you are always charged a deposit called a 'pfand'. This is usually only a few cents and if you can be bothered you return the empties to recover the deposit. This clearly presents a big logistical problem for the supermarkets and I expect it could be required by law. I sometimes wonder how Tesco would cope if such a restriction was imposed in the UK! After our evening meal we put everything away in readiness for our departure the following morning. We were not alone as several others had also packed up. Camping Belchenblick has a superb location and equally superb facilities, something that attracted us to the site in 1992. However I did find some of the rules and restrictions annoying as I felt them unnecessary in this day and age.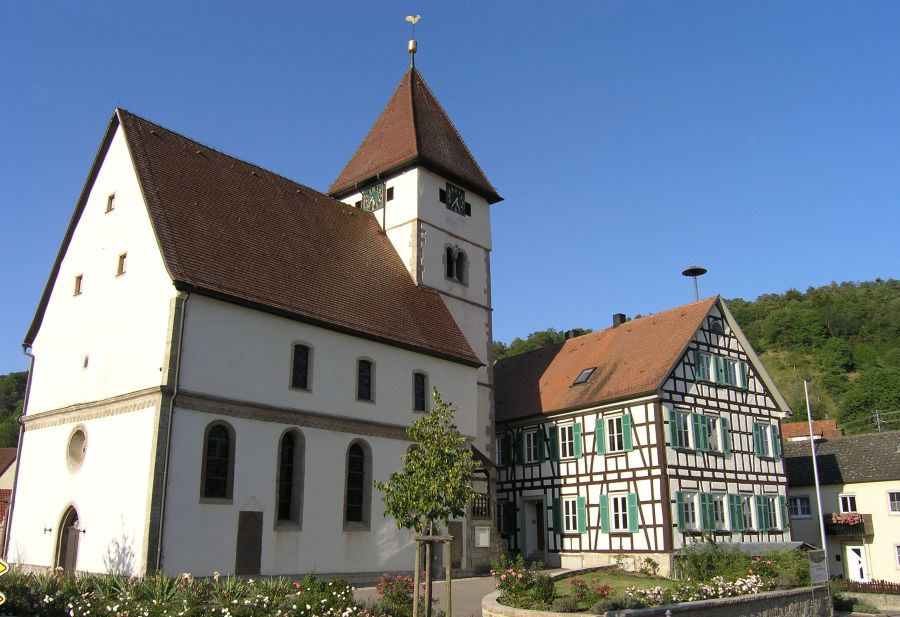 Time to move on. Today we are leaving Staufen im Breisgau and heading for Creglingen on the Romantische Strasse about 12 miles north of Rothenburg. First of all I had to pay my bill. Now for all you that would like the Caravan Club to charge for the actual amount of electricity used hereby is a warning. At Belchenblick electricity is metered and in 5 days we used 31 kilowatts of electricity! Around £12 pounds worth, just think what it would be in the winter. Unfortunately Belchenblick is also still in the dark ages as far as being able to pay for your stay. Only cash or Travellers Cheques are acceptable. As I no longer use the latter it had to be cash. It would not be so bad it they accepted debit cards. Although we enjoyed our stay at Belchenblick I think the way the site is run was starting to annoy us. I just got the impression that the customers were not the first priority. In no way would I want that comment to put anyone off going there as the site has superb facilities and a superb location but I leave you to make your own mind up. The journey along the Autobahn seemed long and very busy. The price of diesel seems to be rising daily as we continue our trip around Germany. We had one hold up of about half an hour. In many ways our own motorways are as good, if not better than the autobahns. Perhaps one major difference is the provision of more rest areas. However as we noticed on our journey down we often had to drive straight through because we could not find space for the car and caravan. Getting closer to our destination we started to figure out the instructions in the CC Guide. It seems that the route through Rothenburg and up towards Creglingen was not recommended but it suggested that we come off at junction 105 on the A7 and head for Uffenheim and then head in the direction of Bad Mergentheim and joining the Romantische Strasse north of Creglingen. This route worked but it certainly seemed to be a long way round. Our chosen campsite is Camping Romantische Strasse on the edge of the village of Munster about 3 kms from Creglingen. Like Belchenblick the campsite like to assist you onto your pitch, so in ten seconds flat you are set-up, although we were allow to select our pitch. This campsite also closes at lunchtime but only for two hours! Fortunately that's where the similarity ends.
Saturday was as good an excuse as any to have a bit of a lay in, well every day is really! I parked the car in the carpark across the road from the campsite entrance because we did not want to become trapped. In the afternoon we drove to the Thimble Museum which is situated a couple of kms from the site as Margaret was keen to see their collection. I have to say that apart from putting the frames on the wall at home which house Margaret's own collection I have never given them much thought. However it does give you an impression of the industry as it was. Gone, now, are the days when all girls used to learn to sow at school so perhaps the younger generation may only think of them as artefacts of a gone by age. We moved across the road from the Museum to a church called Herrgottskirche which has a famous alter screen with a depiction of the crucifixion. Our last stop of our day was Creglingen itself. Being Saturday afternoon it was almost deserted. There are some interesting buildings but not on the same scale as some of the towns along the Romantische Strasse.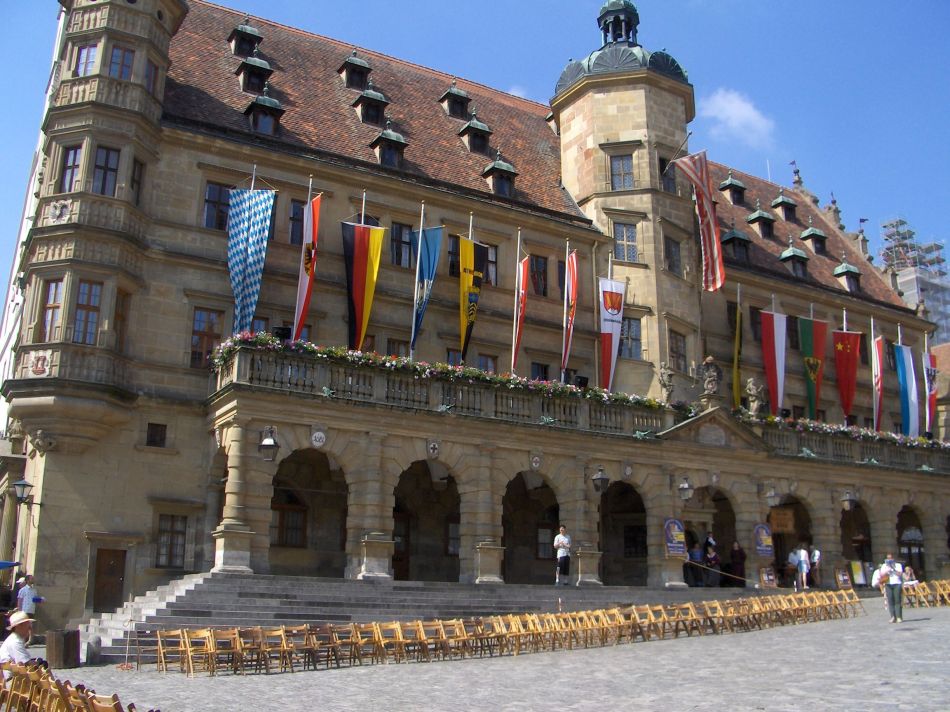 The campsite reception had a rather lovely map with information on the towns along the Romantische Strasse in English. The Romantische Strasse runs from Wurzburg in the north to Fussen in the south, about 200 miles in all. There are many historical towns along the route and it would take several holidays to explore them all! We thought Rothenburg would be a good start as its only about 20 miles from the campsite and is one of the larger towns along the route. We also thought that Sunday would be a good day to explore. On the outskirts we started to look for carparks, every one near the centre were full. We followed the sign to the coach park and there was plenty of space there including facilities for parking motorhomes. There was some confusion about whether we should pay but a Danish couple and I convinced ourselves that only coaches and motorhomes paid despite there clearly being bays that could only hold cars. It was only a short walk into this magnificent walled town. However something odd was going on and it was perhaps the reason why everywhere was so busy. Every other person was in medieval costume, (I know my clothes are old but not that old!!!) there was obviously some sort of reinactment going on. As we wondered around we noticed areas where various factions had taken up camp trying to depict what such a camp might have looked like in medieval time. All very realistic apart maybe from the aluminium kegs of ale! The were bands aplenty who would march through the streets from the centre to their respective camp. Fortunately the battle seemed to be between trumpet and drums rather than sword and arrow. All in all a delightful and interesting spectacle. Mind you I did have one impish thought. I am not sure where all the enactors came from but it was clear that eyebrow and ear piercing was not allowed as part of the act and I noticed lots of medieval sticking plaster on eyebrows and ears! A lot of the shops seemed open in the town and one that fascinated Margaret was the Christmas Shop. I am sure it looks even more magical in December. Rothenburg should certainly be on everyone's list of places to visit in Germany, it is a delight. After our visit to Rothenburg we drove out to the autobahn via Bad Mergentheim to check our escape route to our next site. It seemed to take a long time but on the way back we discovered an excellent route and just hope we can find it! After such a busy day we decided to eat at the site restaurant, the service was a bit chaotic (they were busy) but the food was really good and good value.
Monday was shopping day so we made our way into Creglingen. We discovered that the Aktiv was not as good as the one in Staufen but it would do. I love German DIY stores so we took the opportunity to visit the one next to the supermarket. The rest of Monday was spent at the van.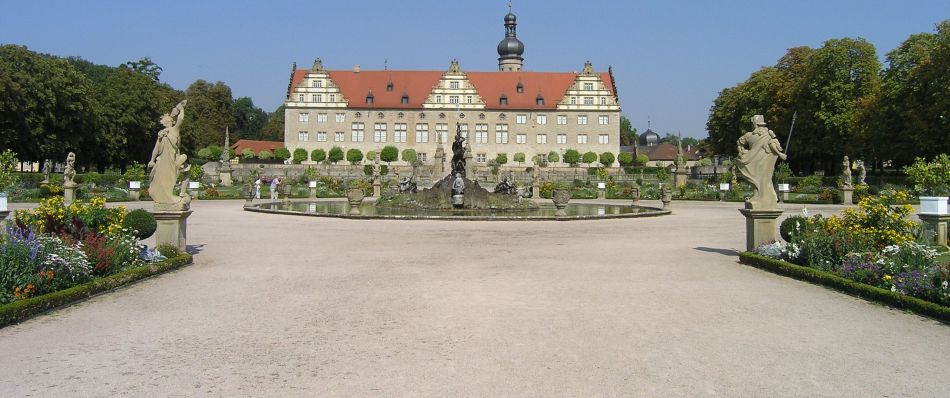 Our exploration of the Romantische Strasse continued on Tuesday with a drive up to Weikersheim to visit the family seat of the Counts of Hohenlohe. You can, if you wish, just visit the rather lovely gardens that are said to have been influenced by Versailles. We wanted to look round the house but could only do this by joining a guided tour which would be in German. We were loaned a book each which explained the main points of the tour in English. Full marks to the guide, who although her English was not perfect, did try and included us which we thought a nice touch. After a picnic lunch in the gardens we made our way back into the town of Weikersheim which has an impressive town square. On the way back to the van we wanted to stop off at Röttingen as from the road it looked a quite interesting wall town. We drove into the town and parked in front of a very nice building which we discovered later was the town hall. We set off looking for more but there was not much to be seen. It appears that houses have been built up to the inner wall with little access. The walls look better from the outside.
Wednesday 7th September and time to move on. Fortunately a journey of less than a 100 miles to a place called Neckargemund on the River Neckar. We left Camping Romantische Strasse with some regret as it had been a delightful campsite and the people that ran the site were all friendly and helpful. We found Campingplazt an der Friendsbrucke almost by default. We knew where it should be but it did not have a name anywhere to recognise it! The site was quite full and got even fuller as the day went on. There are a few Brits on site but by far the majority are Dutch, no doubt making use of Camping Cheques. Our purpose for staying at this site is to visit Heidelberg. Thanks to an English guy in a motorhome across the way from us he explained the different methods of getting there. He kindly gave us the boat timetable. The trip is an hour each way but that suits us. When it had cooled down a bit in the evening we had a wonder around the old town which is quite attractive.
When we arrived at the departure point there was already quite a crowd which grew as the departure time approached. We had sat on a seat in the shade not wanting to be part of the throng in the full sun. I saw the boat coming and Margaret and I made our way down the rivers edge where we hung back from the people waiting. The crowd was quite logically waiting next the board with the timetable on but it soon became evident that the boat was going to land right where we were standing! Having been born in one of the world's greatest sea ports I understand about boats so we stood back to allow the crew to make the boat steady at it's mooring. It conjured up a vision from a Jacques Tati film (Les Vacances de M. Hulot) where the train arrives on the different platform to where everyone was waiting. As soon as the waiting passengers realised what was happening they were rushing towards us like a herd of buffalos. One German lady and her two kids managed to get on before us! Eventually we embarked on our river journey into Heidelberg. The Neckar is similar to the Thames in the way it looks, much gentler than the Rhine. It is perhaps wider but has the same feel. It's navigable length is also similar to the Thames about 120 miles. However I don't think many of the barges that use the Neckar up to Stuttgart would get very far up the Thames! It was a pleasant surprise to encounter a lock. Oh but how different in size to any I have seen in the UK.
From the drop off point downstream of the old stone bridge we made our way into the town. The old part seems to consist of one main street called Haptstrasse where all the shops and cafes are. It seems to go on for miles. Heidelberg is a famous university town and there are reminders everywhere you go as you pass the various faculties. At one end of Hauptstrasse it opens into an impressive Square with the Town Hall on one side and in the opposite corner a large church. For a modest fee you can visit the church spire but I am not sure how high you can go. High above Heidelberg is the Schloss which is well worth a visit. Fortunately there is a funicular railway which for €4 return will take you up to the Castle. The Castle is mainly a ruin but it has was lovely gardens with superb views out over Heidelberg. There is a Cafeteria where you can enjoy a cool beer and a modest selection of food if you should wish. Time to make our way back to the river but not before the purchase of a couple of kuchen to help us on our way! The sun was still very hot as we started back upstream to Neckargemünd the wake of the boat sending out a chevron of a waves to each back disturbing the calm, still waters of the river, oh so much like the Thames.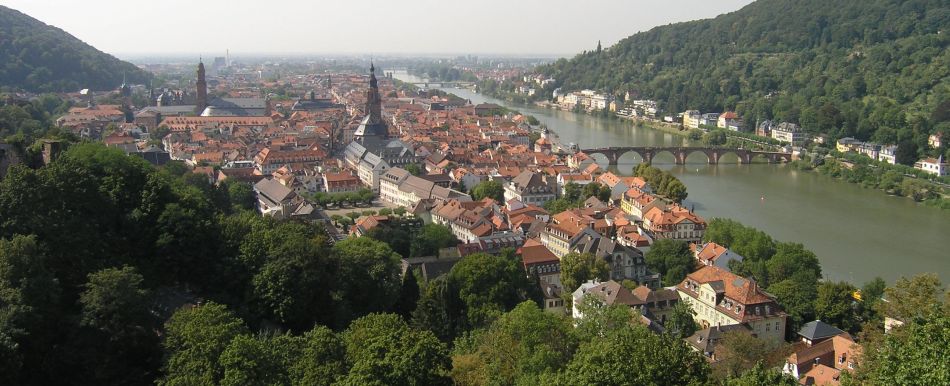 Unlike at home where you can nip down to Waitrose to buy the weeks shopping its more difficult when away in the van so shopping trips tend to be a bit more regular. It does add to the interest as you try to decide which supermarket to use. Quite a few German supermarkets seem to be of the Aldi style with everything staked in cardboard boxes, not my idea of a good supermarket. However trying to find anything like what you would find in the UK or France has proved to be almost impossible. Maybe its just the narrow aisles that make them seem small. Maybe Germans prefer smaller shops. Perhaps, as yet, I have not been to a large enough town to find the illusive 'Large Supermarket'!
Saturday 10th September, the first day for two weeks when we have not awoken to a clear blue sky, must be a sign of us heading home! We pay our dues and prepared to leave Neckargemund. Whilst this campsite has proved to have an excellent location it is almost too popular for comfort. Although all of our neighbours have proved to be pleasant we have really felt boxed in on the less than generous pitches. OK a site like this serves its purpose in the sense that you do not stay long but it could be even more enjoyable if some thought was given to providing more generous pitches with more screening. The latter may be impractical as I am sure the site is prone to flooding in the winter, a view perhaps reinforced by the fact that the electrics are at least a metre off the ground! The faults apart it is very convenient for Heidelberg and according the CC bible it is the best of the bunch. All this conjecture over the qualities of this campsite paled into insignificance as we prepared to leave, we had no brake lights on the van. Once the panic had subsided I had to proceed on a logical step by step process to find the cause of the problem. First step, check the bulb, no this was OK. (confession-checked the fog light not the brake light, so much for logical step by step process!) Checked fuses in van, OK. Where is my multimeter? Yes I remember, under the bunk in the van. Check the socket on the car, having first found a wiring diagram, no reading on car socket. Remove everything from car boot in search of wires, find them and in particular brake lights. Gentle squeeze on connection, brake lights now working. During this time our Dutch neighbour (behind us) who could not speak any English (not as unusual as you would imagine) came to see what the problem was. With a mixture of my limited German and hand signals I managed to explain the problem and I suppose, considering the language barrier we had quite a conversation! I was initially unaware of another soap opera going on only yards from where I was trying to solve my problem. We had left the door of the van open and Margaret had noticed our Dutch neighbour inspecting the interior of our van. So interested was he that he called over his wife to have a look, then another Dutch guy. They only gave the impression that they were impressed, no wonder English vans are popular in Holland. An hour later than planned we left the campsite heading towards Heidelberg and the autobahn. Now I don't consider myself a European traveller virgin but when ever I cross over into France I feel at home. I understand to road signs, it just feels more friendly. For once the CC bible instructions to our campsite for the night were pretty useless. On my laptop I have a MS Autoroute which I did not realised allowed you to search for French post codes, although you do need to have the road name. This gave a pretty good impression on where we would find the site. As it happened Camping Les Breuils was well signed from the Autoroute so we had no problem finding it. As we were setting up the van the sky turned black and before long it was raining and then there was thunder and lightning. Fortunately it did clear up a bit in the evening so we were able to have a look round the campsite which really does deserve a longer stay. Verdun and the surrounding area does look interesting, mental note to return.
Obviously a bit nervous as we hitched up in readiness to leave Les Breuils but fortunately brake lights worked. We set off across country which was shrouded in mist/fog. By the time we got to Reims it had cleared into a dull day. Now far more UK plates pass us as we make our way north. Radio Five Live is now fairly clear on the radio and we are kept up to date with the Test Match although our interests centre mainly on the Belgium Grand Prix. Simon had sent me a text earlier in the day to say that Red Bull Racing had bought Minardi. It will be interesting to see how this works out! Alonso is only a few points away from becoming World Champion so figures crossed. Arriving at Chateau de Gandspette now seems as familiar as arriving at our house in Milton Keynes. We were directed to a pitch that we had not used before despite our regular pitch being empty. In fact when we arrived the site was much emptier than usual, but we are here a bit later. After dinner I wondered around the site and was surprised to see that it was now almost full, mainly with motorcaravans. I happened upon a lady with a clipboard and I remarked that I had not recalled so many motorhomes on this site and wondered if it was a rally. It turned our that she was part of an organisation that arranges escorted tours, they even arrange for a vet to come to the site for the injections of their pets before they return home. Curiosity satisfied I relayed my findings to Margaret.
Monday, our last full day in France and its off to the supermarket. Margaret likes the Carrefour at the Cite d'Europe and the handy Tesco wine and beer shop close by. First hit was Tesco and we loaded that in the boot before going back into the centre for a coffee, then Carrefour. As we would have not time to shop once back in the UK Margaret for once deserted Waitrose and did her shopping here.
Up and ready fairly early on Tuesday, although our crossing was not until 9.35am. Gandspette is about 30 miles from Calais and the first few miles are along D roads. Nearby to the site there must be a river or canal because in the early morning there was a dazzling display of mist hanging in the air, I only wish I had time to stop and take photos. Crossing was fine, you almost feel you are not crossing from France to England when using the Tunnel. We arrived home at midday and within five minutes the washing machine was on!!!!
Post Script
Quite naturally France is the destination for many UK campers as it has such a variety of scenery and not forgetting some wonderful beaches. However Germany is well worth the occasional, or more frequent, diversion. Depending on where you head for the journey distance is often not as long as some parts of France. The roads are toll free. The Germans as a people I have always found accommodating and friendly and a fair proportion speak some English, even in found this in supermarkets. So if you read this and are a bit lost for what part of France to visit next have a think about visiting Germany, you won't be disappointed.