Monte Carlo or Bust!
The story of our trip to Monaco in May 2005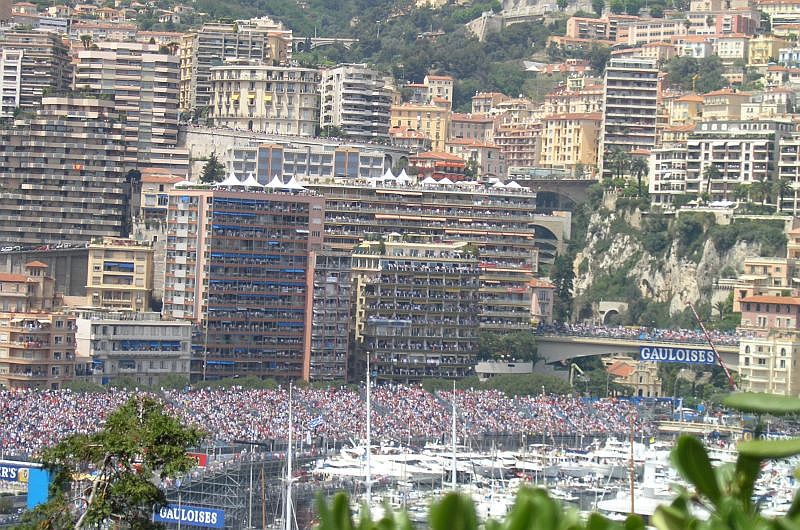 Why Monte Carlo or Bust? We had originally planned a trip to explore Normandy and Brittany after many years just heading south. One day I was looking at the diary on my computer and realised that the Monaco Grand Prix was right in the middle of our holiday. Our youngest son, Simon, works for Red Bull Racing as a trackside IT engineer, so we asked if he minded us coming down to see him. Fortunately he was OK about it and said he would do his best to show us around although there were no guarantees! As James Allan says, we are racing!!!
We had not ventured to France so early in the year before but 15th May was the start of our early summer holiday. Another difference was that we were using Eurotunnel as a means of crossing to France. Now we had used the Tunnel many times solo but not with the caravan on the back so a little trepidatious as we approached the Folkestone terminal. Our booked crossing was the 16.03pm. This was the earliest we could book for that day for our fare class of £180 return. The main reason we had not used the Tunnel before was the high cost compared to the ferries. Another dilemma was what time to leave Milton Keynes so that we did arrive too early or leave too late and risk getting snarled up in traffic. In the end we left at about 10.30 which allowed time for a couple of stops en route. I had previously e-mailed Eurotunnel to ask about parking if we were early. Their reply was positive saying there was plenty of space but not to arrive more than two hours before the crossing time. As it happened we rolled up to the ticket booths just before 2.30pm. Totally unprompted by us the lady asked if we would like to go on the 2.58pm train. That was ideal as far as we were concerned. First though we had to go through the rigmarole of having the gas checked, but it was not only the gas! About 4 guys descended on us, not only checking the gas but going through the car and van with some sort of swabs. Better to be safe than sorry I suppose. As we approached the French border control we wondered what else we were in for! We were waved through with a smile. I had no idea how you get on one of these trains with a caravan. Before we found that out we had another potential problem. We had merrily left the holding area and approached the ramp down to the train. The motorhome in front of us pulled forward and did a U-turn. We thought he had a problem, but no it was us with the problem! The guy directing the traffic calmly came to Margaret's window and instructed us to 'just spin round over there'! Despite Margaret's protestations that it was impossible I somehow managed to achieve the task set me. All this hassle to let 2 coaches on before us. Anyway, down the ramp. Fortunately the sides and roof of the train slide back which allows plenty of room to swing onto the train. Even driving through the train was not too bad. Once the train had been loaded I could see why they allowed us to go early as the high section was only half full. From checking in to making our way onto the autoroute at the other end could not have been much longer than an hour and a quarter.

I suppose with the earlier crossing we could of made our way a bit further South. Unfortunately there don't seem to be many campsites within say a 100 miles of Calais. So we decided to stay at Chateau de Gandspette, a particular favourite of ours. We have used this campsite of numerous occasions and we never tire of it. The owner even recognises me now! Personally I think it has everything that a good campsite should have. Year on year there are improvements. Rather interestingly they seem to be moving away from having long stay local vans which of course allows more room for tourers. I know I bang on about this site but I have also seem many other positive comments about the sites, and yet I have also seen a few comments where people have not enjoyed the site. Difficult for me to judge but it just shows that we all look for something different in a campsite. Quite clearly it had been very wet in this part of France although we arrive in brilliant sunshine. We even had time to try our new Caravanstore awning. The day ended with a superb sunset.
Monday was a Bank Holiday in France, Pentecost. The French Government had caused a problem by suggesting everyone should work rather than have the day off. Now even with my limited knowledge of how the French might react, my money was on them not working! All this meant to us was that that the local supermarket was not open. We therefore faced a wine free day! We set out from Gandspette and headed for the A26 to start our southwards journey. We were heading for a site just outside Langres a journey of around 300 miles. This is a journey we seemed to have done so many times before. Very little traffic around. We exited the autoroute at Langres Nord and headed towards the town of Langres. The last time we were here we stayed at the Municipal site high on the ramparts. This time we were looking for a site called Camping de la Liez which is takes its name from Lac Liez. The instructions said follow the road for Versoul and look for the signs. All well and good but Lac de Liez was signed from Langres and we followed the first sign we saw! Well this took us along some pretty rough roads and as you can imagine we did wonder if we going the right way! Anyway coming over a brow of a hill we saw the lake in all its glory but at the same time almost missed the entrance to the campsite! It was clear from the pitch we had been allocated that they had, had a lot of rain and quite frankly the pitch was unusable. Margaret struts off to find a better pitch. Some pitches have had gravel added which makes them far more weather proof. Once set up we decide to walk round the site. The walled town of Langres can be clearly seen from the campsite in all its majesty on the top of the hill. Got talking to another Brit who said that they had, had a lot of torrential rain over the past two days. From the look of the sky more was due! Perhaps the distant clap of thunder was a bit of a giveaway! There was quite a storm but within the hour the worst of it had passed. Even though we still had a few drops of rain we were able to go down to the lakeside. Although clearly the closed season you can imagine how busy it will be come the summer.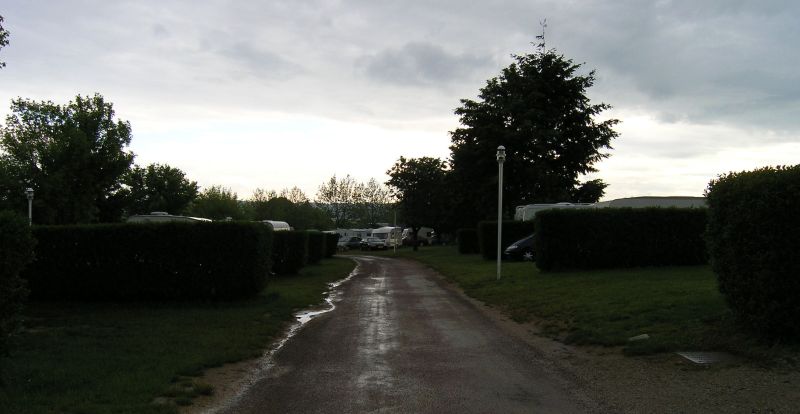 Despite, or perhaps as a result of, the weather the night before the whole lake was shrouded in mist when we got up on Tuesday morning, although it did partially clear before we departed. We exited from the site on the route from the N19 which is the way we should have approached the site from. In reality there is very little in it. We decided to shave a little off our autoroute tolls by heading down towards Dijon on the N roads. This took us up into Langres and around the Walls before finding the N74 towards Dijon. Today was our longest journeys in one day, it turned out to be 343 miles. Before we had got to Orange it had started to rain. Even when we got to Camping Nostradamus (an interesting name!) it was coming down in stair rods! Every pitch was flooded to some degree or other so it was a case of choosing what swimming pool you wanted. People sometimes forget that it rains in the South of France. From my limited experience when it rains it really rains. Margaret of course thinks the world is about too end because the can't find a pitch without standing water! Because the ground becomes so compacted in the heat the rain lies on the surface rather than draining away, hence water logged pitches. Such a shame as I am sure this campsite is really nice in the usual hot weather enjoyed in this part of France and you would appreciate the shade that most pitches provide. I should also add that this site has a very enthusiastic owner, Gilles, he even came out to meet Margaret in the pouring rain. He will also give you a French lesson, but all in good fun. The following day the rain had gone, only to be replaced by a howling wind or what they call in this part of the world the 'Mistral'. The next morning I meet Gilles and ask him about the wind. Ah the Mistral he proclaims, it is only 'cleaning the sky' he reassures me. On the way to collect my baguette I spoke to a Dutch guy getting ready to leave. Asking him about the strength of the wind, he shrugged and said you must move on! That was good enough for me. We set out wondering what the day would bring. The last time we had towed in such windy conditions the ferries were cancelled! Once on the move the wind did not seem to be a real problem, navigating through the streets of Salon de Provence seemed more of a challenge. Eventually we found the autoroute and once on it we seemed to have recovered our sense of purpose. Click on thumbnails for larger picture.
Our previous journeys had only taken us as far as Le Muy where in the past we headed down to Port Grimaud on the coast. Beyond Le Muy the autoroute seems really to be up in the mountains. The X seems to cope with this with ease. As we approach Cannes we can glimpse the Mediterranean. We stop at an Aire which has wonderful views out over the Harbour at Cannes. Having had a bite to eat we continue our journey. Despite the numerous instructions on how to find the campsite we need our wits about us. We know we need to be on the N7 in the direction of Antibes but beyond that it is just a case of watching for signs. Fortunately we were going quite slowly when I saw a sign to the right and without signalling I immediately turned right. Should the man following me read this website I offer my perfuse apologies! We now encounter one of the hazards of travelling in France, the lunch break, not the 45 minutes we are both used to, or even one hour but two! At least it gives us the opportunity to look round the campsite for suitable pitches, aided by a campsite map I had printed from a webpage before we left the UK. There was some confusion because we were given the impression that the site was filling up quickly. A month before hand I had e-mailed the campsite about making a booking and they had replied that it was unnecessary! Emplacement number 12 suits our needs. However we did draw an audience when I used the motor mover to position the van on the pitch! No sooner had we set up than we were off to the local supermarket to replenish depleted supplies. On our return we finished setting up, including using for the first time our new Caravanstore awning with sun blocker! Once all this was complete we settled down to a few minutes in the sun before preparing our evening meal. This process was interrupted by a conversation with our neighbours, who it seems really love France and spend 8/10 weeks here every year in their motorhome.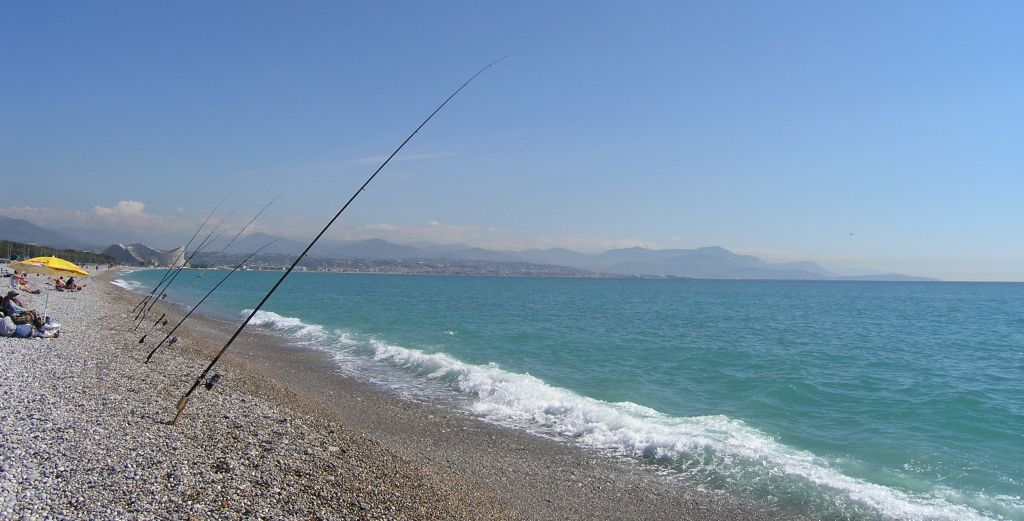 Thursday dawned in the full sunshine we expect from this part of France. Today we had a two part mission. Firstly we had to establish how long it would take to walk to the Station at Biot, 15 minutes is the correct answer to that one! The second challenge was to purchase two return tickets from Biot to Monaco for Friday and Sunday. Tried the automatic machine but chickened out at the last minute and decided to use my French at the ticket desk! No probs, managed perfectly well and 46 Euros later have two sets of tickets. There seems to be quite a few Brits at the station. It does surprise me that people don't even try a few words of French, fortunately the ticket seller is experienced in dealing with these situations and everyone gets their tickets, except that is a couple of young lads who wanted to get to St Tropez which is not on the rail system. Next decision is do we walk back to the campsite along the main road or do we follow the beach. No contest the beach wins. I am not sure which is worse, pebbles or sand. The coast here is all pebbles. Once committed we had to walk all the way the Vileneuve Loubet Plage, not sure how far but must have been a 2/3 mile round trip. We were not without entertainment. As we crunched our way along the beach we could see the airplanes making their way into Nice Airport. Then suddenly we noticed two planes that were definitely not heading that way. At first glance they reminded me of Catalina flying boats but I suspect they were a more modern variety. I worked out that these were the planes used to douse forest fires and they were taking in water from the Bay and then releasing it as a practise measure. Very entertaining to watch! Made it to Vileneuve Loubet Plage and had a look round the Harbour. Decided we needed to take refuge in a cafe for a beer. Refreshed we continued our walk and managed to get back under the railway and on the road back to the site, although we did deviate into the Intermarche for a few supplies! Having got back to the van we were disinclined to do anything further that day.



Today, Friday, a bit more of the jigsaw hopefully falls into place. Up early because we are going to Monaco. Off to the site shop to buy a baguette, only to be beaten for the second day running by a chap who insists he wants the shop to provide his entire breakfast, including coffee! Usually this would have been a minor distraction for your scribe to mention to you, but today every minute is precious. As it turned out we made the station in plenty of time. Mind you I was uncertain as to what to do with the ticket. Its been quite a few years since I had travelled by train in France. I had vague memories of validating the tickets. What I was uncertain about was that the tickets we had purchased were for a set day so I did not know if the validating process was still required. I asked at the ticket office and yes you still need to validate tickets and as it happens this seems to be needed at both ends of the journey. The train arrived on time and was pretty full but we found a seat. Quite a few people got off at Nice but even more wanted to get on. A couple sat down opposite us, he was wearing a Ferrari shirt. I noticed that they were speaking in English so I ventured to say to him that it was a silly question asking where they were heading! They were apparently from Capetown in South Africa. We saw them again in Monaco when we were collecting our tickets. From the station we had to ask the way a couple of times, all the officials, including the police, were very helpful.
Back to the Gare SNCF, as soon as we left the station we were hit by a wall of noise as race cars pounded the streets of the Principality. With the help of directions we managed to find the Grand Prix Ticket Office in Rue Grimaldi. I was firmly put in my place as the lady insisted that she see Margaret's ID as she had purchased the tickets. There was obviously some private joke going on between them about who should accompany her to the race! My hearing is not so good at the best of time so trying to ring Simon to let him know we were in Monaco with the deafening sound of a roaring V10 engine in the other was not a recipe for success! Eventually we arranged to meet in a square at the top of Rue Grimaldi where we had a coffee. One thing that does strike you are all the stalls selling Grand Prix memorabilia. You will not be surprised if I mention that at times it seems like a sea of red. Ferrari might not be the heart of Grand Prix Racing but it is certainly the soul. Simon had things to do but we went with him to the local Centre Commercial the likes of which I had not seen before. It seemed to be built, either into the side of a hill or underground. The supermarket was a Carrefour which had, as usual, an excellent range of produce for sale, including rather interestingly quite a few English brands of food. Temporally we said goodbye to Simon as he had to go back to work. We had some lunch and tried to make our way down to the Harbour.

The lower half of Monaco is completely taken over by the Grand Prix Circus as the TV commentators like to call it. After several phone calls (I may well have to sell the house to pay my next Virgin Mobile bill!!) we found our way to the steps down to the Harbour. What a sight, you have seen it on the television but there is no substitute for the real thing. Simon found us and he had our visitors accreditation badges, the things you wear round your neck. Simon explained that just because we had the passes we would not have access everywhere as security was very strict. He had a name for it which is best left unpublished on this web site!! Simon showed us round the F1 Paddock where all the teams keep their logistical equipment and hospitality centres. The Hospitality is something else, restaurants built on the Harbour car park, a totally different world. It is very strange being on the inside looking out and oh so easy to name drop, is that Max being interviewed for TV over there, hang on a second there goes Bernie and wait I am sure that was Kimi over there. But of course as an insider you don't name drop do you, hardly the done thing old boy! Click on thumbnails for larger picture.
Next stop was the Red Bull Racing Energy Station this is Red Bull's hospitality centre and pretty impressive it is too. Simon had spent some weeks in Austria setting up the IT equipment. It has 3 floors and would normally be with the rest in the car park but this time it was actually on the harbour on a pontoon. It was being used to publicise the new Star Wars film and George Lucas himself was in Monaco and was due at the Energy Station that afternoon so our tour had to be quick. F1 is not the only race that goes on so although none of the F1 cars were running other formula's were. We had hoped to get a tour of the pit lane and garage but because of the Media crush caused by the Star Wars promotion we were unable to get anywhere near. The Red Bull guys in the pits were virtually prisoners and by now such a large crowd had gathered it was almost impossible even to get as far as security. It was slightly disappointing that we could not see the garage but we understood the difficulties. We said our goodbye to Simon and had a wander round. The grandstands had been opened to the public so we thought we would see what a 450 Euro seat felt like! We had a good view of the swimming pool and the pit lane. We made our weary way back to the station for our train back to Biot near Antibes. Later spoke to Simon who told us the Star Wars thing had massively over run so even if we had stayed we would have been very late getting back to the van.
Click on thumbnails for larger picture.
After all the excitement of the day before Saturday was a rest day, particularly as it was the Race on Sunday and another train trip. Strangely it was not too warm, although in the sun it was hot there was also a brisk breeze that seemed very not the South of France!
Race Day arrived. We deliberately did not go in too early to Monaco as the enthusiasts would have been there for final qualifying and we thought it might be quieter on the train. The train pulls into Biot but it still looks quite crowded. The Guard encourages us to go further down the platform. We squeeze on and also manage to get a seat each but not together. The train gets gradually fuller as we head towards our destination. At Monaco passengers flood onto the platform - but we don't seem to be getting very far. We thought that there was just too many people but it turned out that they were checking tickets and quite a few people were pulled to one side without them. We were now getting to know this part of Monaco quite well! We made our way up to the small garden by the Centre Commercial where we had our lunch. I sent Simon a text but as we expected he was just too busy to get away.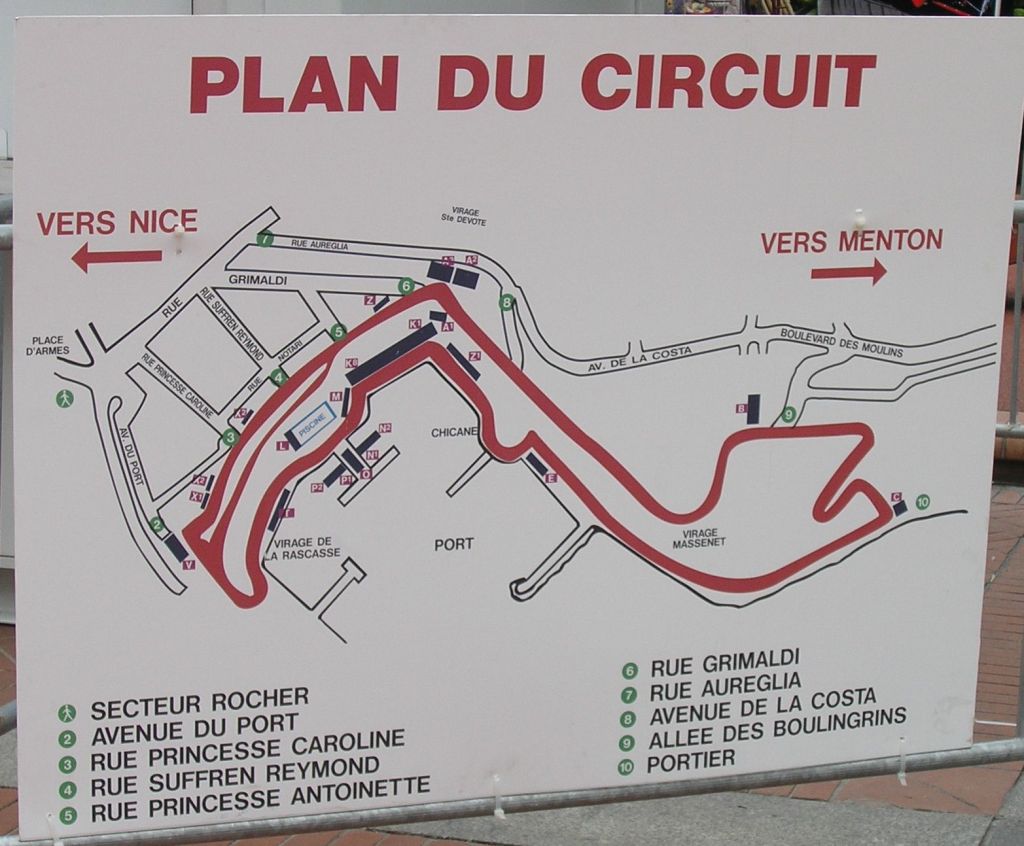 At around 1.00pm we decided that we should start looking for our standing place at 'Sector Rocher'. This area consists of a road that climbs up to the Royal Palace and the hill section between the road and the rampart walls. We made use of the road as we considered ourselves too old to go mountaineering! We found a spot with a good view of the Harbour and allowing for the vegetation probably had a better view of the race than some of those in the stands, albeit at a distance, and of course lacking the intimacy of being only yards away from a racing car. Before the race started there was a short period of respect shown for HSH Prince Rainier who died recently and had throughout his life been actively involved with the Monaco Grand Prix. 2.00pm arrives, the formation lap starts, goodness knows what it sounds like close up but it is exceptionally loud from where we are! As its not a particularly long circuit the cars are soon back on the grid. We have seen it on the television and despite the start being out of vision, we were under no illusion when the race started. The howl of engine noise was unbelievable, 18 cars revving at up to 19000 rpm's. In truth, despite being able to see more of the circuit than those close up we were too far away to see the detail, but hey we were here for the experience - as the old adage goes you can see more on the TV at home, but this is the real thing which you have to experience, especially at Monaco! Simon had given us some earplugs which did dull the noise a bit, I think they might come in handy at home! I appreciate that it was sacrilege but after an hour of the race we decided to call it a day and make our way back to the Station. We knew that DC of Red Bull Racing was out of the race so there was unlikely to be any points for Red Bull. We can only dream of what may have happened if he had stayed in the race as he was a strong 7th and likely to have gone up the table a bit, but who knows! Even ignoring those actually watching the race the whole of Monaco was packed. When we got back to the station it was packed. The two trains before ours were only going to Nice and I suspect a lot of people got on these by mistake which was our good fortune as we were able to get seats. Don't believe everything you hear about the infallibility of the French SNCF! We were delayed 30 minutes at Nice and there seemed no special efforts made to provide more trains beyond the normal Sunday service, which I found to be a bit disappointing. We later phoned Simon to get the details of what happened. He was in the process of packing up and was off to Germany in the morning.
After the excitement of the previous day, Monday was a day of rest albeit that we went to the Géant at Loubet Plage. Rather interestingly it had a multi storey car park and on the roof it had shaded parking areas. Apart from consuming some of our purchases we did nothing much else that day. When we arrived at La Vieille Ferme we had only intended to stay 6 days, 7 at the most but we decided that if we rearranged our planned schedule we could stay another day. So it was arranged with the campsite that we would leave on Thursday.

The extra day allowed us to visit Cannes. It made a change to catch the train going the other way! Now Cannes is really rather swish although I think they do get ideas above their station, more later! We arrived in Cannes and as you do thought it would be a good idea to find a loo. Stations are always a good place, or so we thought! Only one of those 'this cubicle will be washed after every use' sort of one!!! Anyway we girded our bladders and set off in search of the 'Croisette' the famous road that runs along the sea in Cannes, apparently named after a cross that stood on the route at some point in history. On our way we did find and use one of those coin in the slot toilets that look a bit like the Tardis. Our greatest fear was that either of us would get locked in and not be able to get out as the apparatus went through its automatic cleaning process! The reality was far less stressful. At the risk of providing too much information I will move on!
Now I hardly like to admit this but we picked up a leaflet at the campsite giving details of the 'Petits Trains de Cannes' and thought that it could be an uncomplicated way of exploring the town. If we took both tours we would even get a 3 Euro discount, how could we refuse. The first train took us along the Croisette from the Palais des Festivals to Palm Beach. The commentary (interestingly it sounded like a French speaking Yorkshire man!) explained the origins of how Cannes became the watering hole of the rich and famous. We were told the dates when the important hotels were built. The more well known being 'The Carlton' The Majestic and the Martinez. They all look the part, although I think the Martinez looks the best but of course the Carlton with its distinctive corner towers is perhaps best known. Further along is the famous Rose Garden with 2000 rose bushes. (just in case you were inclined to ask, no I did not count them!) At the end of our first trip we came past the Palais des Festivals, the commentary suggested that after the Olympic Games the Cannes Film Festival was the second most famous event in the world, see what I mean about ideas above their station! I think the Keighley Ferret Wrestlers Society would take issue with that! The break between trains allowed us to eat our packed lunch and watch the world go by. Being in France, and in particular Cannes, people watching is always most interesting. Time for our second train. This one took us by the Hotel de Ville and up into the old town called the Suquet. Having our fill of the Petit Trains we walked along the front. There was much work going on dismantling the remains of the Film Festival. We would have been there it had not clashed with the Grand Prix!! A closer look at the Rose Garden, not convinced its any better than my home city of Southampton but attractive none the less. Although only mid afternoon we decided the make our way back to the station. We wandered back through the narrow streets beyond the Croisette passing en route a Market Building we had seen from the train. It was now empty awaiting a new day. Margaret was about to add a new French word permanently to her vocabulary. Spying a sign saying 'Toilettes' she made a bee line for the door, only to be met by a smart, but stern, looking toilet attendant who in no uncertain terms told Margaret that they were férme. Margaret was most put out! On the brighter side one more word to go with bonjour and merci!!!
Click on thumbnails for larger picture.
Our last day at Le Vieille Ferme. On our arrival at this site we had been a bit concerned about the access from the autoroute so wanted to make sure we could escape in the right direction. We set off in the car towards Antibes and followed the signs to the autoroute. It seemed miles along a not so wide road so we decided that we would go back the way we came. As we arrived at the entrance to the Intermarche it seemed the place was being over run by police, they were coming from all directions! As a couple of motorcycle police sped off, others on foot emerged with their captive. I was just glad they were not after me! Back at the site I paid my dues which amounted to about £16 a night, just a pity they did not accept Camping Cheques!
Thursday morning and the start of our journey north. First we had to negotiate our way back to the autoroute, having rejected the idea of going via Antibes. Our originating junction 47 only had access to the Nice direction so we had no choice but to carry on and come back the correct way further on. Traffic was very heavy. Eventually we reached the next junction where we managed to get back to the direction we wanted to go in, albeit after a 10 mile diversion! For our first day heading towards home we had not set a particularly long journey.
We were aiming for Privas which was just over 200 miles. For once the directions in the Camping Cheque book was better than the Caravan Club European Guide. Camping Ardeche is a real gem of a site. Set in a valley with the town of Privas on a hill above the site. Better still there was a supermarket almost outside the gate. All was set for an idyllic stay but I guessed my luck would not hold! From a security point of view I use a Milenco wheel lock and an AlKo hitch lock on the van. I just wonder if this is just a bit to 'belt and braces' for the reality of the risk! To be truthful I have always found wheel clamp a brute to fit, particularly on rough ground and have often had to result to the mallet to get it to fit properly. Today was no exception and it was proving to be more difficult than usual. The upshot of my efforts was that I could neither lock or remove the Milenco from the wheel. Visions of being stuck for weeks on this campsite, whilst not an unpleasant idea, it was totally impractical as we both had to be back at work the following Wednesday. I sought the advice of the site manager/owner and although he promised to come and see if he could help he never turned up. We were left in some turmoil as to what to do. Out came the Red Pennant booklet. Margaret was all for calling them there and then but my male stubbornness encouraged me to search and exhaust all other options. I often find quiet contemplation of a problem can help. I did discover that because the lock was not fully closed I could just about get a socket spanner on one of the wheel nuts. We decided to sleep on it, albeit a very restless sleep and tackle the problem afresh in the morning.
Hardly surprisingly we were up early the following morning. Because I did not know that even if I got the wheel off would I be able to get the clamp off the wheel so it was decided to remove the spare wheel first, just in case. An under slung spare wheel carrier seems a good idea, until that is, you have to get the spare wheel off and back on again!!! Eventually first part of the mission complete. Now round to the other side of the van. I should of added that we had, had to manhandle the van in order to attach the car to the tow hitch as the sidelift jack should not be used without the car being attached. Got jack into position. Margaret there fore moral support and to take the wheel nuts from me. Loosen first one, can only use the socket so far, remove socket, bolt loose so unscrew by hand the rest of the way. Success, first bolt removed. Raise jack to rotate wheel to allow access to second bolt. No probs, same as before. Third bolt OK. 4th bolt was likely to be the problem one but no that was OK. I was now able to remove road wheel with clamp attached. If we achieved nothing else we al least could continue our journey! Before giving up on our clamp encased wheel I wondered if we could get the clamp off if we let all the air out of the tyre. We stood the wheel up and whilst Margaret push down to collapse the tyre I pulled the clamp over the tyre - just! Still had to get the bottom section off and this we achieved with some brute force.
After our trials and tribulations I trotted off to the ablutions block for a soothing shower. With our distraction we had not even walked into Privas so after some lunch we bite the bullet. The weather in Privas had been the hottest of the holiday so we really felt it as we climbed up into the town. It is a typical French town, with quite a few cafes/restaurants, even we needed a drink when we got to 'Centre Ville'. Going back was easier as we crossed from side to side of the road to find shade. Mind you no rest for the wicked as we immediately set off for the Super U. The following morning there was no sign of the owner when I went to pay, perhaps embarrassed that he did not come to help us!
After our two day stay at Privas it was the route to the north that beckoned. We were heading for the Municipal at Troyes, but first we had to negotiate Lyon. Not quite so bad as in the past as it was a Saturday. more cars but fewer lorries. Completely missed our exit on the Troyes ring road but we were able to come back on ourselves. Surprised at how full the site seemed although there was still plenty of room. Sunday was the final sector of our journey in France and it was back to Chateau de Gandspette for a two night stay to allow time for the essential shopping! As we journeyed north the weather got worse and it started to rain. En Route and at the site we had managed to pick up 5 Live with a commentary on the European Grand Prix from the Nurburgring. DC was doing rather well for Red Bull Racing and despite a drive through penalty still managed 4th place. Monday dawned wet but no matter as we were heading for the Cite de Europe for some shopping. I have to admit that I like Carrefour stores, they really impress me and rarely been let down by their products. Praise indeed from a Waitrose customer!!! On the way to our shopping spree we looked in to Camping Bal Parc as we are always looking for alternatives near Calais. From what we saw in the pouring rain it looked OK, the proof of course will be staying there! First stop was Tesco and that trolley load was stored out of sight in the car. Ready to tackle Carrefour, but first coffee and a tart, I do like a good tart, this one was strawberry! Loaded to the gunwales we exit Carrefour. Margaret suggests we buy a roll or something and she takes herself off to the sandwich shop. I am leaning on the trolley just watching. There seems to be a look of conversation going on. Margaret returns with two toasted Paninis. Most impressed I asked Margaret how she had managed. (Don't forget bonjour, merci and now Ferme!!!) I was totally deflated when she said that the lady had asked her if she wanted them toasted!
Tuesday morning dawned quite bright and sunny. As usual we made our way to the autoroute where for the short journey to Calais you either put in coins or you credit card, this time we used coins. To complete this operation Margaret usually gets out of the car and when the barrier goes up I pull through enough to allow cars behind me to get through when they have paid. Bit shocked when a small French car rockets through the barrier whilst it was still up without paying!! Managed to get on an earlier train, still plenty of room left. Not sure M25 is any worse on a weekday compared to the weekend although I managed to upset a couple of other drivers. One because he was force to join the motorway behind me instead of accelerating ahead of me. He took out his anger by pulling sharply in front of me and then and then roaring off. I just hope he had a terrible day! Our second incident was passing a junction where I had pulled out to let cars join the motorway. When the road behind me was clear, yes I did check my mirrors, there was a horn sounding and a motorcycle appeared from no where as I was pulling into an empty lane. He roared off shaking his fist. A mile or two further on he had stopped under a bridge looking a bit shaken, perhaps someone had got even! Oh give me French roads!