Serendipity Switzerland!!!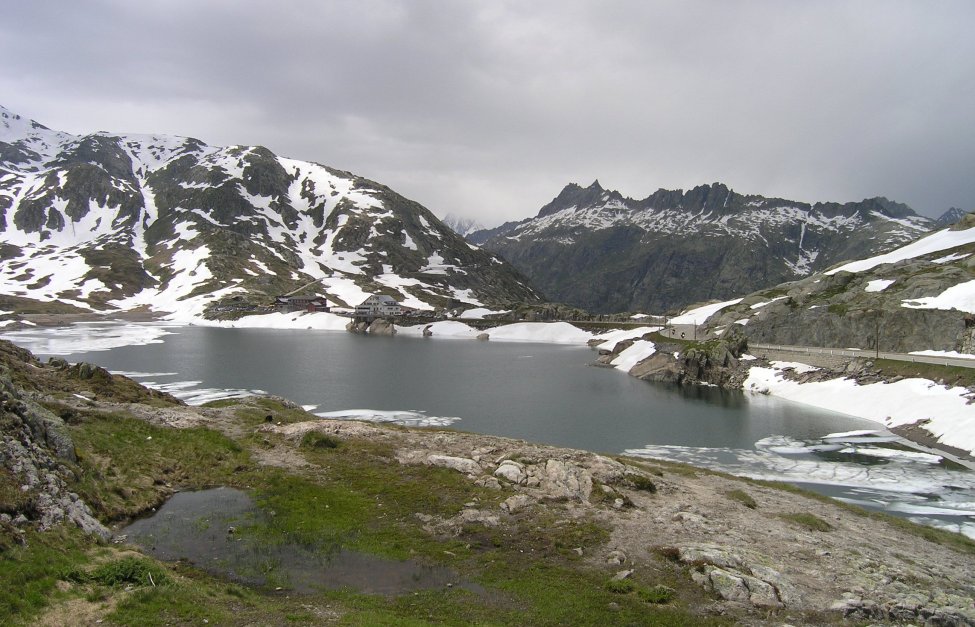 As we plan our holidays months in advance you would think that you would be ready for them when they came round! Never seems to work for us, everything seems to be last minute. The last day of May 2007 and we are almost ready to depart. The phone rang. Thinking it was one of the boys ringing to wish us a happy holiday Margaret picked up the phone. No good wishes for the holiday but one of her brothers ringing to say that her Mum was back in hospital with a suspected stroke. This has happened before but just before you leave for a four week holiday it is something you can do without. We had only seen her a couple of weeks ago and although quite frail she seemed to be not too bad. There was no indication that she was in mortal danger so we decide to start our journey to Folkestone. Some how the road works and traffic did not seem to be as high on the agenda as it usually is. We decided that if the worse happens I can always put Margaret on a plane or alternatively we know we will only be a few days away in travelling time from the UK.
The journey from MK to the Channel Tunnel is one of those grin and bare it type journeys. It will never get better, there are no real alternatives so you just have to sit there. We did arrive in plenty of time for our booked crossing but were not offered an earlier choice. It just seems that Eurotunnel are not running as many trains. I could see why. The number of vehicles waiting to join the shuttle was quite small and if the entire train was half full I think that could be over stating it. Such a shame as it is a quick and smooth way of getting to France.
I am hoping that my love/hate relationship with TomTom will improve on this holiday. I had spent quite a few frustrating hours updating it and down loading Camping Cheques and ACSI campsite POI's.
If there was one reason for persuading people to travel to France it is the contrast with the traffic volumes on either side of the Channel. The A26 is virtually traffic free compared to the M1/M25. OK so you pay for the privilege but I think many would be willing to do it if they experienced a drop in traffic density. We filled up with diesel at a service station and noticed the cost had gradually risen over the years and the difference, whilst still there, seems to be narrowing.
Back to TomTom, I have to say that he did navigate us directly to La Paille Huate, although having said that it was well signed from the main road. After dinner we wondered into the village of Boiry Notre Dame, it was neither beautiful or ugly but just a fairly ordinary rural village.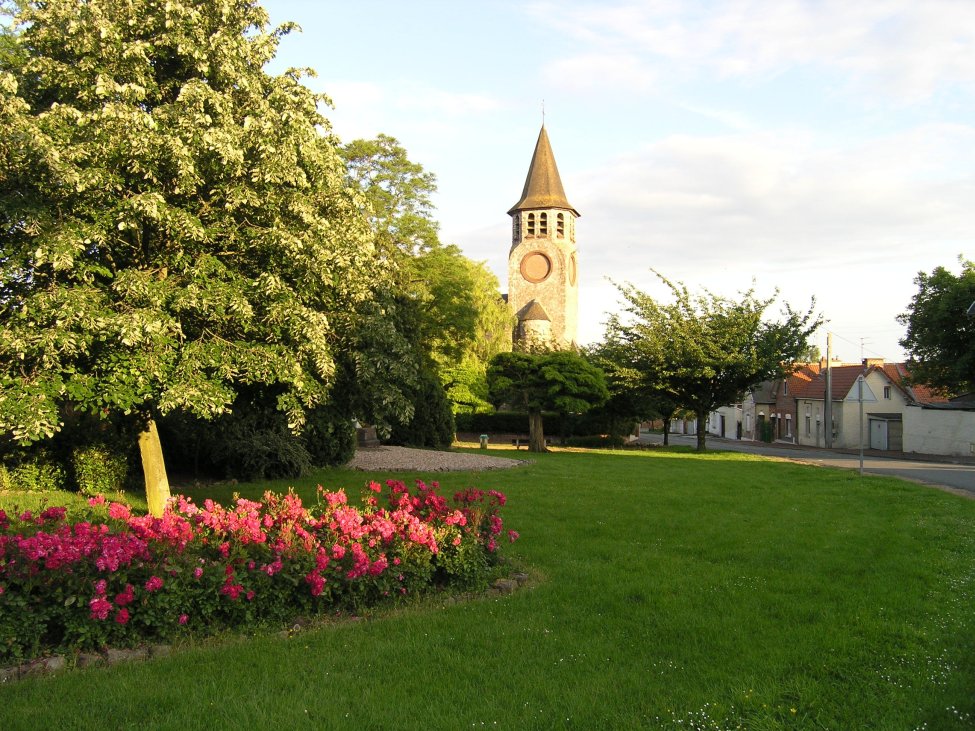 Our second day, Friday 1st June, was a long journey of over 300 miles. It was Autoroute most of the way but the last 50kms was fairly torturous. We arrived at the Municipal campsite in Obernai at around 5.00pm. The bad news was that they could only allow us to stay for one night as the had several groups booked for the Saturday. Whilst I can understand that a campsite has to maximise their income it seems daft that they have not thought about those that just like to turn up and expect a pitch for a night or two. I had always thought that it was part of the rational of Municipal Campsites that they existed to provide a place of rest for travelling campers.
That news was bad enough but when we had set up we received a text telling us that Margaret's mum was in a far worse situation than the initial thoughts. It turns out that she has had a pretty serious stroke and they are not certain that she will recover from it and even if she does she will be seriously handicapped. We have had to go into rethink mode as far as the holiday is concerned and tomorrow we will look for a site in this area for the next few days before thinking whether we can risk moving onto Switzerland. It looks as if Italy could be off the agenda for this year.
After we had had something to eat we walked into Obernai which seems a delightful town. You could just have easily been in Germany!! Perhaps one day we can return and explore more.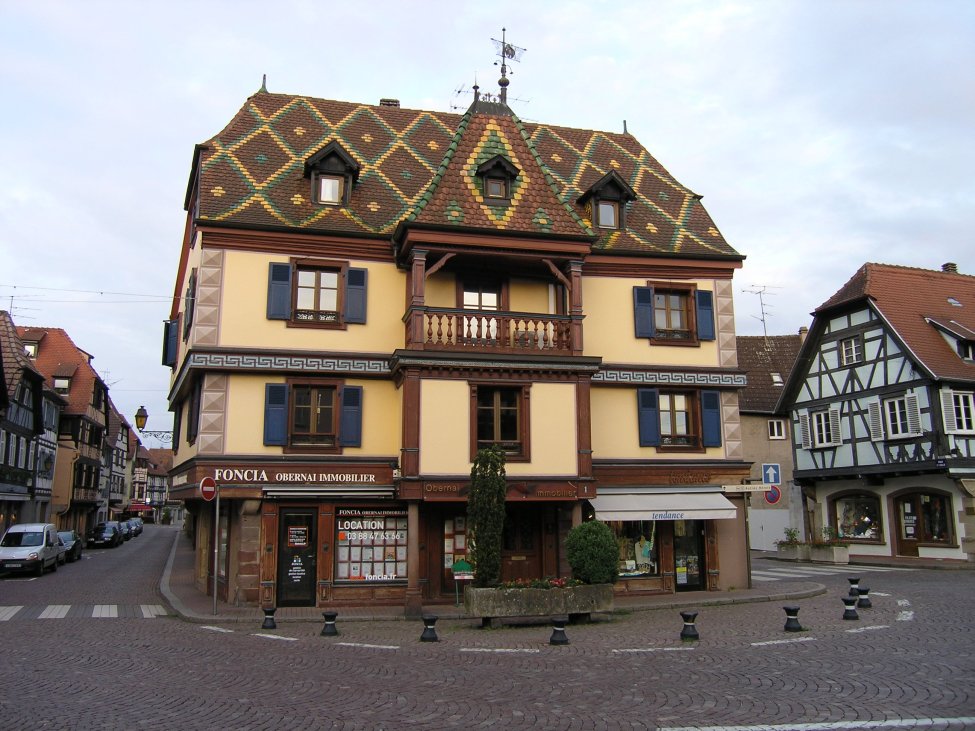 I have a colleague at work who is a great believer in serendipity, or happy accidents! Well perhaps us not being able to stay at Obernai was in fact a happy accident because it allowed us to discover a campsite called Clair Vacances near a town called Herrlisheim. Its not that Obernai was not a good campsite but just that Clair Vacances has a nicer ambience about it. To be on the safe side I did ring ahead to check they had space! I happened to mention where we were and I was charged with the responsibility of passing on good wishes to the girls in reception at Obernai who to be fair were delightful and I duly carried out my obligation. We wanted to get to Herrlisheim before they closed for lunch so that we could get set up and have time to find a supermarket. We left in plenty of time and TomTom was giving us an ETA of around 11.30am. Only problem was we could not get on the A35 at Obernai as the junction was coned off. There was no other information and despite going around twice we could still not get on! On the second time around we noticed that they were sending everyone off the motorway and judging by a couple of lorries going back on themselves I assumed they were slavishly following their Sat Navs! Fortunately the road south of Obernai is adjacent to the motorway. After a short distance we could see flashing lights across the fields and on a closer look we could see that a lorry had jack-knifed, just hoped that no one was seriously hurt. We managed to get on the motorway at the next junction and were soon heading south at a fair lick. We managed to arrive at the site with 15 minutes to spare. One of interesting things I notice was they have an internet connection, which, unusually is via an Ethernet link from a socket on the outside of the reception and it is free to use but a small donation is welcome. So a RJ45 cable went to the top of the shopping list!
Having set up and had some lunch we set off in search of a supermarket. We set off to first have a look at Herrlisheim before heading for Colmar. Although we could see signs to supermarkets we did not actually find one. Part of the problem was that we left the motorway at a different junction than originally intended. Anyway having driven through Colmar, much bigger than I thought , we ended up back on the motorway heading south. This time we came off at the proper junction and hey presto found the supermarket in minutes!
I always think that Sundays are a good day to visit French towns as it is generally less busy and parking is often free. Remember those days in the UK! Colmar is only about 5 miles from the campsite so it did not take us long to get there, even if we did take a detour to the local village of Ste-Croix-en-Plaine before joining the motorway. On our second circuit of inner Colmar we found a carpark. I did ask one of the locals if it was free and yes on Dimanche it was. Again it is confusing because you could have very well been in Germany given the style of architecture. None the less it is a very pretty place and in one square there was a group of vintage cars, mainly Citroens. I notice atop the Cathedral a nest of Storks.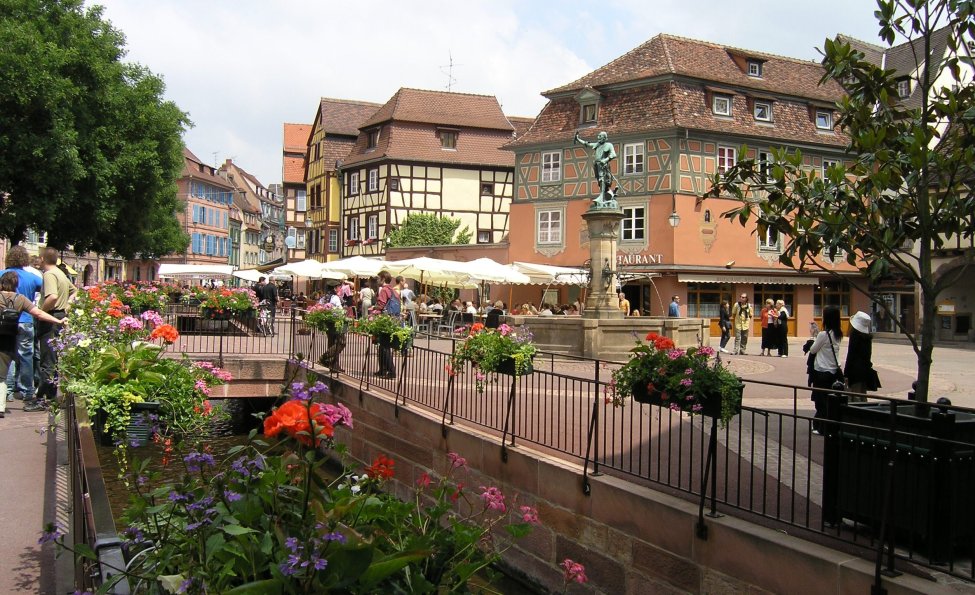 Back at the campsite we were surprised how busy it was with new arrivals, apparently to do with the fact that it was Sunday and there were no lorries on the road. The weather has certainly perked up a bit and it seems to be getting warmer.
On Monday it was back to the supermarket for some more bits. Now least you think we have some sort of fetish for supermarkets its all to do with liking fresh food. At home we can happily do a weeks shopping at a time. Unfortunately they have not yet made the caravan with sufficient fridge storage to last beyond two or three days so we tend to shop on a regular basis. We purchased two fresh trout for the evening meal and some sausages for Tuesday. For a couple of years now I have taken a small two burner stove with us. Having the external BBQ point is a boon and it saves cooking smells and heat in the van. One of my pet hates on campsites are push button taps. Usually they are accompanied by a pressure of water that would not put out a match. I have devised a method of dealing with this sort of tap. I use a luggage strap to keep the connection from opening and thus turning off the water which seems a fairly simple method of filling my water container without standing there with my hand on the tap. I suppose they use this sort of tap because they imagine that it saves water. I would contest this view. If I have a screw opening tap I use only until the container is full. With a press tap the water often continues after my container is full thus wasting water. It is the same in toilet blocks.

The following day I go to reception to collect the bread I ordered the day before. I don't know if it would be fair to say that we tend to lay in but mine was the last baguette!!! It was worth the wait as we had the rare treat of a bacon and egg baguette sandwich! When we were at Obernai a guy was telling me what a nice place Turckheim was as he had stayed at the Municipal Campsite there. As it was only a few miles away we decided to have a ride out. Its not a big place but very pretty. It has the regulation storks nesting on a high building. As mentioned with Colmar it is very Germanic in feel and look. After a look around the town we went to have a look at the campsite which looked very nice and we will make a note for a possible future visit.
Overnight we had a power cut, at least to our electric bollard. Being male of a certain age I am prone to get up in the middle of the night for you know what. As I got back into bed I was aware that the light on the fridge was not on. I checked as much as I could but could find no cause in the van. Even the site electric box was no more forthcoming. Decided to switch over to gas to keep the fridge running. Even 'Madam' must have been surprised to see me first in the queue for bread rather than being the last!
Wednesday 6th June was our last day at this site and there were a couple of things we wanted to do. We did need some more shopping and fuel but that will wait until the afternoon. In the morning we drove out to Eguisheim, a village we had passed through in the car a couple of days earlier. It is certainly a delightful place adorned with flowers and narrow streets, and of course a Storks nest! We even walked up to the Municipal Campsite which from the outside looked a nice enough campsite. You can buy the local wines at any number of establishments. I am sure there are many other similar villages in the area if you have time to explore. Bit of a panic when I went to pay as 'Madam' could not find my CCI Card. Eventually she did find it and I paid my dues, a little under £10 a night I thought was excellent value.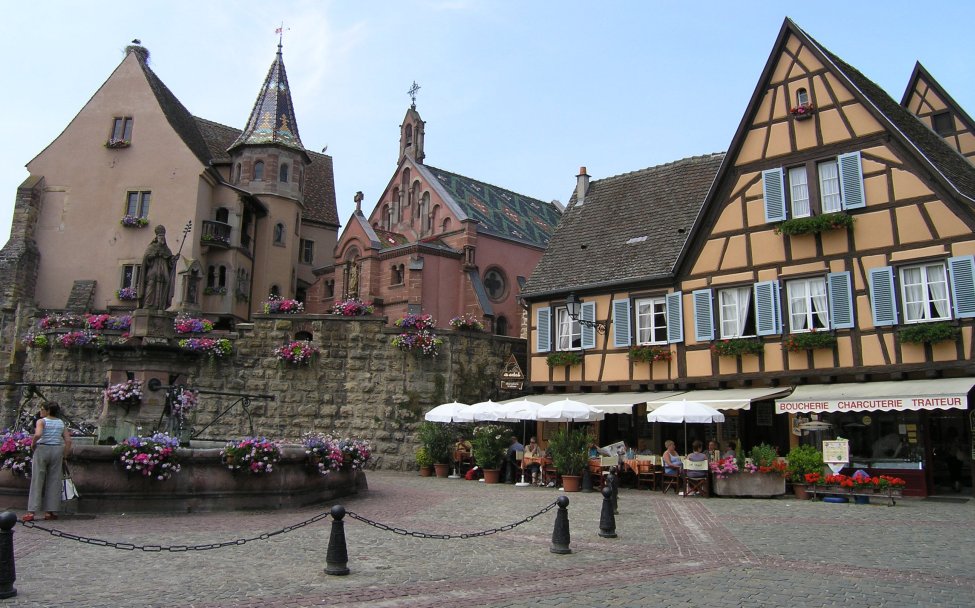 The following day we left Clair Vacances with some regret as we had enjoyed our stay and it would have been easy to stay for longer. Not long after leaving the campsite we were heading south on the A35 towards Basle and Switzerland. We had intended to cross the Rhine and approach Switzerland from the German side but somehow we missed that turning and heading towards Basle from the French side. There have been many warnings about doing this as the city of Basle has been extensively 'dug up' over the past couple of years and the stories of these road works have been legendary. We arrived at the border to be given the once over by what looked like an old fashioned bus conductor but he was selling motorway vignettes! The armed border police did not seem to bothered, fortunately. We had taken the precaution of buying both vignettes before we left the UK. The road works were not to bad. They seem to be putting all the through roads underground. OK it was a bit slow but there were no hold ups.
Now this venture into Switzerland was our first with the caravan, we had been several times before, solo so to speak. As with all new countries you have to get used to their signs and the way they layout junctions and service stations. After a few miles it all becomes clear. Our journey through Switzerland was probably less than a 100 miles so it did not take too long to get to Spiez where we headed off up the Kander valley to Kandersteg. The road is quite narrow in places and there are a few roadworks that might be associated with the new Lotschberg Rail Tunnel. After negotiating some pretty tight and not too wide hairpin bends on the accent to Kandersteg we missed our turning to the campsite in Kandersteg and find our selves heading for the ticket booth on the old Lotschberg Tunnel. We are now at over 1000 metres above sea level! I some how manage to turn round but there seems no way into Kandersteg from the downhill direction. I did make one attempt to turn round but Margaret was getting increasingly anxious of me trying to pirouette around on a steep mountain road with the van on the back!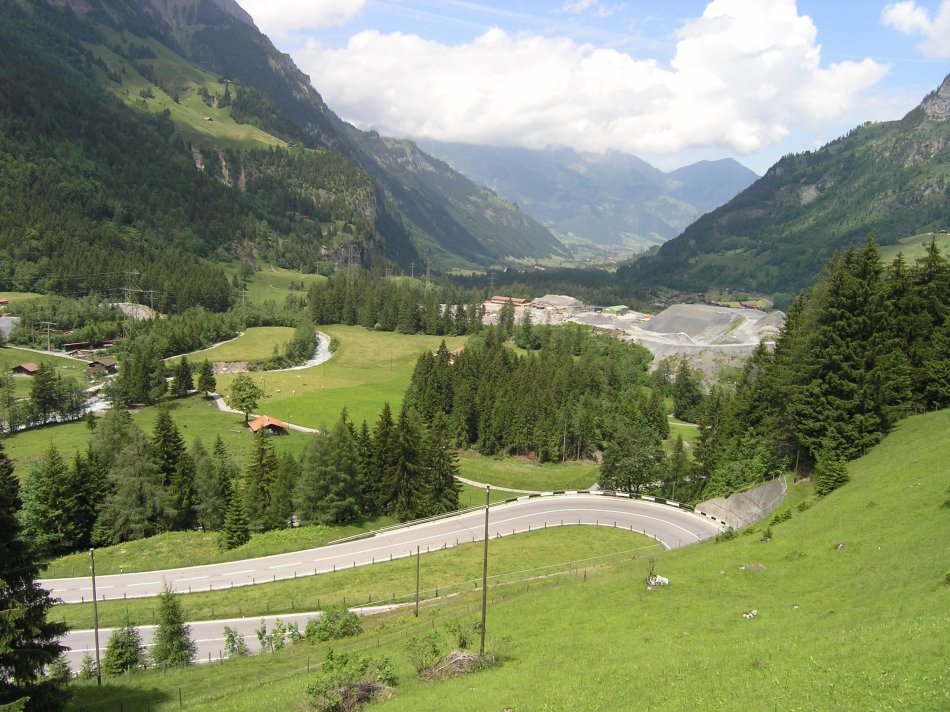 So, plan B came into effect. We would try and find a campsite further down the valley and we were thinking of Camping Grassi at Frutigen. This time we did manage to get into the town and actually found the sign pointing to the campsite. However the road we turned into was very narrow and there seemed no sign of the campsite. There was also some road works that narrowed the road down even more and it looked as if there was no way we could get through. Margaret got out and walked further up the road. In the mean time I had to pull forward to let someone out of a side road. I seemed to be in that situation where I was dammed if I did and dammed if I didn't! Anyway by this time Margaret had made chums with a little old Swiss man who seemed to reassure us that Camping Grassi was a little further on. He kindly directed me through the roadworks and after that the road widened a little. Within 200 metres we found the campsite. Because it was around 12.30pm we half expected to have to wait until 3.00pm to get booked in. Within minutes Sonja had introduced herself to us and was taking us around the campsite pointing out all the things we needed to know, including the new WiFi facility which was free. Once we were set up and able to take in our surroundings we had time to reflect on our surrounding and the mountains that rise up out of the Engstigen valley.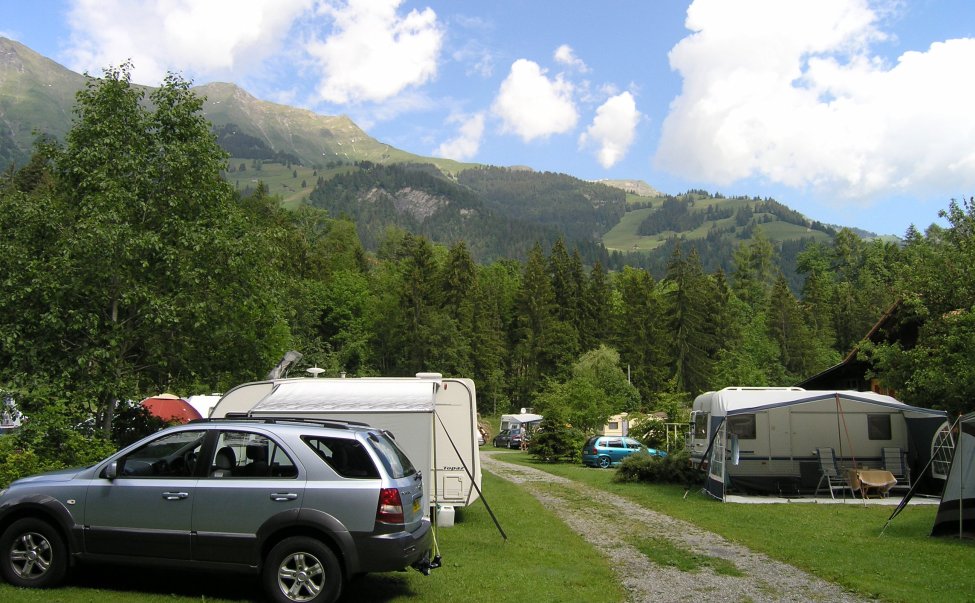 Our first full day in Frutigen. The site does not seem to have any bread ordering service, perhaps understandable considering how near the town is! We decided to walk in and buy a few bits. It was a little worrying as we approach the supermarket other shops were taking things in as they were about to close for lunch! Anyway the Co-Op supermarket was open all day and a nice store it was to. The walk back seemed long and hot. When the sun does come out it can be blisteringly hot. After lunch we were keen to have a walk along the River Engstigen which is accessible from the site. The water in the river was thundering down the valley. We walked upstream for a while before crossing to the other side of the river which took us back down into Frutigen. On the way down we came across a man splitting logs. I had always imagined that logs were split with an axe but no! On the back of his tractor he had a device shaped like a cone which was rotating on the end of a drive shaft. All he did was to force the log against the cone and as it buried itself into the log it just split the log in two. When we got to the town centre it was clear that it was a much bigger place than first thought. Having wandered around the town we made our way down to the Bahnhof as there has been a lot of excitement in Frutigen recently with the opening of the Base Lotschberg Tunnel which will speed Intercity Trains through to Italy. The old tunnel at Kandersteg is still operating as a vehicle transporter.
Saturday 9th June and we have been away 10 days already! First stop of the day was back to the town to buy bread and milk plus some local beer. This time we went by car and parked in an underground carpark. We deposited everything back at the van and made our way up to Kandersteg to see what we had missed. One of the strange gadgets the Sorento has is an altimeter so we could watch how quickly the road climbed from 800 metres to over 1100 metres above sea level. Up Margaret's favourite hairpins!!! They do have lovely views down the Kander Valley. We have found that campsites don't seem to be as well signed in Switzerland as they do in France. Generally there is just a picture of a tent and the general direction you should head. I knew that Camping Rendez Vous was next to a chair lift which certainly made it a bit easier to find. There was also ample car parking. The campsite we had originally intended to use was not very large and access to larger outfits would be quite difficult in my opinion. Perhaps it was serendipity that we went to Camping Grassi! Now outfit size to one side you could not fault the location which was absolutely superb. We had a drive round Kandersteg, which clearly is a big tourist centre but beyond that and the obvious scenery there is not a lot there. On the way back down the hairpins I pulled into a lay by to take some pictures. Unusually there was another English car parked. We got chatting to its sole occupant who happened to be a fellow caravanner and was pitched at a campsite near Interlaken. Small world!! It had crossed my mind that perhaps I should fill up with diesel but the service station in Frutigen was one of the automated variety. So we pulled into a Shell Station on the way back to the campsite only to find this was also automated! Taking courage in both hands I introduced my credit card into the jaws of the machine. It asked me for my pin number and accepted that. I was then asked for the pump number. Off I went and low and behold fuel started to fill the tank. When I had returned the filler to the pump I noticed the pump light had gone out on the automated payment machine. I did not get a receipt as I think I should have pressed something sooner! Will watch the credit card statement with interest. (it was fine, only trouble was I had used Margaret's credit card!!!)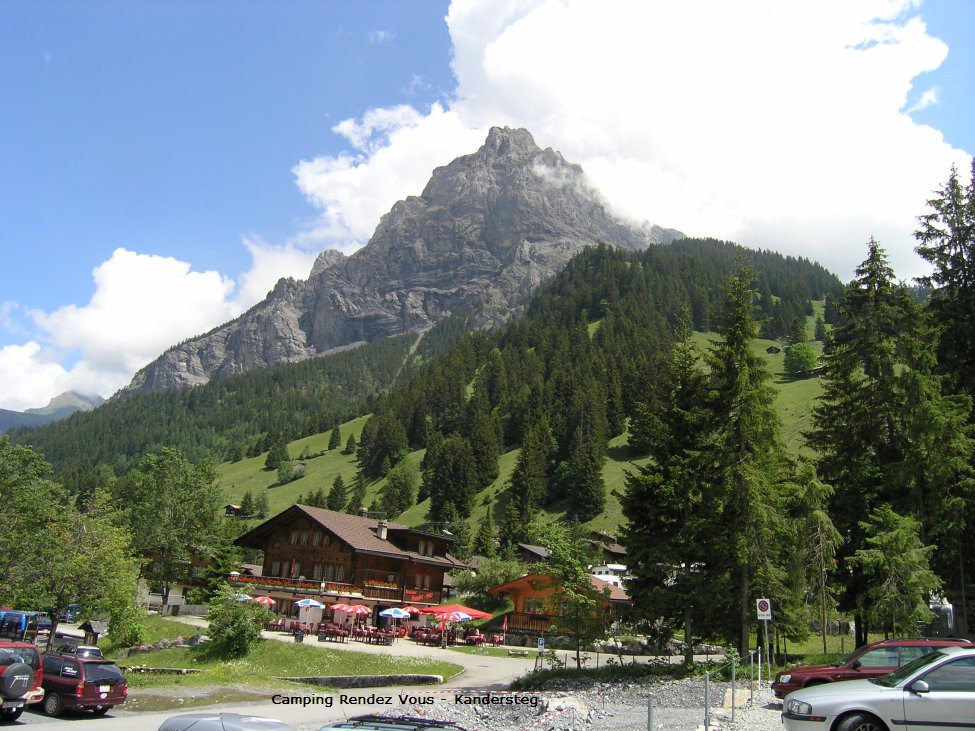 Back at the campsite and after some lunch we settle down to a lazy afternoon, even moving chairs to be out of the very hot direct sun. I wandered off to check my e-mails. Within a few minutes it had started to rain and there was the ominous sound of thunder. I decided to hasten back to the van without getting too wet. Within minutes the heavens opened and such rain you don't often see. It must have gone on for an hour and the pitch was starting to flood as were the site roads. Gradually we could see brightness. Walking over to look at the River Engstigen it was now a raging torrent and rather than that ice blue look you get with mountain rivers it was now decidedly muddy looking. As the sky cleared it felt as though it could be a cold night.
Time for a 'Grand Day Out', being Sunday we thought the traffic should not be too bad. I like round trips so you don't have to cover the same ground twice. I also like mountain passes but Switzerland poses some challenges I have not faced in the past! The plan was to go up to Kandersteg, get on the train with the car, get off at Goppenstein and do a circuit taking in the Grimsel Pass and be back at the campsite in time to have a meal and watch the Canadian Grand Prix!
In no time at all, after leaving the campsite, we were climbing the hairpin bends up to the train departure point at Kandersteg. It cost us €16 (or 25 SF) for our single trip, it is a bit cheaper during the week. It was well organise and we were soon loading onto the carriages that would transport us through the tunnel. It was certainly popular and trains seem to depart every 15 minutes. Loading was similar to Eurotunnel, although the carriages did not seem as wide. The journey through the tunnel takes 15 minutes and you stay in your car. (To digress for a moment, it was our original intention to use this method to get into Italy with the caravan. Although several people have said there are no problems loading car and caravan onto the wagons I have to say that I wonder how confident I would be. Not only that but he descent on the other side of the tunnel is pretty steep, especially with a van in tow. Having said that we did see a coach as well as a car towing a caravan on the train waiting to go towards Kandersteg! On the train I could not open my door enough to get out the car. In contrast on Eurotunnel the car door can be fully opened. ) From the Goppenstein side of the tunnel there is a fairly steep decline to Steg where you join the road towards Brig which is pretty level all the way as its in a wide valley. At Brig we head off towards Gletsch. Almost immediately the road starts to climb and is not particularly wide but OK. Along the road there are some really good views of the surrounding mountains. From Oberwald to Gletsch you start to climb more seriously and once in the town of Gletsch you have two choices either to carry straight on and go up the Furkapass or do a left turn, as we did, and ascend to Grimsel Pass. Although none of the individual sections are particularly steep it is quite awe inspiring to see the road zig zag up the mountain almost as far as the eye can see. The hairpin bends can also be a bit daunting and even with the advantage of power steering the arms get a lot of exercise! In what seems like an indeterminate amount of time you reach the summit of the Pass. By my reckoning we were at 2100 metres above sea level. And another thing, there was snow at the side of the road! We pulled into the car park at the top where there was a viewing point. On one side of the road was and ice blue mountain lake. We were able to walk up into the snow only yards from where the car was parked. There were even a couple of kids throwing snowballs at their dad!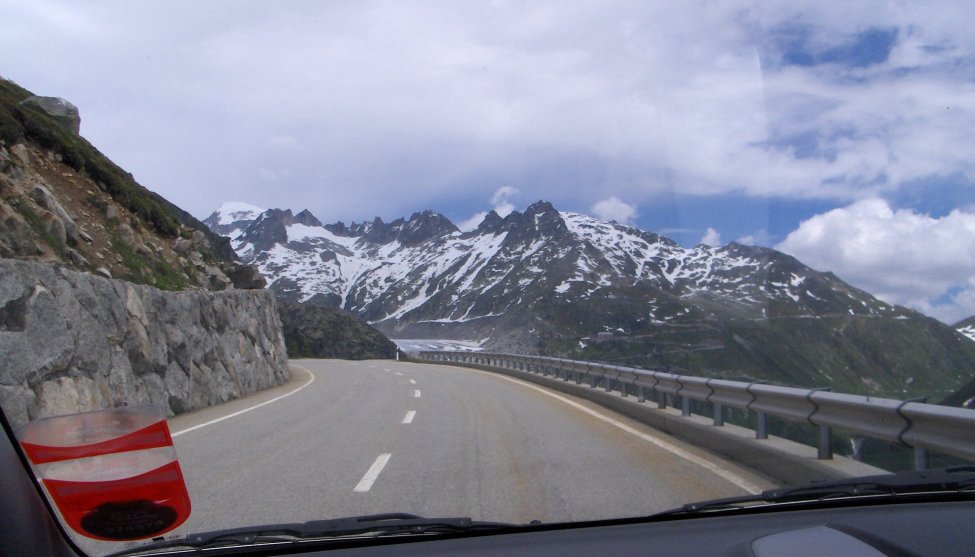 Now they say that what goes up must come down and this is certainly true of the Grimsel Pass. In some ways the descent is more difficult than going up because you are always having to adjust your speed and brakes get hot and can start to fade. As you get down to the tree line the road becomes less steep. We are now heading for Meiringen. It was puzzling to see on one of the buildings in the town a sign saying 'Baker Street' and underneath 221B! We were later reminded that this is not far from the Reichenbach Falls where Sherlock Holmes had a stand off with a certain baddie!!! From here the road is much more level passing first the Brienzersee until you reach Interlaken and then the Thunersee until our turning at Spiez back up to Frutigen. A round trip of 115 miles and most impressive. We even managed to have time to watch the Canadian Grand Prix and see Lewis Hamilton get his first GP victory.
Monday was our last full day in Frutigen and it was wet and when I say wet I mean wet! We first went to the supermarket and then went onto a cash machine so I could pay my campsite dues. Despite the rain we decided to go up to Adelboden which is on the other side of the Engstigen Valley and from the look of it is a ski resort. The rain did abate during the afternoon long enough for us to go for a walk but by early evening it was raining heavy again. We had wanted to take the Caravanstore down but decided to leave it to the morning. Had an interesting chat to and older German couple, the husband first came to this campsite back in 1962.
Fortunately Tuesday dawned brighter but it was still very wet underfoot. We managed to get everything put away and we were soon on the road. It was only about 60 miles so did not take long. Its alright getting to places in Switzerland but campsites are a pig to find. Eventually after much reversing (!) we found our campsite Zum Muttenhof. It is a large open site bordering on the banks of the River Aare. I found it quite difficult communicating with the lady in reception as she seem to speak in a mix of three languages, but not much English! Also discovered that I could access the internet via Swisscom, fees were not to bad either.
Our first full day at Solothurn and we decided to walk into the town which is about 2kms from the campsite. It was very hot so we tried to walk on the shady side of the road. It seemed a pity that we could not walk along the river but there seemed only limited access. The old town is certainly worth a visit with two splendid churches within sight of each other. One was very much in the Baroque style but the other was plainer but none the less impressive. We wandered down to the river and crossed over where there were some fine views of the old town. We got back to the campsite exhausted and hot but a quick shandy restored us enough to make our way to the supermarket. A rather nice Dutchman called Bob, our next door neighbours, had pointed where the supermarket was across the fields. Our task was to find it. The roads round here are a bit like Hampton Court Maze but we got there eventually! The supermarket in question was called Migros, in fact it was more than a supermarket, more like a department store on three floors. Some of the bits they sold were fascinating. Margaret lost me only to find me in the plumbing section! When we went to pay I put my Visa card in the machine and it spat it out again! The cashier said they don't accept Visa, only MasterCard. Our second try with my MasterCard was OK except it did not print out a second receipt so on the phone the cashier went. Apparently it was OK and we made our way back to the car. I decided to fill up at the fuel station attached to the supermarket. Used my Visa card with no problem! Incidentally, I was some what impressed with the fuel economy we achieved on our tour of the Grimsel Pass, plus some other touring mileage and 60 miles towing. At nearly 29 miles to the gallon I was well impressed.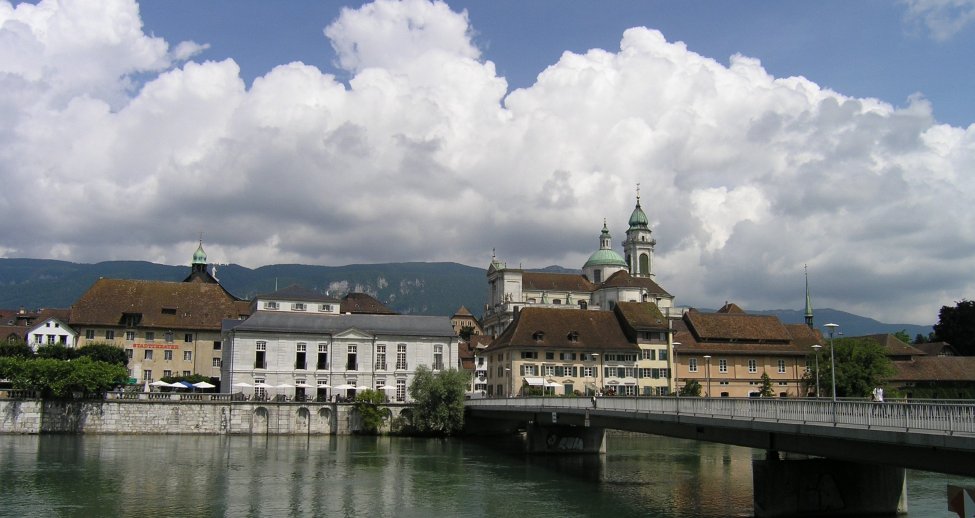 In the evening we had been invited for coffee and drinks at our Dutch neighbours, Kitty and Bob. Both were in their mid seventies so it held out hope for Margaret and I. The Dutch seem to have a fascination with the UK. Kitty and Bob had been to the UK twice but not with their caravan. I got the impression that Bob found it quite daunting driving on the left. Having said that his only trip to the UK with his car involved driving through and around Central London. Enough to put anyone driving on any side of the road!!!
We had decided that we would move to a different campsite on Friday so Thursday was our last day in Solothurn so we decided to go out for a drive. We headed out towards Biel and Neuchatel the idea being to see something of Bielersee and perhaps stop for a while on the banks of the lake. After driving through some tedious looking towns and villages we reached the lake. Unless we missed the obvious there seemed no easy access. Just before Neuchatel we turned towards Bern with the intention of going back to Solothurn on the other side of the lake but further inland. We got a bit lost but eventually got to Kerzers and headed across country. The contrast in the places we went through were a complete contrast to the early part of our journey. The towns were old with lots of traditional buildings and a delight to travel through.
Bob had told us that rain was expected some time today and around 7.00pm the skies darkened and the first peal of distant thunder was heard. The storm moved towards us very quickly and it was soon overhead. It seemed to stop as quickly as it started and we managed to take everything down and put it away before it started again! Within an hour it was back again and continued through most of the night.
When we got up the next morning things were not much better, although we did get a brief rest bite as we were hooking up. It would have been fine if I had not had a senior moment and it took our Dutch neighbour Bob to put me right. Some how I decided that the S socket would not fit not realising that in fact I was trying to put the R socket in the wrong connector. Bob had this sorted in seconds. I slunk away!
The rain stayed with us in varying degrees of heaviness all the way to our next campsite at Morges on Lac Leman. We arrived at about 12.15pm, reception closed at 12.00 noon until 3.00pm. Fortunately 'Madam' turned up and booked us in. We are now in the French speaking part of Switzerland so the language situation is a little easier. As it happened she also spoke very good English. I had to hire a special Swiss electrical connector, something I had not seen before and I will add some pictures to my Help and Information page. The rain had caused most pitches to become water logged as we drove round looking for a suitable plot. We tried one but it was two uneven. We eventually found one that was OK for positioning of the van but was still a bit wet but we took the risk. The pitches on the site, Le Petit Bois, are not over generous in size. I am not sure any British Fire Service would authorise vans being that close together. Conversely the site roads are quite wide and have parking spaces marked out for each pitch. However it can be a bit nerve racking when someone tries to reverse onto a pitch opposite! Being the start of the weekend there were lots of arrivals and whilst the site was not full it was getting that way. One thing that amused me was one tent camper used a small pony to carry all his camping bits. The pony seemed quite happy to champ away at the grass!

Fortunately Saturday dawned much brighter and it looked as if we were going to have a nice day. After breakfast we walked into Morges which is only a short distance from the campsite. What a delightful place with a good quality Saturday Market. I could not resist half a kilo of delicious red cherries. Margaret on the other hand was sampling things on toast and a drink which I think was apple juice. We walked back to the campsite along lakeside promenade which gives you clear views of the mountains of both France and Switzerland. On the way back we came across a collection of vintage cars all in pristine condition. One thing that has not impressed me about Switzerland is the complete lack of public toilets. I now know why! They are all in Morges and quite clearly the Swiss Government can't afford to build more elsewhere!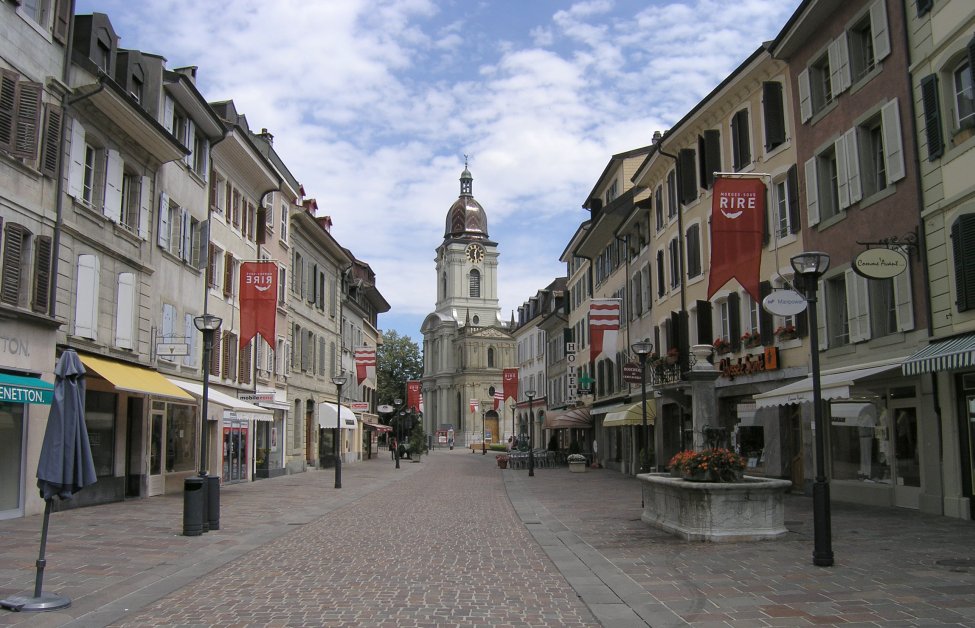 The contrast when we walked into the town the following day could not have been greater. In France you expect to see all the restaurants open on Sunday but not here, the town centre was almost deserted. There were people taking advantage of the wonderful lakeside promenades. We were in time to seen one of the wonderful steam ships that ply the lake stop to pick up passenger. They criss cross the lake between France and Switzerland and had we had more time we no doubt would have had a trip.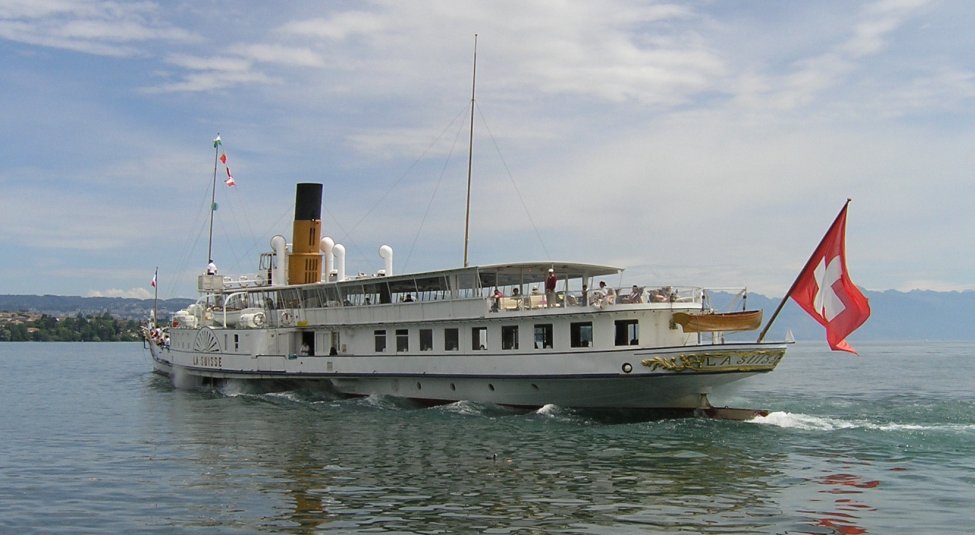 Monday was our last full day in Morges. We had notice one of the small down lighters in the bathroom had stopped working. When I had eventually prised the cover off the light I thought to myself no hope of getting anything here! We went off in search of the supermarket. Now we could see the building but not the way to gain access to it. Eventually we found it without ending up on the motorway to Geneva! Its not unusual for shopping centres to have either underground parking or multi storey car parks. For tall vehicles like 4X4's it is something of an act of faith going between floors as the ceilings are quite low! One of the stores in the centre sold lighting so I decided to have a look for a new loo bulb. In fact I had a choice of 12 volt bulbs, job done. During our stay in Switzerland we have come to like the Co-Op stores. They are difficult to classify against UK supermarkets, except they are nothing like UK Co-Operative Stores. More a mix between Sainsbury and Tesco but no where near as large. With only one more day in Switzerland I was trying to make sure I did not have lots of Swiss Francs left when we headed for France. Paid by credit card for the shopping but cash for the diesel. This should leave me enough to pay for the tax and the use of the washing machine at the campsite, especially as they were holding a 20 franc deposit for the electrical adaptor. Every afternoon I spend 30 minutes on the internet via a WiFi connection. I just log in and buy the time on line for 5 Swiss Francs. Its very handy being able to keep in touch this way and as a result our mobile costs have been substantially lower this holiday. There are quite a few Brits on this campsite, perhaps because it is a Caravan Club ABS site and partly because they accept Camping Cheques. Strange to be on a site in Europe where we are as equally represented as the Dutch and Germans! In the evening we were warned by site staff that we could be in for a bad storm. The one we had the night before was pretty bad so we were not quite sure what to expect. As it turned out it was Swiss over exaggeration! OK we had some rain and thunder but that seems par for the course near mountains.
Perhaps it was the expectation of a bad storm that gave us a restless night but we were up early, for us! I went off with my Camping Cheques and electrical adaptor to settle my bill. Less tax then I expected so off to site shop for bread, milk water and a bottle of wine. I reckon I have the equivalent of about 50p in Swiss currency left! Just after 9.00am, when we left, it was already hot. A bit over 40 miles and we were out of Switzerland and into France. Whilst there is a bit of a climb on the French side up to Nantua it was all plain sailing after that. We arrived at the campsite in Santenay at around 1.30pm. The reception is closed until 4.00pm but the instruction is to find a pitch and come back later on to sign in. It was not easy deciding the delineation of pitches so we found ourselves a spot that suited us! It was too hot to do anything other than sit around and try and keep cool. According to the car thermometer the outside temperature was 34 degrees C. It did not get much cooler into the evening and into the night.
When we awoke the next day the sky was cloudy but fortunately the temperature had also dropped which made it much more comfortable. Off to find a supermarket at Chagny for some supplies and fuel. Also took the opportunity to have a look at the local Municipal Campsite which did look very nice although it seemed to work out a little more expensive than our current site as we will be using Camping Cheques.
Thursday and our last day at Camping des Sources. The weather was still a bit hit and miss so we decided to have a little tour around. First stop was Santenay itself. It has a nice square with Caves on all sides such is the importance of wine production in this area of France. In fact every sign post reads like a Who's who of famous wine names.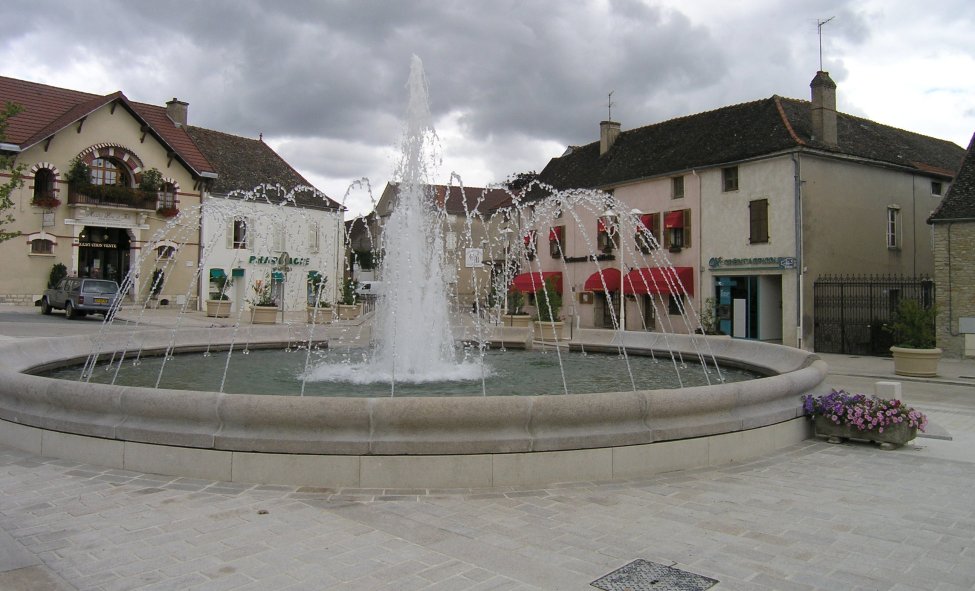 We explored a little further to find the Canal du Centre which seems to run from the Loire to the Saone. It runs alongside the D974 for some way and we were able to stop and look at locks before heading back to Chagny where there is a large canal basin. From mid afternoon the weather did improve and allowed us to get everything packed away in the dry. As an observation the campsite has steadily got fuller over the days we were there and the peak season is not far away.
The weather overnight was heavy rain which caused me to have a disturbed nights sleep. At least when I eventually got up we had some blue sky. We were away by 9.00am and heading for the autoroute at Beaune, only to aware that the last few days of our holiday were rushing by. There was surprisingly little traffic on the motorway and we made good progress. By about 1.30pm we had left the autoroute and were heading across country to Epernay, the Champagne capital of France. We were relying on TomTom to get us to somewhere near the campsite but despite his correct direction we had to turn right before going back on ourselves to cross the road junction rather than turning left! I was at the time in the left hand lane at the traffic lights and had to get over to the right. Indicators on and an arm out of the window was sufficiently confusing for our French chums for a gap to appear! After going round the houses, literally, we got to the Municipal Campsite. It did not go unnoticed that we passed a Carrefour supermarket only a short distance from the campsite which we later returned to for some odds and ends and to fill up with diesel at supermarket prices, about 75p a litre. I recounted earlier that a bulb had gone in the bathroom which we managed to resolve. Since then one of the spotlights has also failed and despite swapping bulbs we have been unable to get it to work. Further investigation when we get home. They say things go in three's. I noticed that the cool box fan had stopped working and the light was not on. On inspection of the transformer it was covered in water despite being put in the same place under the van as we always do. It looks as if a replacement will be required. At least I was able to plug it into the 12v socket in the van.
The decision for Saturday morning was whether to walk into Epernay or take the car. A heavy downpour and a threatening sky made the decision for us. With the aid of the map kindly provided by reception we found our way into the centre of the town. Even managed to find a parking space! Our first task was to find the Avenue des Champagnes. This road houses some of the most famous Champagne Houses in France. Only problem was that they were doing 'improvements' which meant that the road was being dug up. If you feel so inclined some of the Houses do tours. The rest of the town was pretty ordinary although it does have a very splendid 'Hotel de Ville' with nice gardens. The War Memorial in front of the building contains a frightening number of names.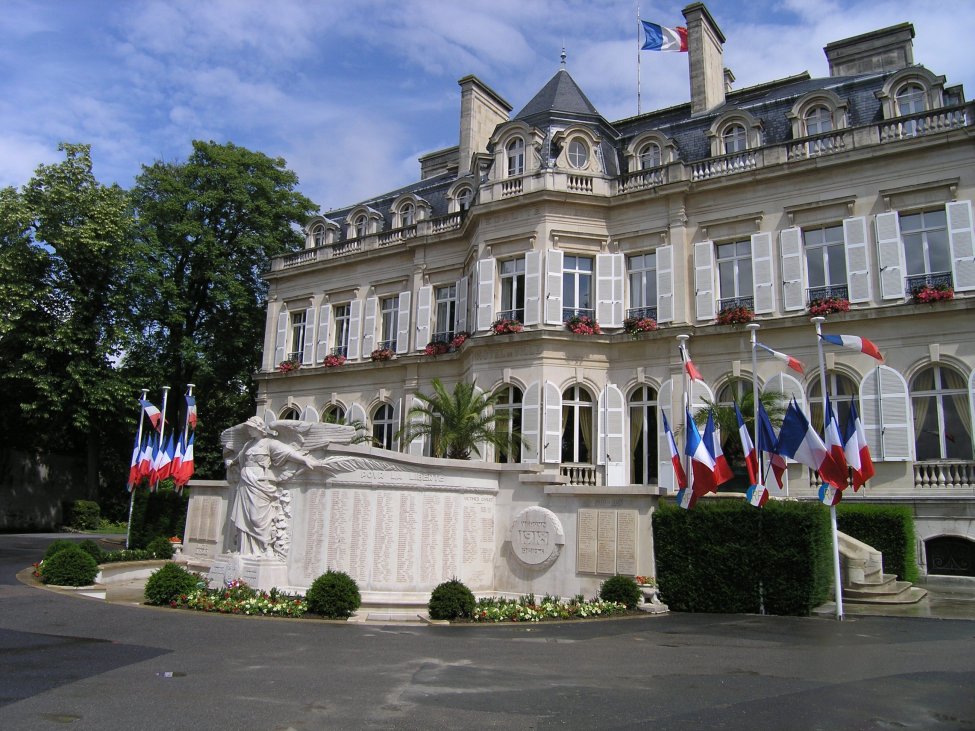 Over the weekend the Sports Stadium associated with the Municipal at Epernay has been hosting a football knockout competition. I am used to football matches starting at 3.00pm but these seemed to kick off around 8.00am! So don't count on a lie in at this campsite. We were puzzle that people were wandering around with something made of cardboard with the outline of a football pitch marked on the cardboard. Walking round the football pitches later on our curiosity was satisfied when we discovered that they converted into cardboard seats, not sure how long they would last in wet weather!
Sunday morning and time to pay the bill as we are heading north to our final stop in France. I walked into reception and went to the desk with nothing on my mind but to pay my bill. With eyes wide open the attractive young lady behind the desk commented that I smell nice! Now this took me somewhat by surprise and I uttered some gibberish like 'at least its better than the alternative' always good with the chat up lines me!!! We both regained our composure and I paid my bill. Recounting my unusual encounter to Margaret and how the girl at reception had become intoxicated with my eau de cologne she rather cruelly suggested that I would not have known what to do with her anyway!
The further north we got the more it rained. We pulled into the entrance of Chateau de Gandspette behind a queue of other caravans and motorhomes. This is our first visit for nearly two years and it seems to be more popular every time we visit. Anyone turning up after 5.00pm without a booking might find it difficult to get a pitch.
Monday is shopping day. I persuade Margaret, much against her better judgement, that we should go to the Auchen at Dunkerque rather than Carrefour at Calais a decision I am finding difficulty in living down! Disappointing wine selection and general food not a patch on Carrefour. Just to make matters worse we are leaving the car park following two cars, one in each lane. So far so good. Except that is when the one ahead of me decides to change lanes without looking. The two cars kiss! Substantial damage to the Audi who was the innocent victim. I slowed to allow them to pull into the adjacent carpark only to get a lot of abuse from cars behind me. Who says the pace of life is slower in France! The strangest thing is I viewed the accident as though it was in slow motion and it really got to me. Its funny in a way that you can see two Grand Prix cars collide at over a 100 miles an hour and think nothing of it.
Its become something of a tradition for us on our last night at Gandspette to have a meal in their restaurant. Since our last visit the owners, who are a delightful couple, have extending the restaurant with a lovely conservatory style building overlooking the pool and play area. As a result the restaurant seems more popular than ever. Us Brits often complain that campsites in France don't open for a very long season. An observation I have made is that a lot of these sites are family run affairs and they all seem to be working a fever pitch (sorry about the pun!) to look after us. So it is perhaps understandable that a six month season is long enough as it is doubtful they could keep up the pace much beyond this.
It had been pretty wet during our stay at Gandspette and Tuesday, the morning of our departure, was no exception although it did seem to stop raining as we hitched up. It does not take long to get to Calais from this campsite if you us the A26 but don't forget you will need some coins or your credit card to get onto the autoroute as it is not manned. The A16, which bypasses Calais, was being dug up so we had to go beyond our exit and come back on ourselves. This slight delay was the likely cause of us not getting onto an earlier Shuttle. On the way home we decided to try the southern M25, what a mistake. Solid, slow moving traffic for several junctions and at least an hour on our usual journey time.
So, what about Switzerland. Undoubtedly renown for superb mountain scenery which in itself is a good enough excuse to visit. It seems quite a laid back country and we found other motorist polite and thoughtful. The contrast between the different parts, mainly divided by language, is interesting. In the German speaking part public loos don't seem to exist, French speaking plentiful. Even in the most remote villages you are expected to pay for parking. Food I would say is generally more expensive and the choice of meat much more limited than the UK or France. But these are things you just get used to. Travel is smooth with good roads. We would certainly like to go back and explore more. I should perhaps mention the motorway vignette. It costs around £20 for the car and the same for the caravan and it last for a year. Some people think this a very expensive part of visiting Switzerland. Whilst I accept its not cheap given the usual length of stay, and unlike Austria you can't buy a short term version, I am not sure its vastly more expensive than paying tolls and if passing through offers shorter distances. You don't have to have one but don't stray onto a motorway as to do so puts you at risk of a heavy fine. So does serendipity exist? Had not other circumstances changed our plans we would not have seen as much of Switzerland as well as finding some nice campsites. So perhaps serendipity is more about making the most of what you are faced with rather than accidents, happy or otherwise!