Camping Grassi, Grassiweg, 3714 Frutigen, Tel 033 671 11 49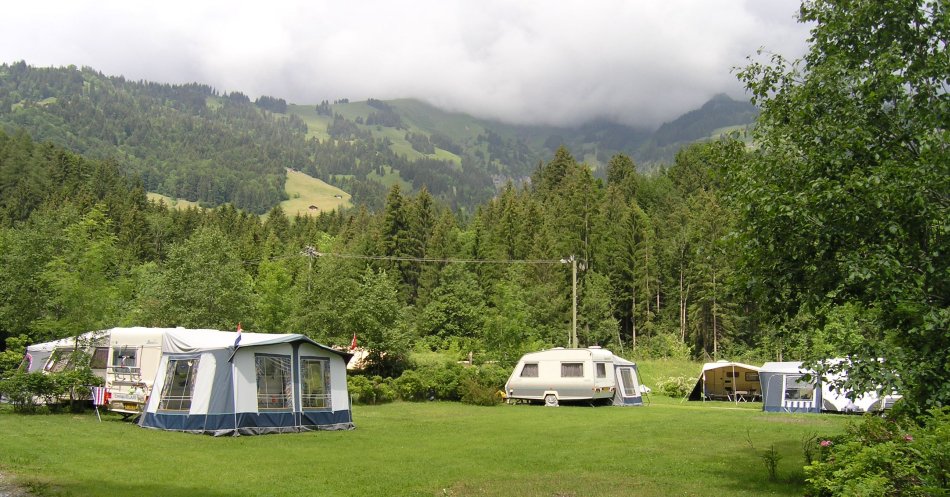 To Find Site:- From the A6 motorway take the Spiez/Kandersteg exit and follow signs to Kandersteg. At Frutigen take the Frutigendorf exit. Turn right into town over railway bridge. In about 500 metres watch out for campsite sign on side of Hotel Simplon, turn left here. The approach road is narrow with unsighted bends so proceed with caution, Camping Grassi is at the end of this road.
This delightful medium sized, rather rustique, campsite is set a short distance from the centre of Frutigen alongside the River Engstigen and surrounded by mountains. Although it looks as if the office/reception is at the front of the site, certainly out of season, you are asked to go to the main house and ring the bell. The owners are very welcoming and speak excellent English. Some pitches, all of a good size, are set in what was once an orchard and others further up the site in a more open aspect. Electric points (10amps) have CEE17 connectors. At the front of the site there is a well maintained toilet block with seated toilets and paper. The use of the washing machines must be the best value we have ever come across on a campsite! Alongside the toilet block is a communal area which includes a television room and a covered terrace. The site has recently installed a WiFi connection which is free to use, I found the best signal to be in the communal area. Out of season there is no food shop although it is only a relatively short walk into town. This site accepts the ACSI Card which offers a discount in the low season.
The opportunities for excursions from this site are almost endless. Spiez and Interlaken are not far away. In the other direction you can use the famous Lotschberg Tunnel (rail) from Kandersteg to take your car through the mountains. If you prefer not to venture too far from the site there are lots of walking opportunities. For shopping there is a very nice C0-OP supermarket right in the centre of town. Most of the fuel suppliers locally use automated machines which accept either debit/credit cards or notes (Swiss Francs or Euros').
Date of visit June 2007. Click on thumbnails below for larger picture.