Camping La Vieille Ferme, 296 Boulevard des Groules, 06270 Villenneuve-Loubet, Tel 04 93 33 41 44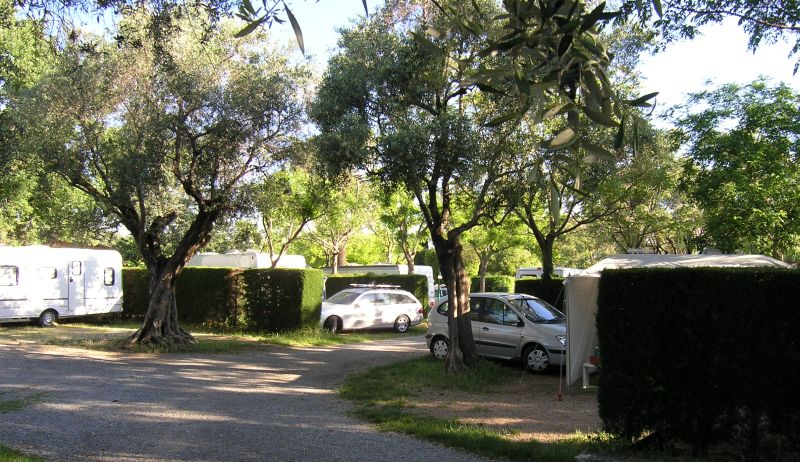 To find site:- You can leave the A8 at either junction 44 or 47. (Don't return to the autoroute via junction 47 as you can only go in the direction of Nice) From junction 47 follow the N7 in the direction of Antibes (do not attempt to use the N98 because of low bridges) At Loubet-Plage continue in the direction of Antibes. The campsite is mentioned of signboards but not often. After a mile or so you will pass an Intermarche on the right, a little further on you pass a wooded area called Parc de Vaugrenier take the first right past here marked Les Groules and the campsite is on the right in about 200 metres. From junction 44 drop down into the outskirts of Antibes and follow signs for Biot/Villeneuve-Loubet Plage/Nice on the A7. Passing Biot station on your right continue straight on across roundabout. Take next left, Les Groules.
Although as the crow flies this campsite is only about 300metres from the Mediterranean there is a railway line in the way so to get to the pebbly beach is a 15 minute walk. However the round trip from the campsite to Biot and then Loubet Plage along the beach makes a nice stroll. La Vieille Ferme is a good quality campsite that is open all year, which is quite unusual in France. Although pitches vary in size they are generally of a good size and are mainly hard standings with water and drainage shared with your neighbour. The pitches mainly used by tents are set out on terraces. The campsites also has chalets and a few permanent vans. The toilet blocks are to a good standard with seated loos and toilet paper. Chemical toilets can be emptied at one of the toilet blocks but unfortunately the provision for rinsing water was not always available, it seemed to be turned off! The Reception area houses a TV room which also has an internet connection and vending machines, a laundry and a small shop selling basics like bread but it was only open 3 hours a day during our visit. I understand that in the main season it does takeaway meals so must also have revised hours. The campsite has an excellent covered swimming pool with a roof that slides open in hotter weather. There are a few facilities for youngsters like table tennis and electronic games. We enjoyed our stay here because it served our purpose well. Like any site in a semi urban setting there will always be some background noise from traffic and trains so don't expect the level of quiet you get in the countryside!
Our reason for choosing this campsite was we wanted easy access to Monaco and for that purpose it is ideal. The Biot Gare SNCF is only 15 minutes walk away. We also used the train to visit Cannes from here. On the main road there is a regular bus service into Antibes and no doubt goes to Nice the other way. There is an Intermarche 10 minutes walk in the other direction. It is perhaps not a site for an out and out beach holiday, although there is parking all along the N98 beach road which I suspect gets pretty full in the main season.
Click on thumbnails below for a larger picture