Camping TCS "Le Petit Bois", CH-1110 Morges, Tel 021 801 12 70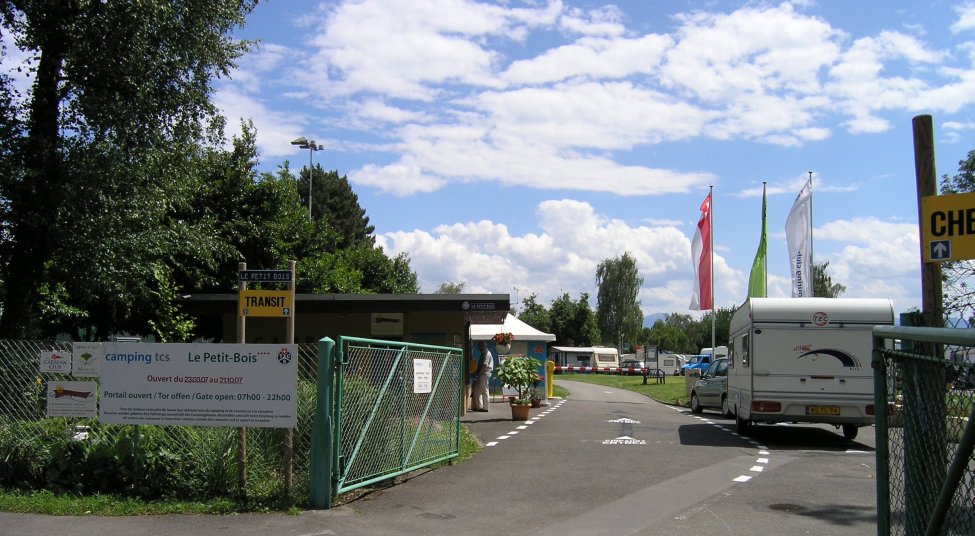 To Find Site:- Leave Lausanne/Geneva motorway at Morges Ouest and follow signs to Morges (Centre Ville). At roundabout follow signs to campsite.
Perhaps we should start with the positives about this campsite. The major one is that it is situated very close to the shores of Lac Léman and it is only a short walk into the delightful town of Morges. The toilet blocks, whilst of older design, are well maintained with seated toilets and paper. There is a well stocked shop and adjacent restaurant. There is a WiFi facility via Swisscom, cost about £2 for 30minutes. The layout of the pitches are the downside. They are unusual in so far as the pitch will accept the caravan and awning but the car is parked in a marked bay on the road in front of the pitch. In total you get as much space as on any other campsite but they appear much more cramped so expect to get another van or camper parked only 3 feet away! If you crave privacy this might not be the site for you. Another downside for me was that about 50% of the pitches were taken up by permanently sited caravans (and motorhomes!) that take up every inch of their allotted space. Would I use the site again. Yes, but! Firstly I would make sure I arrived mid week. Secondly I would take more time to select my pitch and finally I would consider putting the van across the pitch rather than end in. This campsite accepts Camping Cheques.
As mentioned this site is in a superb location. Just minutes from the site entrance you can be walking along the flower lined promenades on the shore of Lac Léman. Alternatively the town of Morges is only a stroll away. If you can visit the Saturday Market, you will not find many better elsewhere for quality and interest of products offered for sale. The lake steamers call at Morges with lots of possibilities for excursions to different parts of the lake. There is a Co-Op supermarket not far from the campsite, although it is quite difficult to work out where it is. Date of visit June 2007. Click on thumbnails below for a larger picture.