Camping TCS "Zum Muttenhof", CH-4500 Solothurn. Tel 032 621 89 35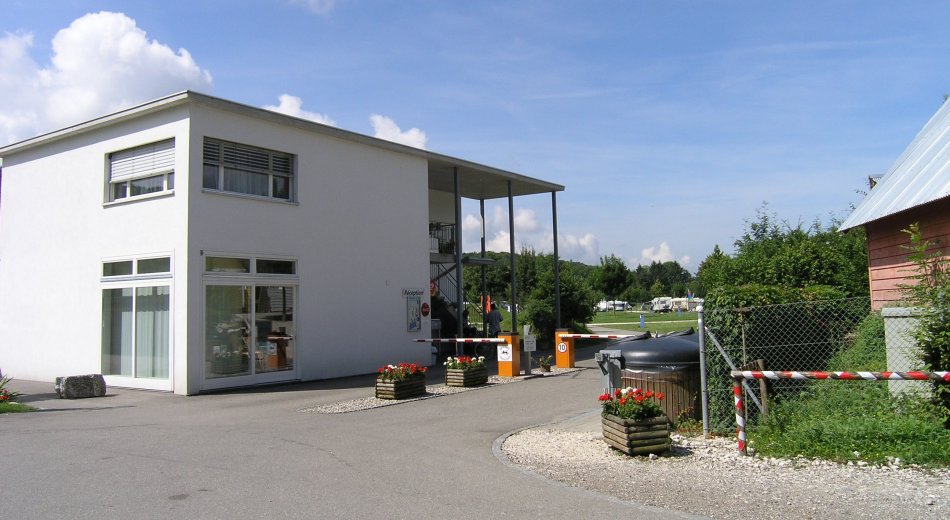 To Find Site:- From motorway follow signs for Zentrum/Biel. When you cross river keep left adjacent to river, watch out for signs for Stadium CIS and Swimmbad. Site is signed but poorly! Passing Sports Centre( interesting roof) and Swimmer bad on left the road bares road to the right towards some blocks of flats in the distance. At this point continue straight on and turn immediately left at the three flags. Site at bottom of road. Pull in on right hand side of road and go to reception.
This site, which borders the River Aare, has about 160 pitches which vary in size but most are at least 90/100 sq metres, some larger. It is of fairly open aspect with lots of trees but these have not reached maturity so only provide a minimum amount of shade. This campsite, in common with lots of other Swiss and German sites has a number of permanently based caravans, its a shame that the ones nearest reception are pretty scruffy. In the same building as the reception is a small shop where bread can be ordered. There is also a computer which can be used to access the internet. In this area is a small children's playground. Over looking the river is a popular restaurant which seems to attract most of its custom from the surrounding area. There are two lots of toilet facilities, one in the main reception block and another separate one more to the middle of the site. Both are really superb in quality and in the way they are looked after. Electric supply is 13 amps, via CEE17 plugs. Drinking water is supplied either from the toilet block areas or at the far end of the site via stand taps. The internet can also be accessed from a WiFi point operated by Swisscom, open Internet Explorer and follow instructions.
The town of Solothurn is walk able. It has two particularly fine churches which are worth exploring. If you have bicycles with you there are many opportunities to explore the surrounding countryside. For shopping there is a small Co-Op supermarket not far from the site and a larger Migros one a little further away. Date of visit June 2007. Click on thumbnails below for larger picture.