September in Northern France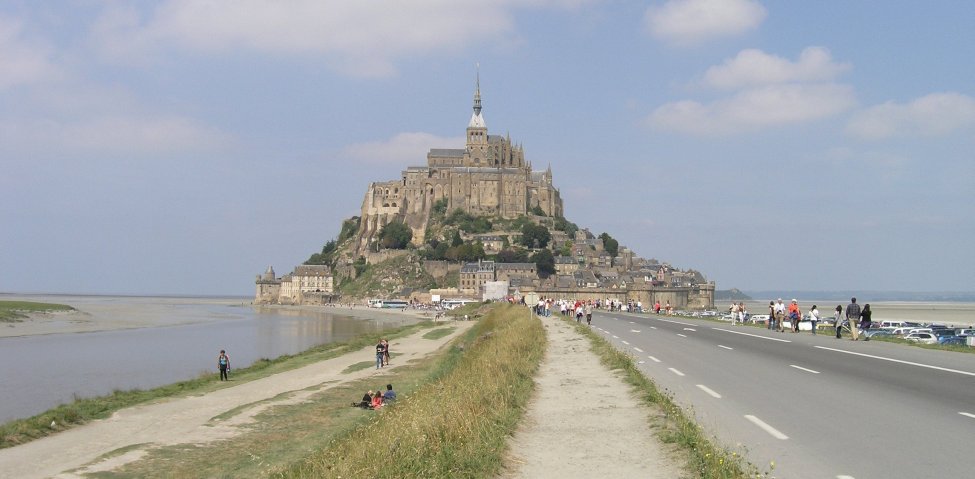 Surprisingly we were up reasonably early and by just before 9.15 we were heading out towards the M1 and our journey to Dover. The M1 was OK. We stopped at Toddington Services just to check every thing, especially the new tyres. We don't expect to make fast progress on the M1 and M25 but it was OK. Our second stop was at the Services at junction 8 on the M20. Could not get into caravan parking as it was full, no change there! If there is a service station that needs expansion this is definitely the one! Went round twice and then tried the lorry area but this was a no,no as they seem to charge to park. We were beckoned by the car park man thinking we were in trouble. We explained that the caravan park was full and we needed to use the loo! He was kind enough to say that we could use the coach park, providing we did not stay too long. So top marks to him.
We were making good progress and thought that we might even get on an earlier ferry. Suddenly the traffic started to back up and we crawled along for about half an hour. We eventually got to Dover in plenty of time for our booked ferry. Only trouble was that it was about half an hour late in departing! Fortunately the wind of the previous day had dropped so we had quite a comfortable crossing although when we were on deck it looked as if someone had draped dirty cotton wool over the sky! The sun did try a little as we approached Calais. We were not sure where we should stay overnight as time was getting on. In the end we decided on La Ferme des Aulnes which is not far from Namport St Martin in the Somme region of France. We phoned ahead to check they had space and received a very nice welcome when we arrived.
Despite being exhausted we both awoke at about four in the morning only to go back to sleep and wake again at nearly ten in the morning! Breakfast was an interesting affair because we had no milk thanks to the Foot and Mouth problem at home. We did bring some Soya milk but that was horrible in coffee let alone in or on anything else! So first priority was to find a supermarket (Ok this will do nothing to dispel the belief I spend my entire holidays in supermarkets!). Madam at reception gave me chapter and verse on the supermarkets in the area and even gave me a map on which she marked them. We thought the Carrefour at Berck seemed to be the best bet as I have never seen a small Carrefour. We managed to find it and navigate through the maze of a carpark. It was quite large but did not have the selection of wine the one at Calais does. Perhaps more important than the wine (am I really saying this!) was the fresh milk. Shopping completed we set off to fill up with diesel only to find it was not open, tout le jour as was the supermarket. OK they did have one of the 24/24 hour pumps open but there was a queue and no guarantee that it would accept UK credit cards. We decided the have a drive along the front just to see what was happening, it was packed with what looked like a car boot sale! We did not stay to look round. On our way back we found a Champion Supermarket where the fuel station was manned but Visa cards were 'en panne'. My Master card worked OK but we had to revert to a signature as the key pad needed for the pin number was not working! I am not quite sure why but the difference between prices in the UK and France seem to be gradually diminishing.
Back at the site the sun was trying hard to break through, it was certainly warm. I went to pay my dues. Unfortunately we were a few days early to use Camping Cheques. At just over £17 a night its the most expensive site we used on the holiday! This campsite has a lot of static vans. However, unlike a lot of French sites, they are mainly new with beautifully kept gardens, I almost wanted one! It was interesting that the site really filled up tonight with hardly a pitch free.
Saturday morning and time to move on. We were heading towards Mont Saint Michel and a campsite called Camping Haliotis at Pontorson. We were surprised by the amount of traffic on the roads. Every Aire we went into was full and a couple we had to just drive straight through. There were a fair few UK number plates around, seemingly rushing back to some port or other. At least during the day the weather got brighter. As we got past Caen the volume of traffic lessened making for a more pleasant journey. We arrived at Haliotis around 4.00pm and received a very friendly welcome and were told to find a pitch, settle in and come back when we were ready to book in. We managed to find a nice large pitch with electrics/water/drainage on hand. Although, like a lot of other pitches, there was some grass damage we were able to position the van over the worse patch. We found the site very relaxing as did the two Thirwell ponies in the pets corner who clearly could not take the pace!

There was no mistaking the time on Sunday morning as the church tower bells pealed out on every hour! We walked the short distance into Pontorson and before long I was carrying a bag containing three melons and another with half a kilo of haricot vert! Before long, a baguette was added for good measure. It was surprising how many shops were open on the Sunday. Back at the site we made our way to the Bar because we wanted to watch the Turkish Grand Prix but we were an hour early, so had to go back later. It was interesting that we seemed to be the only ones interested although a couple of chaps wondered in and out of the bar to keep an eye on things. This campsite has the advantage of a free WiFi service and surprisingly it even reaches as far as our pitch.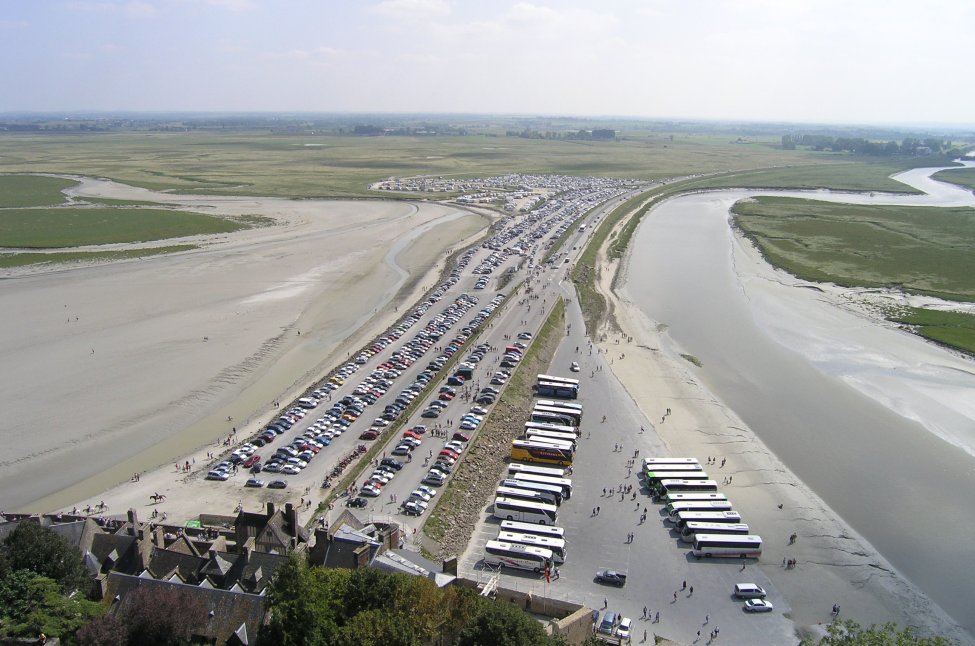 Monday and another bright start to the day. First stop was the supermarket for a few essentials. Back to van for lunch and then off to Mont St Michel which is just about 6 miles from the campsite. Its been 20 years since our last visit. The car parks form part of the causeway and I suspect only get flooded in exceptional circumstances. We paid our €4 parking fee and set off towards the island that towers above the causeway. It also seemed just as crowded as I remember, mind you the slowness of the accent prevented me getting too puffed out! People will complain that it is very touristy but then that is the nature of the beast, and we are all tourists! I don't know how many steps we climbed but I did feel as if I should have been given some sort of medal. We did pay the entrance fee of €8 each to wander around the Abbaye and I reckon it was well worth it. I always wonder what drove people to build these magnificent structures especially without the aid of modern machinery. Whilst it does not have the eeriness of Montecassino in Italy there is certainly a quietness about the Abbaye and of course the best views of the Bay. The Abbaye itself has a very austere interior which, I suppose, given the nature of the Abbaye I should not have been surprised about. As we made our way back to the car people were still arriving.
On the way back I decided to call into the supermarket to fill up with fuel. Went to the cash desk only to have my Visa card rejected. Fortunately they accepted my Master Card. Back at site I thought I should ring Tesco. At this stage I did not realise they would ring you back if you are abroad! Any way I had not informed them that I was going abroad but that apparently was not the problem, it was a local problem and the more I think about it a Champion one as a similar thing has happened on two occasions. Only time will tell whether it resolves itself.

We seem to have hit on the idea that it is better to go out after lunch. So in the morning we went back into Pontorson to have a proper look round. The intention was to buy a baguette but all the bread shops seem to be at the start of our walk so no luck on this trip. In the afternoon we decided on a run out to Cancale which is a small fishing port come holiday resort not far from St Malo. Its a nice little town and worth a visit. There is free parking behind the church but you then have to walk down to the Port and back up again! It was interesting watching them bring in the oysters from the beds in front of the Harbour. On the way back to Pontorson we use the 'Route de Baie' which as the name suggests hugs the perimeter of the Bay. We were often held up by tractors loaded with oysters or moule.
Wednesday and our last full day at Haliotis. Its been a nice place to stay as its so close to the town of Pontorson for shopping and it has some really good on site facilities. The site has also been pretty full most nights although by morning there are always spaces available. Quite a few Brits on site. Apart from the lovely couple from Northern Ireland behind us and a couple in a motorhome opposite we have found the rest tending to keep themselves to themselves! Today was Market Day so we walked in and it was clearly being made good use of by the locals. We were going to buy some fish from a popular stall however every time we got near to our turn another local came along who was known to the stall holder and we seemed even further from being served! We gave up in the end, I imagine the stall holder was more interested in keeping her established customers rather than people who she is unlikely to see again!
We did not rush to leave as we only had 130 miles to go to our next site near Sarzeau in Brittany. Not sure if its the time of year but the roads were very quiet and it was not until we got to Rennes that we encountered any slow moving traffic and that was only briefly. The roads are also very good being mainly dual carriageways and better still no tolls! Our chosen campsite is La Ferme de Lann Hoëdic which is in many ways the complete opposite of the site we had just left. It is much more rustic. Once we had set up and had some lunch we decided to walk to the 'Plage' which was advertised as being only 800 metres from the campsite. It must be the same as we have in the UK as our country miles are always longer!!! When we actually got the sea it reminded me of the Il de Ré where we had stayed a year ago. Despite bordering on the Atlantic coast the sea was like a mill pond. We wandered along to the village and the place seemed to be in a time warp, very relaxed, very French, and a million miles for any resort on the Mediterranean coast.
Our first full day and we decided to drive into Sarzeau to have a look round. Can understand the advice not to tow caravans through the town as some roads are very narrow. Super U and then onto a builders merchants because I wanted some pipes so that I could extend my waste pipes into the bushes, accepted practise in France. Trouble was that it was a pro merchant so most of the stuff was not readily available to look at! We then spent a lazy afternoon around the van.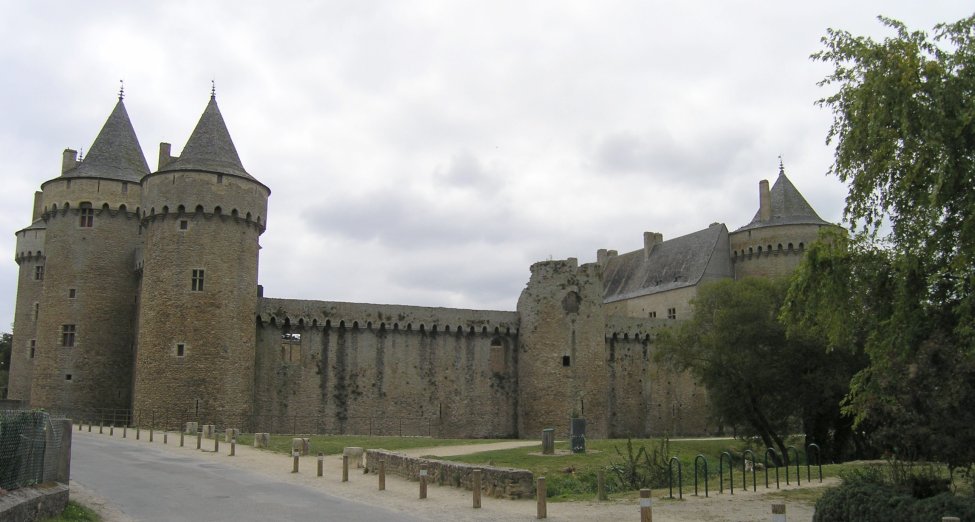 Saturday had dawned somewhat grey looking although it still felt quite warm. We had an e-mail from Paul to say he had arrived in Manila where he was attending the wedding of an old school chum. A little latter we had a text from Simon to say he had just got back from Monza were they had been Testing prior to the Italian Grand Prix. We had decided that we would explore the Rhuys Peninsula. Our first stop was the Chateau de Suscinio which we discovered was a moated castle which looked as if it had been extended over its history with different styles. It seems now to be partly a ruin. You can pay a modest sum to look round inside but if you prefer you can park, and walk all the way round outside for free. From here we drove to Port du Crouesty which seems to be a modern man made tourist Port with lots of shops and restaurants and a very large Marina. It is quite a pleasant walk around the Marina to where it joins the sea. From here we drove further onto Port-Navalo. Here you can join one of the boats that do trips across the Golfe de Morbihan. Other than the D780 there are no other main roads in the area so care is required as you make your way around some of the small towns and villages.
Having only driven round Sarzeau we thought Sunday would be a good day to visit. Its not a large place and can be walked around in about half an hour. Unless that is you come across some distraction or other. For us it was the Sunday Market which had some superb stalls selling fresh sea food and others selling fresh fruit and vegetables. We had a peak inside the church which had a rather nice stained glass window.
Before returning to the van we made the short diversion to Pointe du Duer where we found a delightful parking spot overlooking the beach. Apart form another guy cleaning his boat we were the only ones there, it was really delightful.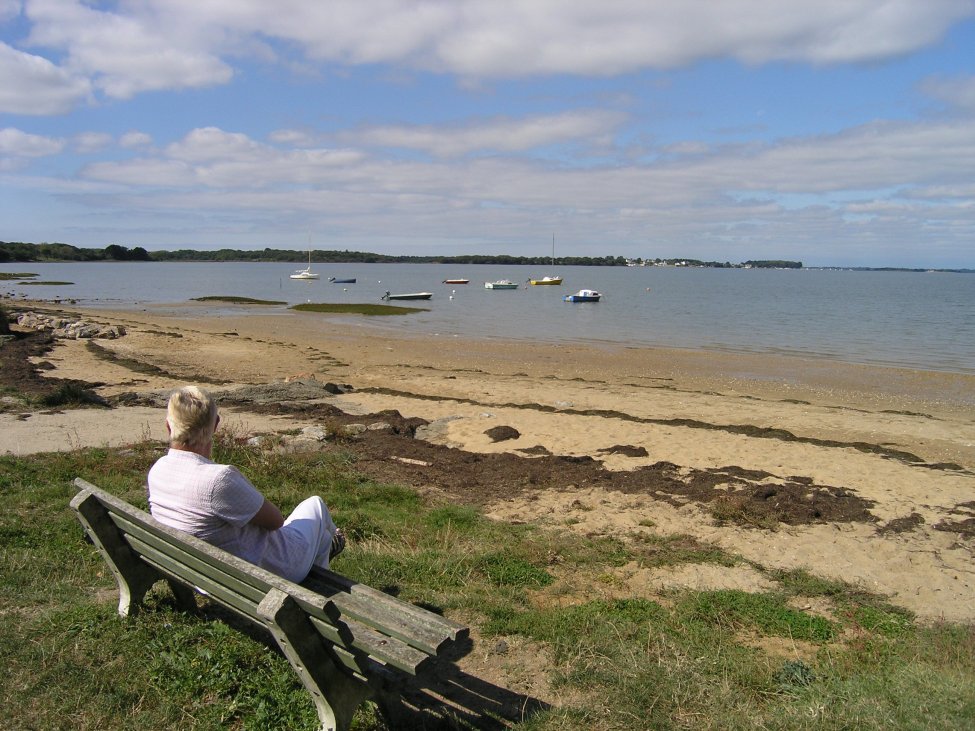 After a leisurely lunch we decided to walk down to the sea again and it did seem a bit shorter this time! We walked out over the rocks where all manner of sea life could be seen. For a while we sat on the sea wall which allowed us to observe the French at play. I always feel I am on the set of a French film!
On the site here are a couple of British motorhomes and they both have Smart Cars. It seems strange to see these little cars pootle around, sometimes they come and go as if they have never really been anywhere! In a more fanciful moment I did wonder if they had minds of their own and were just keeping us all under control!
Monday and our last day at Lann Hoëdic. Apart from some shopping we had a lazy day around the van and gradually started to pack the car. We had been used to the sky clouding over during our stay here but today it decided to go one further and we had a torrential down pour. Fortunately it did not last long and the sun came out again. We had enjoyed our stay at this campsite, there is nothing particular about it but it has been quite relaxing and there have been some good excursion which have not involved many miles of travelling.
Up early and on the road by 10.00am. Again traffic light all the way to Rennes. It makes you wonder why they have invested so much money in roads of motorway standard when the volume of traffic does not seem to justify it. Anyway our good fortune as we make pretty rapid progress, especially as we have a fairly long journey of just over 200 miles. As we cut across the base of the Cherbourg Peninsular I am surprised at some of the climbs and how steep some of the roads are. They seem worse than many we have encountered in the Alps! It was sad to come across a caravan accident on the opposite carriageway. The van in question had been separated from its chassis and was on its roof. We have encountered accidents like this on several occasions and it always makes us sad. As we approached our destination TomTom decided to take us down some very narrow roads. The problem is that even if you cross reference the route against a map you have no idea how wide roads are. With some going round the houses we managed to find our campsite, Camping Le Cormoran at Ravenoville Plage. At reception we are given a map with the pitches we can use, it is a large site but it has a lot of mobile homes. To digress for a moment it seems that the French are moving into mobile homes rather than having those old scruffy permanent caravans they used to have. Anyway back to finding a pitch. Margaret pointed out to me that there was some more pitches round the next corner where we settled on number 161 which was massive! After we had got everything set up I was able to try out the WiFi internet connection which worked very well.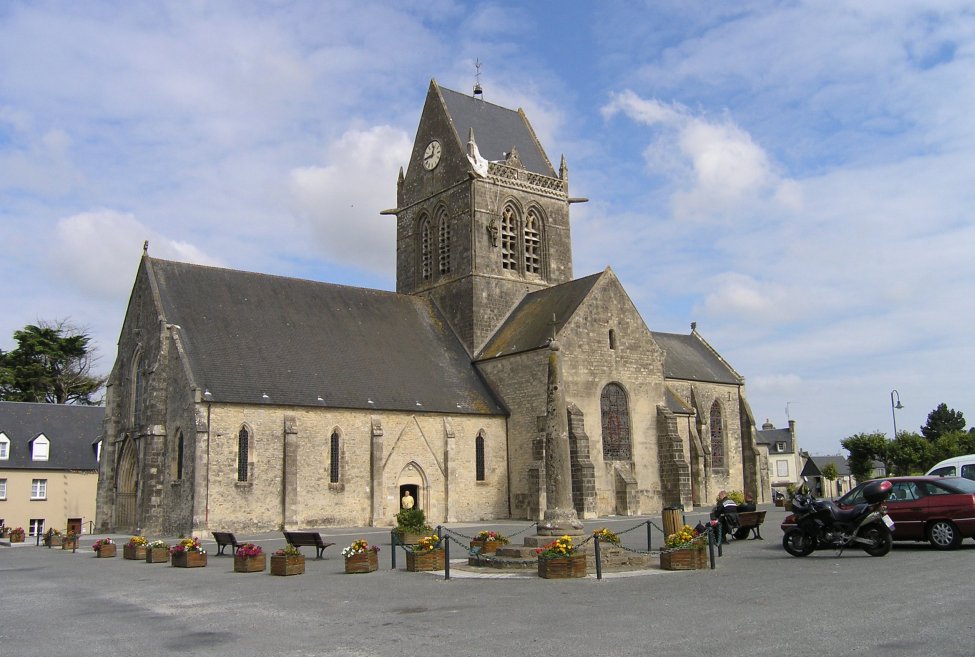 Wednesday and time to explore. The campsite is situated just a few kilometres north of Utah Beach and everything in the area is geared up for visitors wanting to follow in the footsteps of those brave souls that landed here on 6th June 1944. Our first stop was to be Ste Mere Eglise where the American 82nd and 101st Airborne Divisions landed, either by parachute or glider. We parked in front of the church which was immortalised in the film the Longest Day when the soldier was trapped by his parachute on the church tower. The fascinating real life story of this incident is told in the nearby Airborne Museum. Inside the church there are two stained glass windows commemorating the events of June 1944. To this day a model of an airman trapped by his parachute cords still hangs from the tower!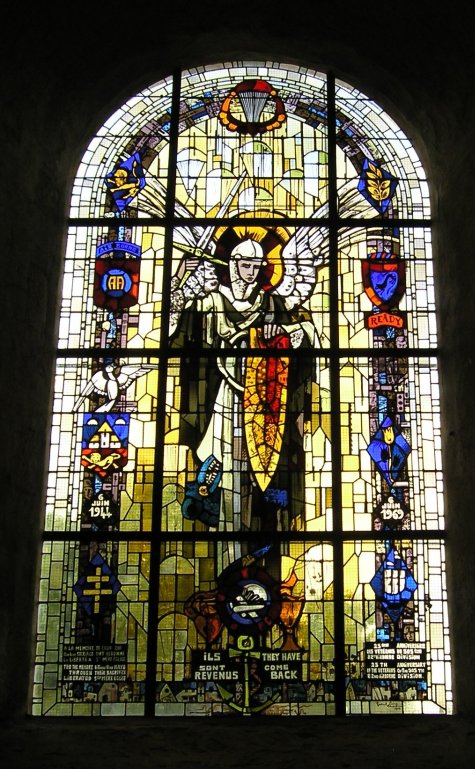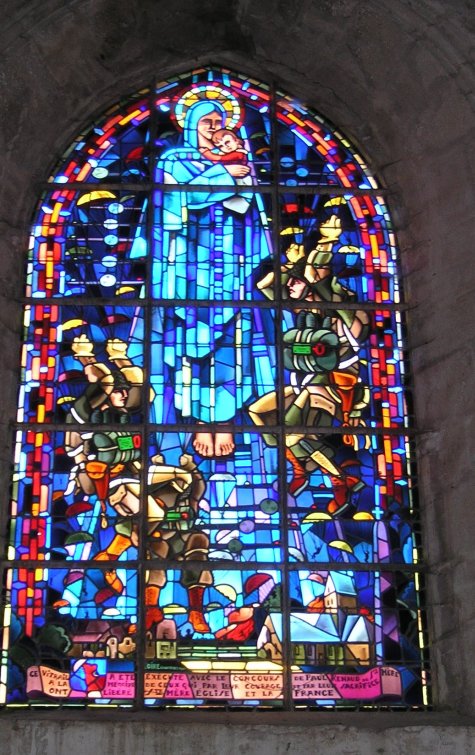 We moved onto the Airborne Museum which has been very well done. It has two main halls. One is built round one of the Gliders used in the assault and the other contains a C47 (Dakota) transport plane which was used to tow the gliders and drop the troops by parachute. The Museum is a fascinating place and well worth a visit. What is so touching is the personal stories of many of the troops involved and the many that have returned since the war. The town of Ste Mere Eglise seems only to exist for the Airborne Museum and every business seems to cash in on the fame it has brought the town. I should add that there is a nice little Municipal Campsite tucked away behind the town centre.
After dinner that evening we went for a walk along the beach up to Ravenoville Plage and back. You can hardly imagine that it will ever be crowded regardless of the time of year!

The next day we decided to explore a little further north, although our efforts were frustrated by road works and our intended drive up the coast road required us to turn inland in order to get to Quinéville. Even skirting round the diversion we still encountered heavy machinery! We found a parking place adjacent to the beach and had a wander. As seems to be the norm in this part of France a completely deserted beach. Back to the van for some lunch.

Later we had decided to explore Utah Beach. Anyone looking at it today would have to look hard to find any traces. The most obvious are the old German fortifications which still dot the landscape here and there. One thing you can't miss is the Utah Beach Museum. This is also well done with lots of information. Like Ste Mere Eglise they also run a film with details of the landings, this is shown in several different languages throughout the day.
Friday and our day for moving on. It was only a relatively short journey of 95 miles. Our chosen site is called La Briquerie at Equemauville which is only a few miles from Honfleur. Before going to the Intermarche, which is virtually next door to the campsite, we ventured down into Honfleur to check out where we might park the next day. The place is packed and we have to turn round to find our way back out again!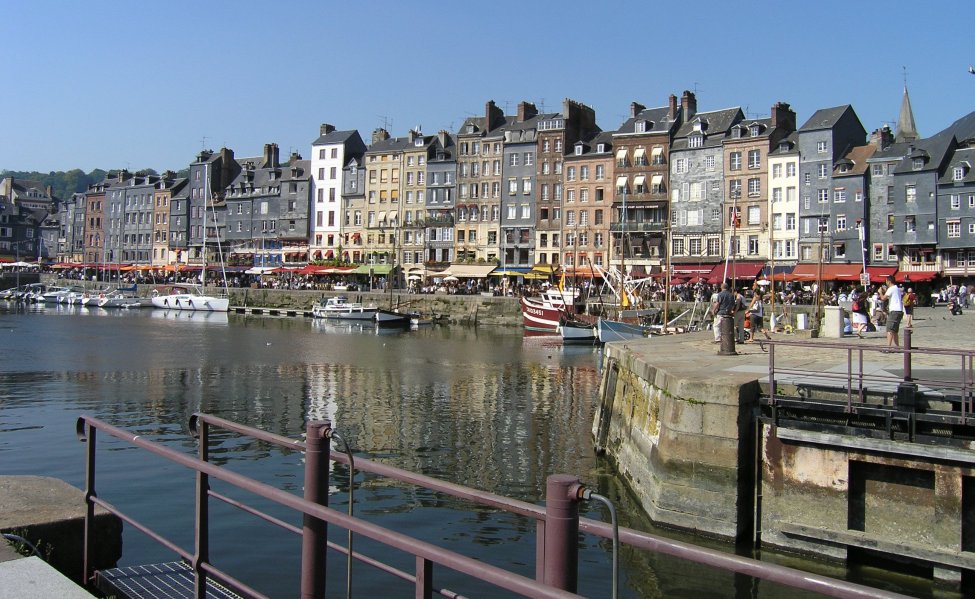 Like a lot of places on this trip we had not visited Honfleur for getting on for 20 years. Fortunately on the Saturday the weather was good to us. I expect that places such as Honfleur are always busy but even more so on Market Day! This also had an impact on the amount of parking available. However, from a brochure we had been given in the campsite reception it looked as if there was more parking a little further out across a rickety wooden bridge. We found a space and the best bit was that it only cost €2 to park all day.
It was only a short walk to the famous harbour which has been the basis of painting by many artists across the years. The harbour is surrounded by restaurants and Margaret and I speculated on how many moules were eaten at each lunchtime. Not only that but what do they do with the discarded shells! Near to the harbour is and interesting church which seems to be made completely of timber. Having looked round the harbour and market areas we decided to have a stroll along to the Port entrance wall to where it meets the Seine. From the end is a pretty good view of the new Pont de Normandie. We wandered back through a lovely park back to the hustle and bustle of Honfleur town centre.

Sunday dawned a bit grey so we were glad we had visited Honfleur the day before. Anyway it was the Monza Grand Prix so we hoped that we could maybe watch it in the campsite TV room. At the appointed time we went along to the room. There were a couple of young lads in there but they did not seem to mind us watching it. The only problem was that the youngsters clearly used the room as a meeting place and with comings and goings it was difficult to concentrate so we only stayed for the first few laps. After a walk into the nearby village we managed to catch the end of the GP on the radio on Five Live.
We had not felt over comfortable at this campsite and it was difficult to put ones finger on it. Perhaps it was the lack of enthusiasm from most of the reception staff, perhaps the location of our pitch and the fact that someone had allowed their dog to make a mess on it and not bothered to clear it up or perhaps we felt that the site was more geared up towards its permanent customers rather than the touring ones. As a campsite the facilities are perfectly good, pitch size was OK but something just did not click with us!
The holiday draws to a close as we set off for our final French campsite of the trip, La Bien Assise at Guines near Calais. The weather was certainly very murky as we crossed the Pont de Normandie. However it did improve as we went further east. It did become a bit more windy which was buffeting the van on exposed bits of road. As we passed Boulogne, high up on the motorway, we were rather surprised to have a clear view of the White Cliffs of Dover in the distance. We got to Bien Assise at around 2.00pm, just too late to find our own pitch! Monsieur arrived and unlocked reception and I have to say I found him a Mr Grumps, unlike his female colleague who is usually there and full of life and good cheer. She came back on duty later just as it was getting busy and she was racing round the campsite on her Golf Buggy directing people to their pitches and making manoeuvres that Lewis Hamilton would have been impressed with! There were signs everywhere for a new Champion Supermarket. As they sell a boxed wine we rather like we thought we would pay a visit, only to find they don't open on Mondays. We have found this before with the one near to Chateau de Gandspette.
Our last full day in France and as usual its shopping day. I am not risking getting in the neck again by suggesting we go to Auchen so today its Carrefour at the Cite de Europe. Even I have to admit that our last visit to an Auchen was a big disappointment. Before we head for the shopping we had a small investigation to undertake. I wanted to look at a couple of campsites between Guines and the coast. Our first visit was to Camping Les épinettes at Peuplingues. It was up a fairly narrow road but there was a good sight line and places to park. It was quite established and looked to be quite nice. I noted that the electrical supply was only 4 amps which would be borderline for running a low wattage kettle or the water heater. Did not get a chance to look at the toilet block. On the way to Escalles we discovered another campsite called Camping Les Erables which seemed new but was quite small with about 25 pitches. It was very exposed so expect it to be windy! The pay off is some superb views over the Channel to the White Cliffs of Dover on a clear day. Further into Escalles is another campsite which is on the route to the beachside parking. Unfortunately there was no where to park to investigate. Whilst in an excellent position the units did seem a bit closer together. From what I was able to see I still reckon that La Bien Assise and Chateau de Gandspette are the two best quality campsites in the area. But, on the other hand, if you prefer a more intimate campsite and are not too bothered by facilities then it might be worth giving some of these smaller sites a try. When we have more time I may well do so myself!
On to the Cite de Europe, Tesco first but did not spend too much. It seems fine if you want New World wines but I don't rate its value on other wine. Before going onto Carrefour we had lunch at Flunch which is an interesting concept. As you enter you can select salad, drinks and sweets and when you go through the cash desk to tell the girls which main course you would like. You are given a ticket which you present to the part of the servary dealing with the food you had ordered. Once you have this you are free to add extras like vegetables. Le fast food French style! Fortified it was time to do the shopping.
Wednesday and time to go home. It dawned bright and calm, important for the ferry! The ferry arrived at Dover about ten minutes early so we had to run the gauntlet of another ferry unloading at the same time. Just out of the Port a road had been narrowed to one lane which caused a few problems. After our previous trip in June we decided to take our normal north/easterly route around the M25 only to find that an accident near the Dartford Tunnel had caused tail backs. Its time to rethink our crossing times. Have wondered if it would be better to cross mid evening to avoid the traffic! Got home about 2.00pm, about an hour later than planned.